Michigan Paper Endorses 'Least Dangerous Choice' in GOP Governor Primary
Citing a "pitiful" selection of Republican candidates for the upcoming primary, a Michigan newspaper has opted to endorse "the least dangerous choice" in the state's gubernatorial race.
Michigan will hold its primary elections on August 2, including the race for the Republican nominee to oppose Democrat Governor Gretchen Whitmer. In a piece published Saturday, the Detroit Free Press editorial board, with a notably grudging tone, endorsed candidate Kevin Rinke.
"Both parties have fumbled statewide elections before... but it is hard to recall when either has presented options as unpalatable as those confronting Republican voters in this year's gubernatorial primary," the board wrote. "Not one of the five GOP contenders has ever held elective office on the local, state, or federal level. Each argues that voters should regard his or her dearth of political experience as an asset in a state where all elected officials are suspect."
Rinke, 61, has a background in auto sales, having grown and sold his family's dealership in the past, the Press reported. As the board explained, Rinke is the only candidate on the GOP ballot who has rejected former President Donald Trump's "Big Lie," and said that there is "no evidence" that President Joe Biden's victory in 2020 was illegitimate. Despite this, he has opted not to outright condemn Trump and has not stated whether or not he would support his candidacy in 2024.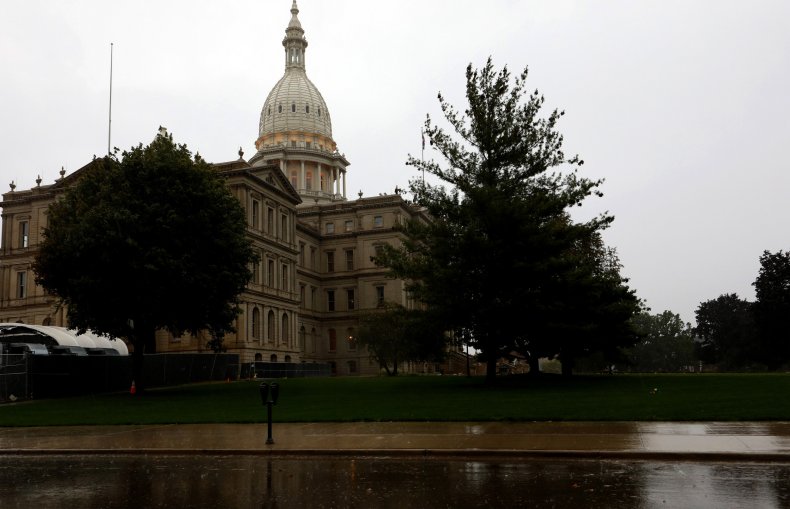 Rinke, furthermore, supports a statewide ban on abortion. However, unlike other Republican candidates, he has said that he would support exceptions for rape and incest. He has also dismissed the notion of government regulation of birth control and contraception.
His opponents on the ballot include Garrett Soldano, 43, a chiropractor who came to politics while protesting vaccine mandates; Ralph Rebandt, 64, an evangelical preacher who has touted his desire to impose biblical teaching into Michigan schools; Tudor Dixon, 44, and Ryan Kelley, 40, whom the Press summed up as both having entertainment backgrounds and both wanting to criminalize abortion.
Kelley, the Press noted, is set to stand trial later in the year for his personal involvement in last year's Capitol riot. He has also called for Michigan's results from the 2020 election to be decertified. Similarly, Soldano has called for a forensic audit of the results.
In an interview last week, Dixon, when presented with the hypothetical example of a 14-year-old girl pregnant due to incest, argued that such a thing was a "perfect example" of why she supports an abortion ban.
"Because I know people who are the product," Dixon said. "A life is a life for me. That's how it is. That is for me, that is my feeling."
The Press was particularly critical of Rinke's economic proposals, including "his enthusiasm for slashing taxes and eliminating regulation" and his hesitance to single a government service that he would cut in order to address the "$12 billion hole his tax-cutting scheme would blow in Michigan's annual budget."
While generally dismissive of all the candidates' lack of political experience, the Press ultimately conceded that Rinke's business experience gives him more to offer voters than any of his opponents.
"So we warily recommend Kevin Rinke as the Republican gubernatorial hopeful least likely to lead his party even deeper into the authoritarian abyss its most extreme elements want to plumb," the piece concluded.
Newsweek reached out to Rinke's campaign for comment.
What the Polls Show
Recent polls indicate that Whitmer is leading all Republican nominees in the gubernatorial race, according to FiveThirtyEight. The GOP candidate leading the pack, as of early July, was Kelley, who trailed Whitmer by around 8 points head-to-head. Rinke placed third, trailing Whitmer by 12 points.