Ryan Kelley Says FBI Arrest Over Jan. 6 Role Helping Michigan Governor Bid
Ryan Kelley, a Republican gubernatorial candidate in Michigan hoping to unseat Democratic Governor Gretchen Whitmer, is embracing his recent arrest for his alleged role in last year's Jan. 6 Capitol riot.
Kelley, one of several candidates hoping to challenge Whitmer in November, was arrested Thursday morning by the FBI for allegedly being involved in the riot, when hundreds of Trump's supporters attacked the Capitol in an effort to disrupt the formal certification of President Joe Biden's Electoral College victory.
He faces charges of being present on restricted grounds at the Capitol complex and participating in disorderly conduct, but is not accused of entering the building. However, he is accused of helping rioters break down barricades around the federal legislative building.
Back on the campaign trail, Kelley is now leaning into the arrest while meeting with voters that he hopes to win the support of ahead of the state's August 2 primary.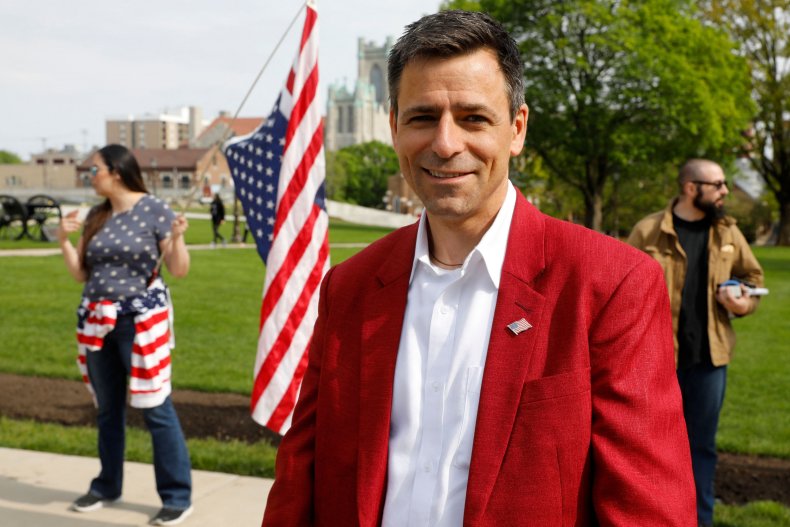 While speaking to voters in Clare County, he acknowledged the "exposure" the arrest has brought to his campaign, Michigan Live reported. "If you didn't know my name a couple of days ago, you know it now," he said. "So, there's been a tremendous amount of exposure there, and we'll see what happens in the coming weeks with the case."
Several voters also told the news outlet that his arrest bolstered their support. Polls have found many GOP voters have defended the Capitol rioters as not being particularly violent and protecting democracy, even as most Americans overall disagree. A 29-year-old man named Lucas told Michigan Live: "He stood up for what he believed in. It's hard to knock something like that."
Kelley also boasted about the support the arrest has brought his campaign during an appearance on the conservative news show The War Room.
"This is just bringing in a million fold, the support across this country. People from all over are reaching out in support. My support in Michigan has ten-fold grown," he said. "They just handed me the governor's seat in Michigan."
He added that his arrest is similar to the backlash he received from participating in a protest at Michigan's statehouse in April 2020 over COVID-19 restrictions because authorities "don't like it" that he is "standing up" for what he believes in, adding that he is "not going to be intimidated."
Polling on the GOP primary remains scarce after leading candidate James Craig was disqualified from the ballot last month, but a Target-Insyght poll showed Kelley leading other candidates, winning 15 percent of the vote—though nearly half of the poll's respondents said they were still undecided, according to Deadline Detroit late last month.
Video from January 6 allegedly shows Kelley shouting "this is war" while moving toward the Capitol. In an interview with Michigan Live last year, he described the riot as "energizing."
Newsweek reached out to Kelley's campaign for comment.