Over Half of Republicans Believe Jan. 6 Capitol Rioters Were Protecting Democracy: Poll
More than half of Republicans believe the January 6 rioters were "protecting democracy," according to a survey taken nearly one year after the violent attack on the U.S. Capitol.
In an ABC/Ispos poll released Sunday, 52 percent of Republican voters said they believe the rioters were protecting American democracy, while just 45 percent said they were threatening it. Democrats, on the other hand, almost unanimously (96 percent) agreed that the rioters were threatening democracy.
Republicans were also much less inclined to blame former President Donald Trump for the attack, with 78 percent saying that he bears "just some" or no responsibility for the incident. Meanwhile, 91 percent of Democrats believe Trump bears either "a great deal" or "a good amount" of responsibility, according to the survey.
The poll was conducted from December 27 to 29 among a random national sample of 982 adults. The margin of sampling error is plus or minus 3.5 percentage points.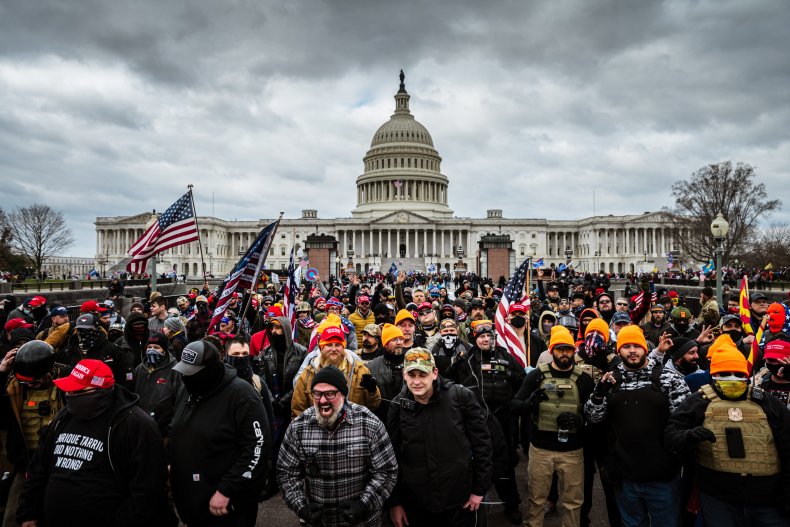 The latest findings come just days before the one-year anniversary of the violent attack, when pro-Trump protesters stormed the capitol in an attempt to stop the election certification of President Joe Biden. The incident resulted in Trump being impeached by the House of Representatives for an unprecedented second time. It's now being investigated by a House select committee.
Polling done in the immediate aftermath of the attack showed nearly 50 percent of Republicans said they backed the protest, while more than 90 percent of Democrats said they "strongly or somewhat" opposed the protesters' behavior.
Trump has repeatedly denied his involvement in the incident, stating last month that a controversial speech he gave before the attack was "extremely calming." During those remarks, the former president urged protesters to "fight like hell," while promoting the baseless claim that the 2020 election was stolen from him due to voter fraud.
Last week, Trump said he plans to commemorate the one-year anniversary with a news conference at his residence in Mar-a-Lago, in which he plans to reiterate the false claim that the election was fraudulent.
"The insurrection took place on November 3rd, it was the completely unarmed protest of the rigged election that took place on January 6th," he wrote in a statement on December 21.
Democratic House Speaker Nancy Pelosi earlier this week announced a day of "reflection, remembrance and recommitment" on the upcoming anniversary, urging fellow lawmakers to participate in events to discuss the assault on the Capitol.
"These events are intended as an observance of reflection, remembrance and recommitment, in a spirit of unity, patriotism and prayerfulness," she wrote in a message to colleagues. "The patriotism and courage of our Members as we prepare for this difficult day is an inspiration, for which I sincerely thank you."