Trump Defends 'Extremely Calming' Jan. 6 Speech Urging Followers to 'Fight Like Hell'
Former President Donald Trump insisted that his controversial speech on January 6 ahead of the attack by his supporters against the U.S. Capitol was "extremely calming," despite him urging rally attendees to "fight like hell."
Trump gave a speech at a January 6 rally near the White House, claiming that the 2020 election was "stolen" in favor of President Joe Biden. He encouraged his supporters to march to the U.S. Capitol and "fight" for their country. Hundreds of Trump supporters proceeded to violently attack the Capitol in an apparent effort to prevent the formal certification of Biden's Electoral College victory.
"I have nothing to hide [regarding January 6]. I wasn't involved in that and if you look at my words and what I said in the speech, they were extremely calming actually," Trump said during a Friday evening interview with Fox News.
The former president went on to defend the rioters who attacked the Capitol. He insisted that it was just a "protest" and not an "insurrection" as Democrats, and some Republicans, have described the attack.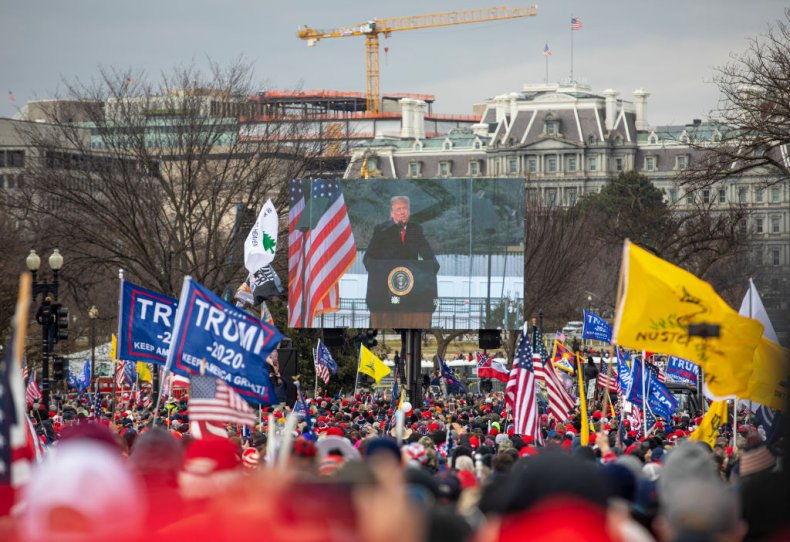 "The insurrection took place on November 3 [2020], which was Election Day," Trump said. "This [on January 6] was a protest, and a lot of innocent people are being hurt. A lot of innocent people are being injured."
"This was an absolute protest and people are being treated very, very unfairly," he claimed. "Their rights are being taken away from them."
Ahead of the attack on the Capitol, Trump and his allies promoted the conspiracy theory that the 2020 election results were fraudulent. Some of the speakers—including Trump—used inflammatory language that critics have alleged drove supporters of the former president to carry out the attack on the legislative branch.
"And we fight. We fight like hell. And if you don't fight like hell, you're not going to have a country anymore," Trump said in his January 6 remarks.
Later in the speech, he urged the crowd to head toward the Capitol.
"We're going to walk down to the Capitol, and we're going to cheer on our brave senators and congressmen and women, and we're probably not going to be cheering so much for some of them," Trump said.
"Because you'll never take back our country with weakness. You have to show strength and you have to be strong," he added.
A week after the attack on the Capitol, Trump was impeached by the House of Representatives. Ten Republicans voted with House Democrats in support of the impeachment, which alleged Trump incited the assault that disrupted the constitutional process of certifying Biden's win.
Then in February, Trump was acquitted by the Senate—although the majority of senators vote in favor of conviction. Seven GOP senators voted "guilty" with all the members of the Senate's Democratic Caucus. While this was the most bipartisan impeachment and conviction vote against a U.S. president in history, it failed to reach the high constitutional threshold of a two-thirds majority required for a successful "guilty" verdict.
Although Trump and his allies continue to claim that the 2020 election was fraudulent, they have not provided evidence substantiating the extraordinary allegation. On the contrary, more than 60 election challenge lawsuits filed by the former president and his supporters have failed in state and federal courts. Even judges appointed by Trump and other Republicans have dismissed the lawsuits.
Meanwhile, audits and recounts in states across the country—including in places where pro-Trump Republicans oversaw the election—have consistently reaffirmed Biden's victory. Former Attorney General William Barr, who was widely viewed as one of Trump's most loyal Cabinet members, had the Justice Department investigate claims of fraud. Barr then asserted in December 2020 that there was "no evidence" of fraud that would change the election's outcome.