Trump Praises 1/6 Rally 'Love,' Suggests Ashli Babbitt Killed by Top Democrat's Security Chief
Former President Donald Trump praised the crowd of his supporters who attended the large rally in Washington, D.C. just ahead of the deadly insurrection that hundreds of them carried out targeting the U.S. Capitol on January 6, saying he felt the event demonstrated "love."
Trump commented on the rally during a Sunday interview with Sunday Morning Futures, hosted by Maria Bartiromo on Fox News. Bartiromo asked him about the insurrection and his thoughts on that deadly day, but the former president focused his response on the rally he spoke at near the White House just before his supporters proceeded to attack the Capitol.
"There was a big rally called, and actually when I say, who knew—but there was a rally called and a tremendous number of people, the largest one I've ever spoken at before was called by people, by patriots," Trump said. "And they asked me if I'd speak, and I did. And it was a very mild-mannered speech."
Trump claimed that there were more than 1 million of his supporters in attendance at the rally. He said this demonstrated that there was so much "spirit and faith and love—there was such love at that rally." He said the people were "there for one reason, the rigged election." Estimates by analysts have suggested there were potentially tens of thousands of Trump supporters at the rally.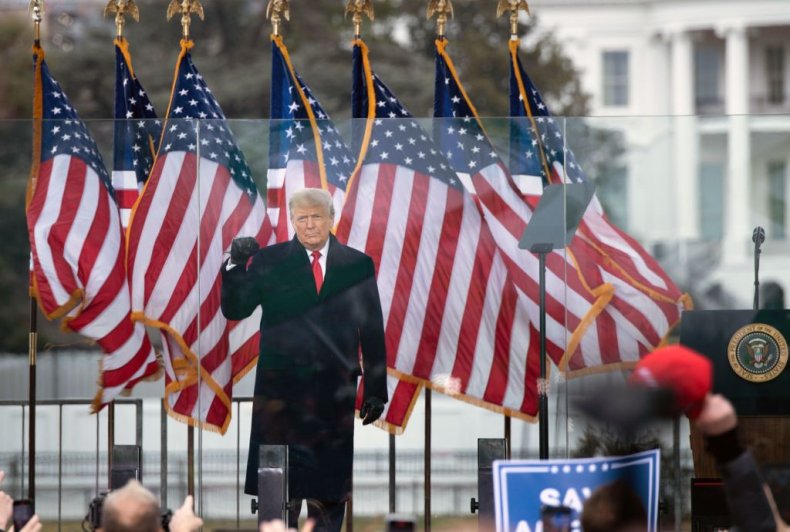 Although Trump and many of his allies continue to claim that the 2020 election was "rigged" or "stolen," the allegation has been thoroughly litigated in state and federal courts and has been wholly discredited. The former president and his lawyers have not put forward evidence to substantiate the claim.
Trump also suggested during the interview that Ashli Babbitt, a supporter who broke into the Capitol and was shot after she attempted to enter a room where lawmakers were escaping the mob, was killed by a prominent Democratic official's security chief. "I will tell you they know who shot Ashli Babbitt," the former president asserted, claiming people are "protecting that person." He said the truth about the shooting is "going to come out." He described Babbitt as an "innocent, wonderful, incredible woman."
At the January 6 rally ahead of the attack on the Capitol, Trump urged his supporters to "fight like hell" to overturn the 2020 election results. Congress was meeting to formally certify Biden's win, and those who stormed the Capitol hoped to block the process from moving forward to keep Trump in power.
"And we fight. We fight like hell. And if you don't fight like hell, you're not going to have a country anymore," Trump said at the rally. Hundreds of his supporters proceeded to heed his remarks, as many expressed a desire to kill Vice President Mike Pence as well as top lawmakers who opposed, or did not sufficiently support, Trump's groundless claims of widespread fraud. Many in the violent crowd of Trump supporters carried and wore overtly racist symbols, including the Confederate flag and Nazi icons.
Even as top Republicans urged Trump to call off the rioters, the president used Twitter to show his support for the unfolding mayhem. "These are the things and events that happen when a sacred landslide election victory is so unceremoniously & viciously stripped away from great patriots who have been badly & unfairly treated for so long," he then wrote. Trump then urged his supporters to "go home" but told them to "remember this day forever." The former president was later permanently suspended from the social media platform.
Trump's claims about the 2020 election have no basis in fact. Dozens of election lawsuits filed by the former president and his supporters failed in state and federal courts. Even judges Trump and other Republicans appointed rejected the often bizarre allegations. Furthermore, audits and recounts in key battleground states have reaffirmed Biden's victory, including in places where the election was overseen by Republicans who supported Trump.
Former Attorney General William Barr, who was widely viewed as one of Trump's most loyal Cabinet officials, said in December that there was "no evidence" to substantiate the claims of widespread fraud. After the election, the Cybersecurity and Infrastructure Security Agency at the Department of Homeland Security, which was led by a Trump appointee, asserted that the election was the "most secure in American history." The agency said that there was "no evidence that any voting system deleted or lost votes, changed votes, or was in any way compromised."
Despite this, Trump and his prominent allies continue to promote conspiracy theories about the last presidential election. Thousands of Trump supporters regularly attend various rallies and events focused on pushing forward the baseless claims. May polling conducted by Quinnipiac shows two-thirds (66 percent) do not believe Biden is the legitimate president.
Newsweek reached out to Trump's press office for further comment.