45 Percent of Republican Voters Support Storming of Capitol Building: Poll
Almost half of Republicans support the pro-Trump protesters who stormed the U.S. Capitol on Wednesday, putting them at odds with Democrats who largely oppose the actions of the demonstrators, a poll has found.
The survey released by YouGov on Thursday morning found that 45 percent of Republican voters backed the attack on the Capitol building, while 43 percent said they "strongly or somewhat" opposed the protesters' behavior.
Six percent of Republicans were unsure while a further 6 percent said they were unaware of the events.
By comparison, an overwhelming majority of Democratic voters (96 percent) said they were strongly or somewhat opposed to the actions of pro-Trump protesters—actions that led to four deaths and at least 52 arrests.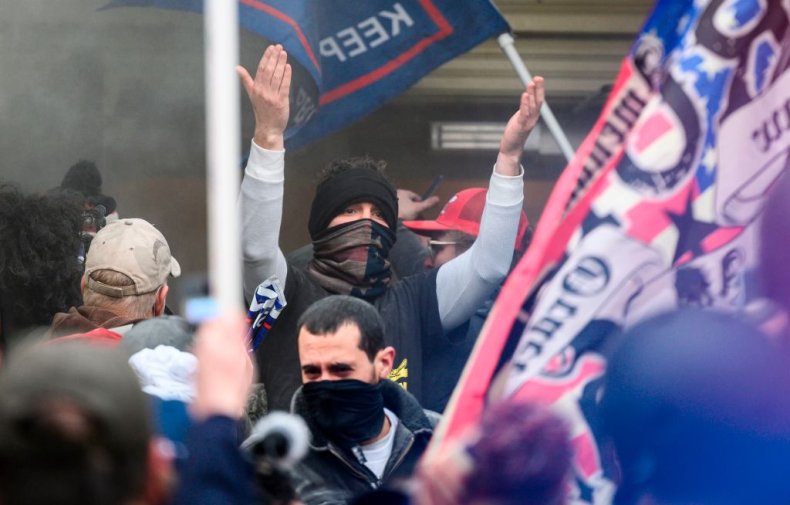 Only one in five independents told pollsters they backed the protests, while more than two-thirds (67 percent) said they were opposed.
Almost three-quarters of all voters (71 percent) either strongly or somewhat opposed the actions of demonstrators, with only a minority (21 percent) saying they supported the storming of the Capitol.
Asked whether they believed the breach of the building was a threat to democracy, 62 percent of all registered voters told YouGov it was. Thirty-two percent said it was not.
However, when the results were broken down along partisan lines, pollsters found that more than two-thirds of Republicans (68 percent) felt the protesters were not a threat to democracy, compared to 27 percent who felt they were.
Democrats were less divided on the issue. Ninety-three percent said the storming of the Capitol represented a threat to democracy, while only 4 percent felt it was not.
When it came to assigning blame, 55 percent of voters said President Donald Trump was responsible for the breach of Congress. Just 22 percent said he was "not at all to blame."
Half of all voters think it would be appropriate to remove Trump from office over the incident and his perceived stoking of the unrest.
In the wake of the protests, The New York Times reported that some Republicans had discussed removing the president under the 25th Amendment, despite the fact that he is set to leave the White House in a little less than two weeks.
YouGov surveyed 1,448 registered voters, including 1,397 who had heard about the unfolding events on Capitol Hill, within the space of half an hour on January 6. The poll's margin of error is 3.3 percentage points.