Violence at Capitol Reignites Talk of Pence Deploying 25th Amendment on Trump
Amidst protests at the U.S. Capitol on Wednesday, some lawmakers have called for Vice President Mike Pence to invoke the 25th Amendment which would effectively remove President Donald Trump from office.
Congress met in a joint session on Wednesday to officially certify the victory of President-elect Joe Biden. More than 100 GOP lawmakers had announced that they would object to the certification in an attempt to keep Trump in office. Trump spoke at a rally on Wednesday in which he reiterated his baseless claims of widespread electoral manipulation and appeared to encourage his supporters to approach the Capitol. Protesters breached the Capitol building, forcing the evacuation of some members of Congress.
According to the 25th Amendment, if the Vice President indicates to the Senate that the president is "unable to discharge the powers and duties of his office, the Vice President shall immediately assume the powers and duties of the office of the Acting President."
In a tweet tagging Pence, Democrat California Representative Ted Lieu said it was time to begin Trump's removal from office.
"Dear @VP @Mike_Pence: You need to start the 25th Amendment," Lieu tweeted. "@realDonaldTrump is detached from reality."
"The 25th Amendment allows for the removal of a President," tweeted Florida Democrat Representative Charlie Crist. "It's time to remove the President."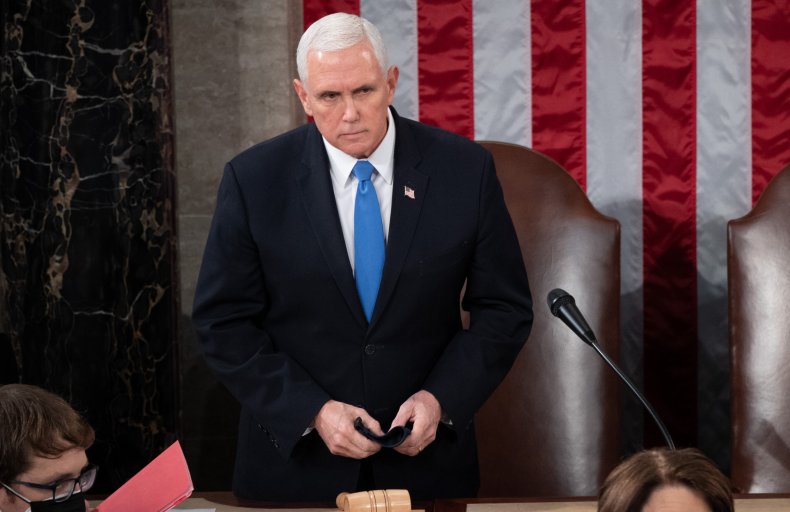 "Vice President Pence can help put down this attempted coup if he wants to," tweeted Rhode Island Democrat Representative David Cicilline. "I'm circulating a letter urging him to invoke the 25th Amendment to remove Trump from office. If he doesn't, then Congress should go ahead and impeach the President."
Minnesota Democrat Representative Ilmar Ohan tweeted that she would be moving toward officially removing Trump from office.
"I am drawing up Articles of Impeachment," Omar tweeted.
"Donald J. Trump should be impeached by the House of Representatives & removed from office by the United States Senate," Omar added. "We can't allow him to remain in office, it's a matter of preserving our Republic and we need to fulfill our oath."
Newsweek reached out to Pence's office for comment.
At about 9:30 p.m., Cicilline shared to his Twitter that he was sending a letter signed by 17 members of the House Judiciary Committee, including Lieu, Rep. Cori Bush (D-Mo.), Rep. Pramila Jayapal (D-Wash.) and Rep. Jerrold Nadler (D-N.Y.), to Pence, urging him to invoke the 25th Amendment.
"Section 4 of the 25th Amendment to the U.S. Constitution provides the Vice President and a majority of sitting Cabinet secretaries with the authority to determine a president as unfit if he 'is unable to discharge the powers and duties of his office.' Even in his video announcement this afternoon, President Trump revealed that he is not mentally sound and is still unable to process and accept the results of the 2020 election. President Trump's willingness to incite violence and social unrest to overturn the election results by force clearly meet this standard. So too are his recent Tweets, which Twitter has since deleted, saying the election was 'stolen' and that today's riots 'are the things and events that happen,'" the letter reads in part.
During his Wednesday remarks, Trump told rally attendees that he would not concede the election to Biden. "We will never give up," Trump said. "We will never concede, it doesn't happen. You don't concede when there's theft involved."
His later comments on Twitter, made in both a video and a separate text tweet were initially flagged as having the potential to cause violence by the social media platform. Shortly afterward, Twitter deleted tweets from Trump for the first time.
Update (1/6/2021, 10:00 p.m.): This article has been updated to include the letter from the House Judicial Committee members asking Pence to invoke the 25th Amendment.