Gretchen Whitmer's Chances of Beating Republicans, According to Polls
Michigan Governor Gretchen Whitmer, a Democrat, is running for re-election in a highly polarized political environment after she faced an alleged assassination plot in a state where Republican activists, candidates and lawmakers continue to strongly promote claims that President Joe Biden only beat former President Donald Trump through fraud.
A swing state, Michigan has regularly alternated between Republicans and Democrats residing in the governor's mansion in Lansing over the past several decades. However, incumbents have generally won reelection as well, giving Whitmer an advantage if historical precedent holds. Meanwhile, Republicans—and particularly Trump supporters—appear highly energized to oust Whitmer after only one term.
Recent polls show that the incumbent Democrat remains well-positioned to win reelection in November. However, Michigan's primary won't take place until August 2, meaning it won't be clear who Whitmer will face off against until then.
Five Republicans have qualified to appear on the ballot. But one of those individuals, Ryan Kelley, was arrested by the FBI on Thursday due to crimes he allegedly committed on January 6, 2021, when a mob of pro-Trump supporters targeted the U.S. Capitol.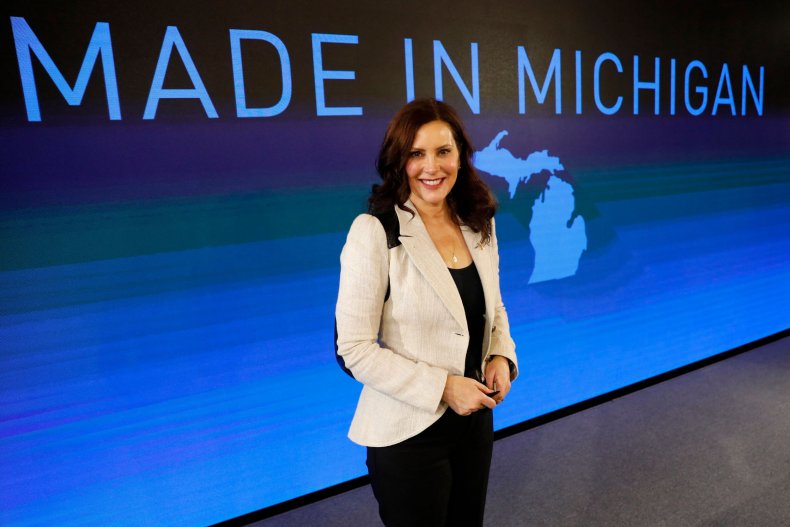 Target Insyght with Michigan Information and Research Service carried out the most recent survey from May 26 to 27. Whitmer led all the GOP contenders by more than 30 points. Pitted against Kelley in the hypothetical matchup, the Democrat won 57 percent to 23 percent. Kevin Rinke, another Republican hopeful, did slightly better as he was backed by 24 percent of respondents as Whitmer was supported by 58 percent.
The survey polled 600 registered voters in the Midwestern state. It had a margin of error of plus or minute 4 percent.
Former Detroit Police Chief James Craig was seen as the frontrunner for the Republican nomination. However, he failed to qualify for the ballot late in May after Michigan's Bureau of Elections determined that the leading Republican along with four other GOP candidates had submitted more than 68,000 fraudulent signatures in their campaign filings.
Surveys of likely Michigander voters by Blueprint Polling and EPIC-MRA earlier this year showed Craig trailing Whitmer by only single digits. Meanwhile, a previous survey conducted by The Detroit News/WDIV-TV in early January found Whitmer double digits ahead of all potential GOP candidates. Craig performed the best but still trailed the governor by 10 points. That poll included 600 likely voters and had a margin of error of plus or minus 4 percent.
While Whitmer appears to be well-positioned in the polls, another survey in March suggested a majority of Michiganders were open to an alternative. Lansing-based Marketing Resource Group found that 59 percent of likely voters were considering a different candidate. Just over one-third (34 percent) said they planned to vote for Whitmer. The survey had a margin of error of plus or minus 4 percent among 601 respondents.
The Michigan Democrat won her first gubernatorial bid by a margin of nearly 10 points in 2018. Whitmer garnered the support of 53.3 percent of her state's voters in that election compared to 43.7 percent who backed her GOP opponent.
President Joe Biden beat Trump in Michigan more narrowly in 2020. The president carried the state with 50.6 percent of the vote while the former president received just 47.8 percent. Notably, Trump previously beat Democratic presidential candidate Hillary Clinton in Michigan by a 0.2 percent margin in 2016, after the state had gone blue for Democrats in every presidential election going back to 1992.