Michigan Governor Whitmer's Attempted Kidnappers Claim FBI Invented Plot to 'Entrap' Them
Defense attorneys representing five men accused of plotting to kidnap and kill Michigan Governor Gretchen Whitmer are seeking to dismiss an indictment, alleging that the FBI and federal prosecutors "entrapped" their clients in the conspiracy plot.
In a 20-page motion filed Christmas night, the attorneys claimed that the federal government invented a conspiracy theory about the alleged kidnapping plot in order to entrap five men who now face up to life in prison.
The attorneys are requesting that U.S. District Judge Robert Jonker dismiss a conspiracy charge against the defendants, which would effectively dismantle the government's case, The Detroit News reported.
"Essentially, the evidence here demonstrates egregious overreaching by the government's agents, and by the informants those agents handled," the defense attorneys wrote. "When the government was faced with evidence showing that the defendants had no interest in a kidnapping plot, it refused to accept failure and continued to push its plan."
The lawyers went on to claim that the government initiated the case "despite the fact that it knew there was no plan to kidnap, no operational plan, and no details about how a kidnapping would occur or what would happen afterward."
Furthermore, the attorneys alleged that FBI informants who helped the government with their investigation, "coaxed, persuaded, cajoled, played on sympathies, cultivated friendships, took advantage of the defendants' financial conditions, and suggested that the offense they proposed 'would further a greater good,'" according to The Detroit News.
The 20-page motion also comes after allegations surfaced against the government's team, including the conviction of FBI special agent Richard Trask, who was arrested and fired for domestic violence charges earlier this year. The defense attorneys also outlined the dismissal of FBI informant Stephen Robeson after he was caught illegally possessing a sniper rifle, according to The Detroit News.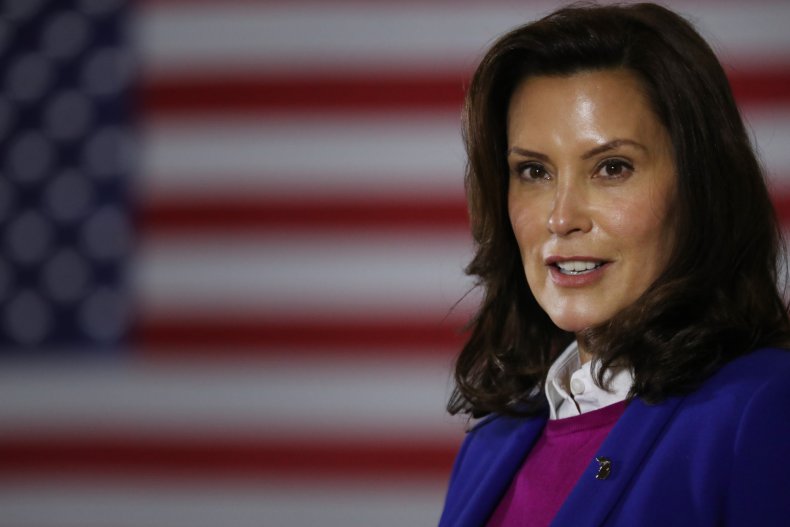 The defendants were initially arrested and charged with a kidnapping conspiracy last year. The FBI denies the entrapment allegations and maintains that the men are anti-government extremists who attempted to kidnap and assassinate Whitmer out of anger over coronavirus restrictions.
Six men were initially charged in federal court, while several others were charged with aiding them in state court. In January, one of the six men pleaded guilty to the plot and is now serving a six-year federal prison sentence.
The five remaining men charged with the kidnapping conspiracy are: Adam Fox, 38; Barry Croft, 46; Kaleb Franks, 27; Daniel Harris, 24; and Brandon Caserta, 33. Their initial trial date is scheduled for March 8 in Grand Rapids, Michigan.