Trump-Backed Kari Lake Chances of Beating Pence-Backed Karrin Taylor Robson
The rivalry between former President Donald Trump and former Vice President Mike Pence will continue in Arizona's gubernatorial primary Tuesday, when voters will pick between Trump-endorsed Kari Lake and Karrin Taylor Robson, who received Pence's endorsement—with polls showing Lake holding a narrow lead.
The primary will serve as another test of Trump's influence in the Republican Party, as well as the willingness of the GOP to continue to embrace his claims of widespread election fraud in 2020. Arizona was one of the states where Republicans sought to overturn President Joe Biden's victory based on unproven theories.
Lake, a former television news anchor, has made election fraud claims a cornerstone of her campaign. While Robson, who previously served on the state's board of regents and has received the backing of some Trump rivals, has been quieter on the subject, though she called the election unfair.
Polls in the days leading up to the election generally show Lake holding a single-digit lead. A composite of all polling calculated by Real Clear Politics points to a victory for Lake, who leads Robson by an average of 8.7 points in the race to replace outgoing GOP Governor Doug Ducey.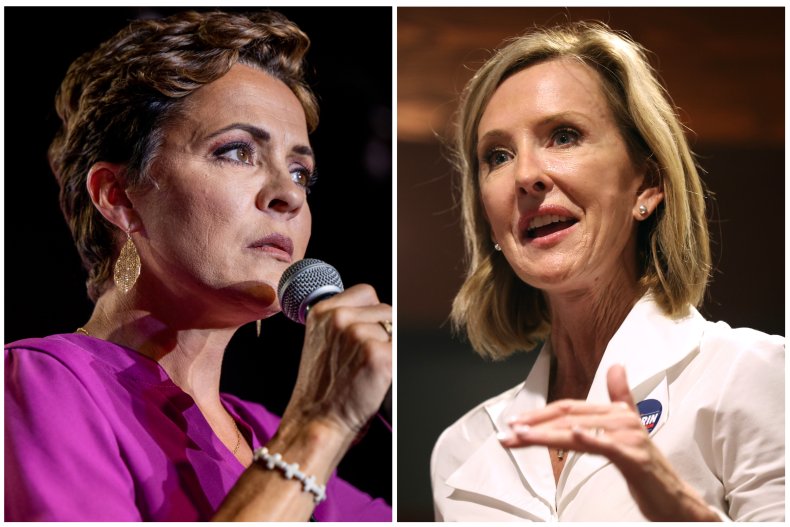 A Trafalgar poll conducted from July 25 to 27 of likely Republican primary voters found that Lake held an 8.8-point lead. She won 47.6 percent of support from the poll's respondents, while Robson earned 38.8 percent.
Other candidates, including former Representative Matt Salmon, who dropped out of the race and endorsed Robson, garnered 6.5 percent of the vote, while 7.1 percent remained undecided, according to the poll.
A Rasmussen poll conducted from July 27 to 28 found a similar result. It had Lake winning 43 percent of the vote, compared to Robson's 34 percent. An OH Predictive Insight poll conducted July 27 showed Lake with an 18-point lead, though no other recent polls show Lake with such a large lead.
Still, other polls show that Robson still has a chance to win.
An Emerson College poll conducted from July 28 to July 30 found Robson with a one-point lead, with 47 percent of respondents backing her, compared to 46 percent who said they planned to vote for Lake. When undecided voters said who they were leaning toward, Robson received 49 percent and Lake 48 percent, the poll found.
In a statement to Newsweek, a Lake spokesperson said the campaign feels "very confident that the polling shows us with a strong lead going into Election Day."
"Kari has connected with the voters all across Arizona and has won over the hearts and minds of the grassroots for over a year now," the statement said. "Despite being outspent 15-1, our opponents' attacks are falling flat, and we will be victorious tomorrow."
Whoever wins is expected to face a competitive election in November, likely against Democrat Katie Hobbs, who is the secretary of state in the battleground state and the overwhelming favorite to win her party's primary.
Recent independent polling on the general election is sparse, but a Beacon Research poll conducted from July 5 to 20, sponsored by the Environmental Voter Project, found Hobbs leading Lake by nine points and Robson by eight points among likely voters.
The Cook Political Report, an organization that tracks elections across the country, considers the November race to be a toss-up.
Newsweek reached out to the Robson campiagn for comment.
Update 8/2/2022, 9:41 a.m. ET: This story was updated with a statement from the Kari Lake campaign.