Donald Trump and Mike Pence's 2024 Rivalry Heats Up
The newly formed rivalry of former key allies Donald Trump and Mike Pence is set to increase over the coming days, as the former vice president puts himself in direct competition with his old confidante.
Both Trump and Pence are set to hold dueling campaign events in Arizona on Friday, with the pair endorsing separate candidates in the state's Republican gubernatorial primary on August 2.
In one corner, there is the Trump-endorsed candidate Kari Lake, a former TV anchor who has continuously backed the false claim the 2020 presidential election was rigged due to widespread voter fraud.
Then, there is Karrin Taylor Robson, a former Arizona Board of Regents who, as of Monday, has the endorsement of Pence.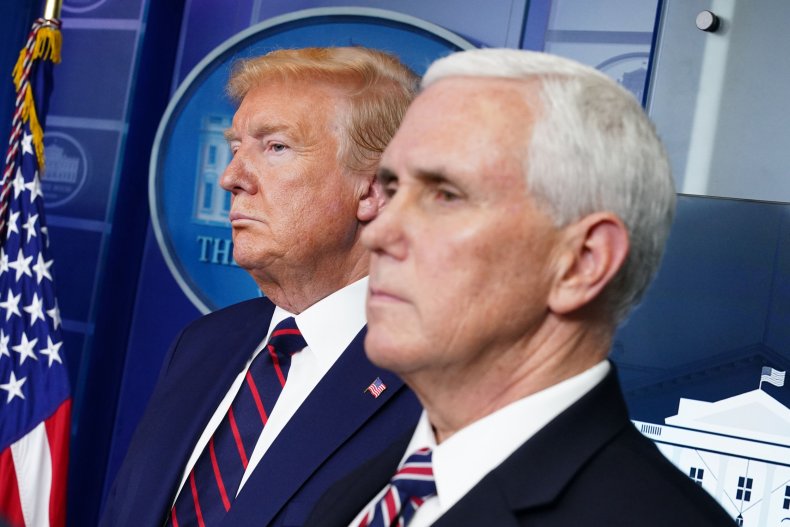 "As Arizona Democrats pursue the reckless Biden-Harris agenda, Karrin Taylor Robson is the only candidate for Governor that will keep Arizona's border secure and streets safe, empower parents and create great schools, and promote conservative values," Pence said in a statement on July 18. "Karrin is the best choice for Arizona's future, and I am proud to support her."
Pence confirmed along with his endorsement that he will appear with her at campaign events this Friday in Phoenix and southern Arizona.
The same day, Trump is set to headline a political rally in support of Lake, which was rescheduled following the death of his first wife, Ivana Trump.
This is not the first time that Pence has openly supported a midterm candidate who is running against a Trump pick as the former vice president continues to distance himself from Trump amid reports of a potential 2024 run.
In Georgia, Pence backed Governor Brian Kemp in the GOP gubernatorial primary, while Trump endorsed former Senator David Perdue. Kemp comprehensively beat Perdue in the May election by more than 50 points.
Just days after the Arizona rallies, Trump and Pence are also set to return to Washington, D.C. to deliver speeches.
On July 25, Pence will speak at a Heritage Foundation event where he'll outline policies he believes will "save our great nation and why we can't give up the fight for America's future."
The day after, Trump will return to the nation's capital for the first time since he left office to deliver the closing address at the America First Policy Institute's two-day "America First Agenda" summit.
With both Pence and Trump reportedly considering a 2024 run, Scott Jennings, a longtime GOP strategist, said that Pence once again going against Trump in Arizona and his endorsement of a candidate who pushes false election fraud claims is the "continuation of the larger message" that the former president is trying to embody that the GOP should look to the future.
"This is going to be the existential question for the Republican Party: Are we going to listen to a slightly different view than Donald Trump's? Right now, the standard-bearer for this is Mike Pence," Jennings told the Associated Press.
According to a majority of polls, Trump is the overwhelming favorite to clinch the Republican presidential nomination should he choose to run, with Florida Governor Ron DeSantis second and Pence often a distant third.
Pence's desire to beat Trump wherever possible, even into the White House, is a stark contrast to the loyal supporter he was for the four years he was in office.
Trump and Pence's relationship broke down in the wake of the January 6 attack. In the days before the riot at the U.S. Capitol, Trump falsely and repeatedly claimed Pence could stop Congress from certifying the 2020 election results in his purely ceremonial role as presiding officer of the Senate.
As the riot was taking place, Trump tweeted that Pence "didn't have the courage to do what should have been done" by stopping the results from being confirmed in favor of Joe Biden.
Trump is alleged to have sent the tweet 10 minutes after being told that Pence had been removed from the chamber floor for his own safety. The rioters, who could be heard chanting "hang Mike Pence" in the Capitol building, were said to at one point be less than 100 feet away from the vice president during the attack.
In January, Pence told Fox News that he and Trump have not spoken since "last summer" after the former president blamed him for not overturning the election results based on provenly false claims of widespread election fraud.
In March, Trump appeared to confirm he will not choose Pence to be his running mate again if he decided on a 2024 bid.
"Mike and I had a great relationship except for the very important factor that took place at the end. We had a very good relationship," Trump told The Washington Examiner. "I haven't spoken to him in a long time."