Donald Trump has repeatedly hinted at a 2024 comeback, but if he does decide to run, it's not likely to be the same Republican ticket as 2016 and 2020.
Trump effectively ruled out bringing back Mike Pence as his potential running mate, telling the Washington Examiner this week that he doesn't think people would "accept that."
"I haven't spoken to him in a long time," the former president said.
Trump said that they had a good relationship, "except for the very important factor that took place at the end," which was likely a reference to Pence's refusal to reject Electoral College votes.
Despite dropping clues that he might be on the campaign trail again in two years—like telling the crowd at CPAC they're going to do it a "third time" —Trump hasn't said much publicly about his possible vice president.
Mark Weaver, a veteran Republican strategist, told Newsweek that he thinks Trump will "put loyalty higher than anything else" when making a pick because of what he feels was a "snub" from Pence.
Weaver also noted that one popular Republican politician Trump has floated as a potential running mate might be problematic: Florida Governor Ron DeSantis.
Trump said last year that DeSantis would "certainly" be considered, claiming a lot of people "love that ticket." DeSantis was hailed by conservatives during the pandemic for easing restrictions and fighting vaccine and mask mandates. The governor is also consistently polling in second place behind Trump in hypothetical 2024 matchups.
But the Constitution's 12th Amendment could make things tricky, as it states: "The Electors shall meet in their respective states and vote by ballot for President and Vice-President, one of whom, at least, shall not be an inhabitant of the same state with themselves."
So it's illegal. It just means that Trump or DeSantis would need to change their Florida address or risk forfeiting the Sunshine State's 30 electoral votes—the third-highest amount of any state.
Here's who else strategists said could be potential running mates for Trump:
Kristi Noem
The South Dakota governor has risen to stardom in the GOP during the coronavirus pandemic as she defied mandates.
"She's pretty dynamic and she's pretty conservative," Weaver said.
In 2020, there was even suspicion that Noem would replace Pence after she hosted Trump for the Fourth of July and gifted him a replica of Mt. Rushmore with his face etched into the stone. Trump also endorsed her in her re-election bid, and there's already rumors she's considering a 2024 run herself.
"She's got her eye on national office," Terry Schilling, president of the conservative American Principles Project, told Newsweek.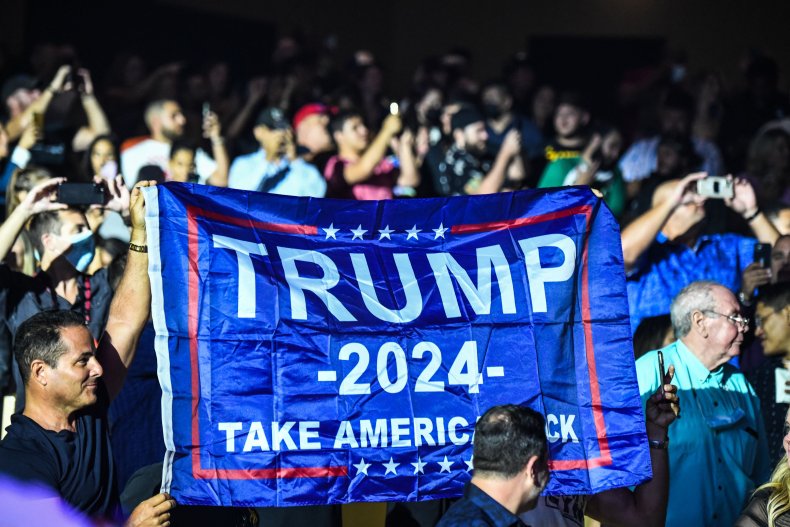 Josh Hawley
Hawley was an early supporter of Trump, and supported the former president's challenge to the 2020 election results. Hawley has made headlines recently for questioning if the Biden administration should support Ukraine joining NATO as Russia invades the eastern European nation.
Weaver said Hawley is a "very strong" candidate, noting his experience as a Supreme Court clerk, former attorney general for the state of Missouri and now a U.S. senator.
Schilling said Hawley has been "really disruptive for politics lately" and has made an "incredible name" for himself among the GOP.
Tim Scott
The South Carolina lawmaker, who is the only Black Republican in the Senate, emerged as the GOP's point person last year on issues of law enforcement and police reform. He has also become a leading advocate for school choice.
When asked by Fox News recently if he'd consider joining Trump's 2024 ticket, Scott replied: "Everybody wants to be on President Trump's bandwagon, without any question."
Schilling said in addition to being "great" on the issues, Scott could also "enhance Trump's effectiveness in those non-traditional Republican communities, like Black and Hispanic communities."
Glenn Youngkin
The Virginia governor made headlines in November when he defeated Democrat Terry McAuliffe in a state Biden won by 10 points just a year earlier. The race was a test of the Republican Party's campaign on education issues like critical race theory in schools.
"I think Glenn Youngkin is a dark horse," Schilling said. "He's a successful governor who turned a blue state red in a contentious year using the issues that are top of mind of most voters, which is families, parents, children and schools."