Kinzinger Blasts Josh Hawley for Urging Biden to Drop Support to Ukraine
Illinois Republican Representative Adam Kinzinger slammed Missouri GOP Senator Josh Hawley for a letter that the latter sent to the Biden administration about Ukraine's potential admittance to the North Atlantic Treaty Organization (NATO)
"I hate to be so personal," Kinzinger tweeted Wednesday while sharing an article from The Hill, "but Hawley is one of the worst human beings, and a self egrandizing con artist. When Trump goes down I certainly hope this evil will be layed in the open for all to see, and be ashamed of."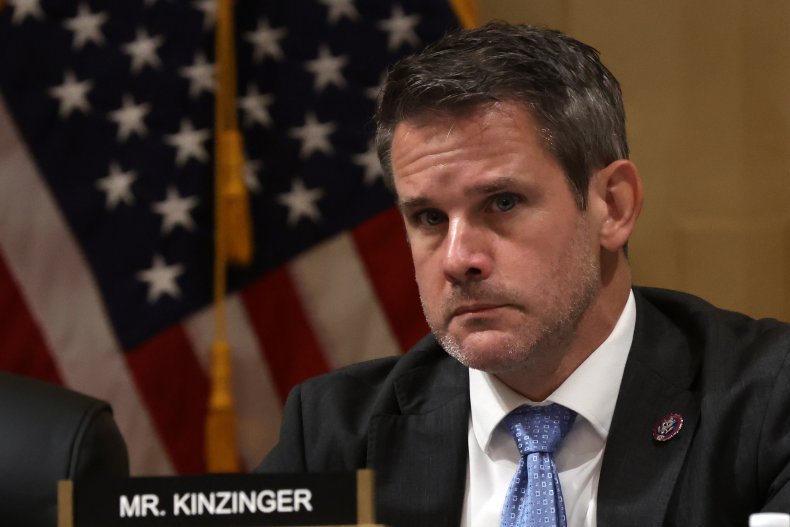 Kinzinger's sharply-worded statement about Hawley comes after the senator sent a letter, dated February 1, to U.S. Secretary of State Antony Blinken, asking for "clarity" on the Biden administration's support for "Ukraine's prospective membership in NATO."
In his letter, Hawley pointed to Article 10 of the North Atlantic Treaty, writing that "it stipulates that such expansion can occur only by unanimous agreement and that only a 'European State in a position to further the principles of the Treaty and to contribute to the security of the North Atlantic area' may receive invitation to the Alliance."
Hawley wrote that while America had indicated that the international organization may be enlarged to include Ukraine, it's unclear how admitting the Eastern European country would benefit the United States. Instead, Hawley believes that the Biden administration's efforts would be better focused on another country: China.
"Today, an increasingly powerful China seeks hegemony in the Indo-Pacific. If China succeeds, it could harness that region's resources to further propel its rise, while restricting U.S. access to many of the world's most important markets. Americans' security and prosperity rest upon our ability to keep that from happening, and so the United States must shift resources to the Indo-Pacific to deny China's bid for regional domination."
Kinzinger wasn't the only person to criticize Hawley for the letter. At a press briefing, White House Press Secretary Jen Psaki addressed the Missouri senator's missive.
"Well, if you are digesting Russian misinformation and parroting Russian talking points, you are not aligned with longstanding, bipartisan American values. Which is to stand up for the sovereignty of countries, like Ukraine and others, their right to choose their own alliances and also to stand against, very clearly, the efforts or attempts or potential attempts by any country to invade and take territory of another country. That applies to Senator Hawley, but it also applies to others who may be parroting the talking points of Russia's propagandas leaders."
Hawley's letter comes after the Pentagon announced last Friday that Russia now has enough troops and equipment at the border to invade Ukraine. U.S. Secretary of Defense Lloyd Austin said that Russia, through a "consistent and steady pace," had more than 100,000 troops along their border with Ukraine.
Additionally, the Pentagon recently stated that 8,500 U.S. troops have been put on heightened alert for a possible deployment due to the situation between Russia and Ukraine. However, the Pentagon said that those troops will neither be deployed to Ukraine nor enter into combat with Russia.
Other GOP members have also previously spoken out against a potential U.S. military intervention over the Russia-Ukraine situation, including Congressmen Paul Gosar and Thomas Massie of Arizona and Kentucky respectively. And Florida Congressman Anthony Sabatini stated that the U.S. should be focused on its borders and not those of Ukraine.
In response to Newsweek seeking comment on Kinzinger's criticism, Hawley's office pointed to two messages on Twitter. Hawley press secretary Abigail Marone wrote: "When you look up the definition of desperate in the dictionary, there's a picture of Adam Kinzinger."
The senator's communications director, Philip Letsou, also tweeted: "Multiple basic spelling errors from one of the top minds in the Republican Party."
Newsweek reached out to Kinzinger's office for additional comment.