Russia Has Enough Troops and Equipment at Ukraine Border to Invade Entire Country: Pentagon
The Pentagon's top leadership said Friday that Russia has amassed enough troops and equipment at the Ukraine border to invade the entire country, as fears of a burgeoning war in the Eastern European region grow.
Speaking during a press conference, Defense Secretary Lloyd Austin warned that Russia has deployed over 100,000 troops at Ukraine's borders through a "consistent and steady pace," which has been supported by Russian naval activity in the northern Atlantic and Mediterranean Sea.
"As we look at that number of troops and that amount of hardware that's in the border region, it far and away exceeds what we typically see them do for exercise so it's very concerning," Austin said on Friday.
The defense secretary added that while it is not believed that Russian President Vladimir Putin has made a final decision on whether to use those forces against Ukraine, "he clearly now has that capability."
"This is something that we're taking very seriously, both as a strong partner of Ukraine and as one of 30 members of NATO, who are unified in opposition to Russia's attempts to undermine those core values and threaten the peace and security in Europe," Austin added.
General Mark Milley, the chairman of the Joint Chiefs of Staff, also said Friday that Russia's presence at the Ukraine border "is larger in scale and scope in the massing of forces than anything we've seen in recent memory," adding "you'd have to go back quite a while into the Cold War days to see something of this magnitude."
Both leaders continued to urge Russia to stand down amid increased fears that the nation is going to invade in the coming days or weeks.
"There's no reason that this situation has to devolve into conflict. [Putin] can choose to de-escalate; he can order his troops away. He can choose dialogue and diplomacy," Austin said.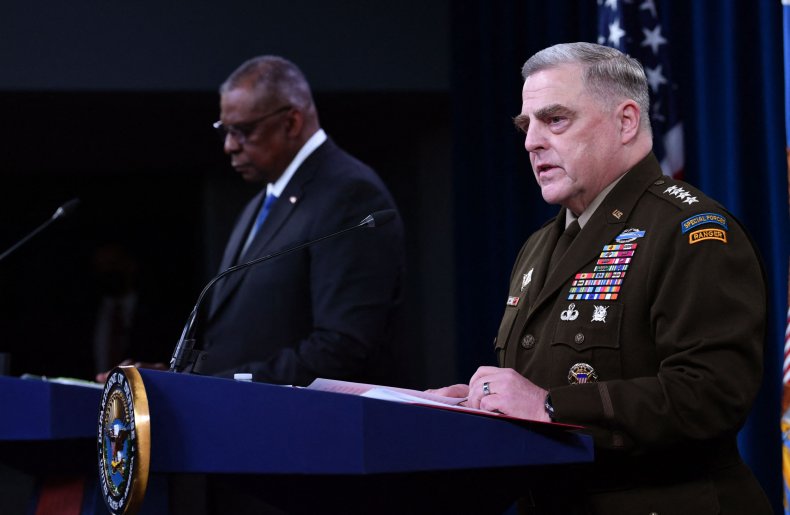 On Monday, the Pentagon announced that 8,500 U.S. troops are being placed on alert for potential deployment, mostly for the possibility of joining a NATO response force comprised of some 40,000 troops. Both Austin and Milley on Friday reiterated that the U.S. has no intention of sending American troops directly to Ukraine in the event of an invasion.
"We haven't actually moved any troops. We put troops on high alert," Milley said Friday. "We certainly have no intent whatsoever, that I'm aware of, of putting offensive forces to attack Russia, and I don't think that's NATO's intent at all."
In the meantime, the U.S. State Department also recommended that all U.S. citizens in Ukraine, which officials estimate to be around 35,000, evacuate the country immediately.
Russia has so far denied seeking a war against Ukraine, though diplomatic talks over the past several weeks in Europe have largely failed to diffuse the situation. As such talks continue, President Joe Biden has warned Ukrainian President Vlodomyr Zelensky that an invasion by Russian forces next month is a "distinct possibility."
Sine Ukraine is not a member of NATO, the U.S. has no official obligation to protect it from invasion. However, the Biden administration has warned Putin that Moscow will face severe economic consequences if it does initiate an attack.
"It's the policy of the United States government to continue to support an independent Ukraine and their goals. And we are continuing our efforts to enhance their ability to protect themselves," Milley said Friday. "We strongly encourage Russia to stand down and to pursue a resolution through diplomacy. Armed force should always be the last resort. Success here is through dialogue."