Mike Pence is Prepared to Take On Donald Trump in 2024
Former Vice President Mike Pence has not officially declared whether he will launch a 2024 presidential run, but he has taken several steps that indicate he is prepared to face former President Donald Trump for the Republican nomination if he runs too.
The former president's running mate and second in command has taken several steps to distance himself from Trump ever since they both left office in 2021, including rebuking Trump's suggestion earlier this year that he had the power to overturn the 2020 presidential election results.
"President Trump is wrong. I had no right to overturn the election," Pence said during a February speech before the Federalist Society in Florida. "The presidency belongs to the American people, and the American people alone. Frankly there is almost no idea more un-American than the notion that any one person could choose the American president."
In recent months, Pence has made several symbolic moves that are raising his profile in the political sphere and establishing himself as a foil to Trump in key ways. This includes his April visit to the Charlottesville, Virginia, memorial for Heather Heyer, who was killed in a white supremacist riot in which Trump notably attributed the blame to "both sides." And this week, Pence is set to help rally for Georgia Governor Brian Kemp, who Trump has denounced as a "RINO" (Republican in name only).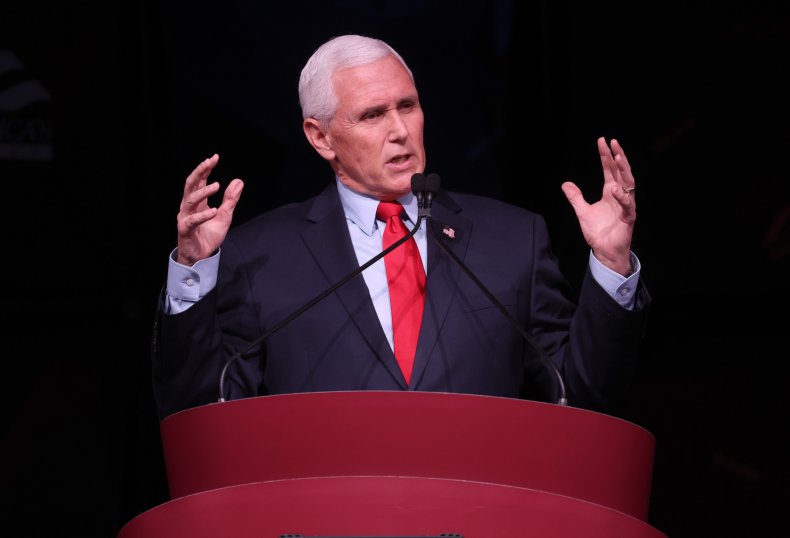 Politico described Pence's plans to speak at the Georgia rally as his "most aggressive political move yet in defiance of his former patron and ticket-mate."
In March this year, while speaking to Fox Business Network's Maria Bartiromo, Pence refused to rule out the possibility of a 2024 run.
"I'm confident the Republican Party will nominate a candidate who will be the next president of the United States of America and at the right time, my family and I will reflect and consider how we might participate in that process," he said.
Though Trump also has yet to formally announce whether he will run in 2024, he has teased a potential bid. While speaking about the possibility of again becoming a presidential candidate during a March rally in Georgia, he said: "We just may have to do it again."
He also reiterated unproven claims of voter fraud in the 2020 election at the Georgia rally.
"The truth is I ran twice, I won twice and I did much better the second time. And now we just may have to do it again," he told the crowd.
Trump spokesperson Taylor Budowich criticized Pence's recent political moves in a statement shared with the New York Times.
"Mike Pence was set to lose a governor's race in 2016 before he was plucked up and his political career was salvaged," the statement read. "Now, desperate to chase his lost relevance, Pence is parachuting into races, hoping someone is paying attention. The reality is, President Trump is already 82-3 with his endorsements, and there's nothing stopping him from saving America in 2022 and beyond."
Even if Pence is preparing for a 2024 presidential run against Trump, the chances of him beating out the former president may be slim. A Harvard CAPS/Harris poll from late January this year found that Trump received 57 percent of GOP support, while Pence received 11 percent.
Newsweek reached out to Pence's team and a Trump spokesperson for comment.