Mike Pence Says Media Spent Too Much Time Condemning Trump for Racist Charlottesville March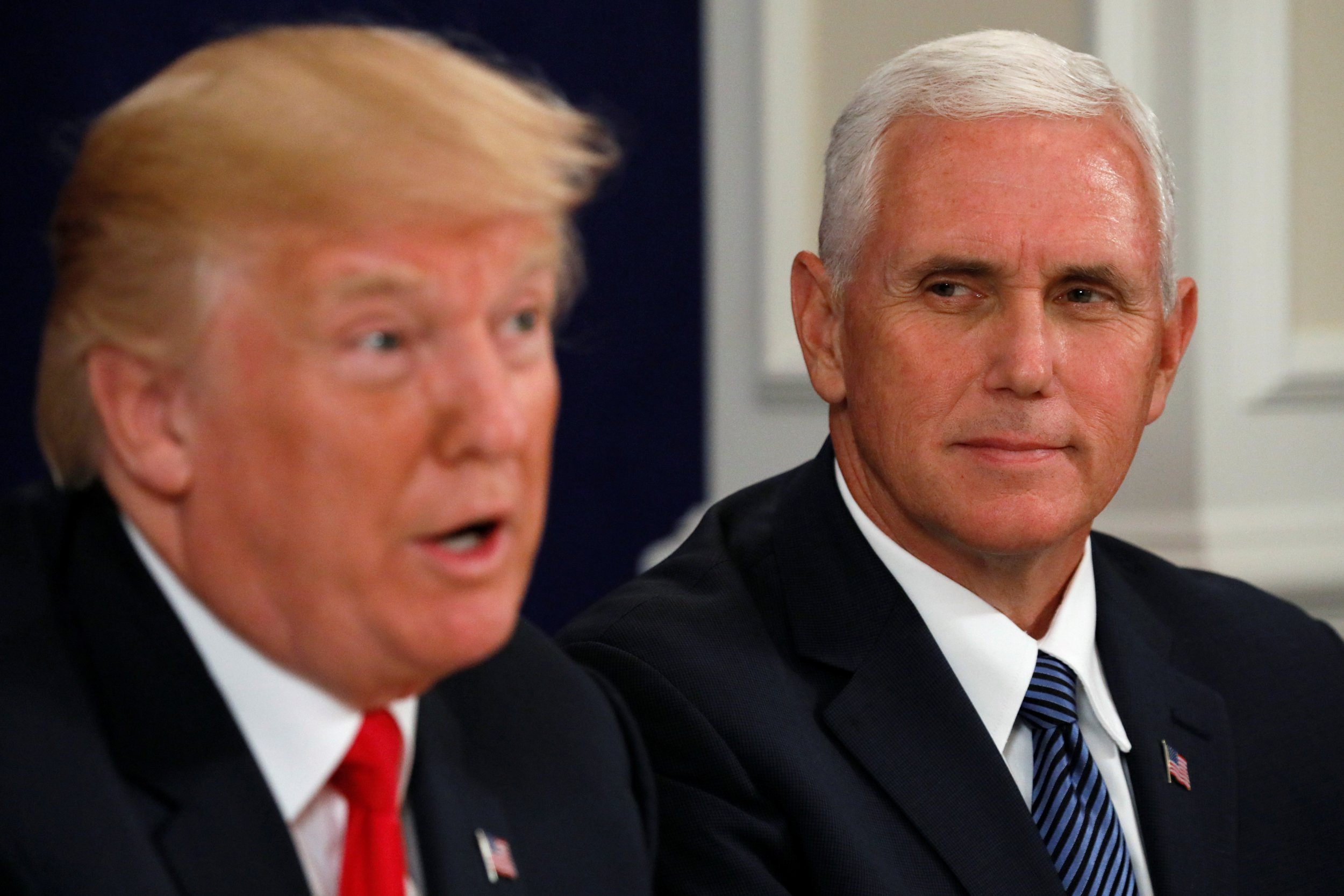 Vice President Mike Pence defended President Donald Trump's decision not to single out white supremacists in his condemnation of a violent rally in Charlottesville, Virginia, Saturday that left a counterprotester dead and dozens seriously injured.
"I take issue with the fact that many in the national media spent more time criticizing the president's words than they did criticizing those that perpetrated the violence to begin with," Pence said during his trip to South America late Sunday at a joint news conference with Colombia's president, Juan Manuel Santos.
"We should be putting the attention where it belongs, and that is on those extremist groups that need to be pushed out of the public debate entirely and discredited for the hate groups and dangerous fringe groups that they are," Pence said.
Early Monday, Attorney General Jeff Sessions also defended the president's response, saying, "I thought that was strong. I think we're making too much out of it."
On Saturday, Trump's response to the violent white nationalist, neo-Nazi march was criticized by both Republicans and Democrats after he refused to single out white supremacist violence. Trump's statements followed the death of 32-year-old Heather Hayer, who was hit by a car that plowed into protesters. The car was driven by James Alex Fields Jr., according to police. The incident also left 19 people injured.
In his statement, President Trump said: "We condemn in the strongest possible terms this egregious display of hatred, bigotry and violence, on many sides. On many sides. It's been going on for a long time in our country." Trump repeated the line "on many sides."
Related: Who is the Charlottesville alt-right car ramming suspect who killed one woman and injured dozens?
The white supremacist blog the Daily Stormer took Trump's comments as a positive sign. "Trump comments were good. He didn't attack us," the blog, which is run by neo-Nazi Andrew Anglin, said. Trump "also refused to answer a question about White Nationalists supporting him. When asked to condemn, he just walked out of the room. Really, really good," the post added.
In his statement Saturday, Trump repeated the line "on many sides" when condemning violence in Charlottesville.
In addition to the car ramming, white supremacists also beat and bloodied 20-year-old Deandre Harris with sticks. The event was also patrolled by hard-right militia groups armed with military-style weapons. Many marchers held shields and wore helmets.
Anti-fascist counterprotesters sprayed white nationalist marchers with pepper spray and threatened them with makeshift flamethrowers.
When White House staff were pressed Sunday about Trump's statement, they said the president condemns "all forms of violence, bigotry and hatred," and "of course that includes white supremacists, KKK, neo-Nazi and all extremist groups."
Conservative commentator Bill Kristol, an editor at The Weekly Standard, called the statement "a revealing moment." White House "staff told Trump they had to put out a statement, but couldn't prevail on him to say it himself, in the first person."
Former KKK leader David Duke said in Charlottesville Saturday that the rally was a "turning point" to "to take our country back" and "fulfill the promises of Donald Trump. That's what we believed in, that's why we voted for Donald Trump."
Trump campaigned on a tough on anti-immigration platform that appealed to many white nationalists, who see him as advancing their cause. Last week, Trump helped introduce a bill to halve legal immigration to the U.S. over the next 10 years.
Many politicians placed blame for the violence on Trump, the rhetoric he uses, and his refusal to specifically call out white nationalists and neo-Nazis. "I'm not going to make any bones about it. I place the blame for a lot of what you're seeing in America today right at the doorstep of the White House and the people around the president," Charlottesville Mayor Michael Signer said Saturday.
Dozens of Republicans condemned Trump for not speaking out more strongly against white nationalists and neo-Nazis, including Senators Orrin Hatch and Marco Rubio, and President George W. Bush's counterterrorism adviser Frances Townsend.
Democratic Virginia Governor Terry McAuliffe told The New York Times Sunday that Trump's "words were not—not—what this nation needs."
What America needs, McAuliffe said, is for Trump "to call out the white supremacists" and "call out the neo-Nazis to say these people should not be in our country. I do think it's the president's responsibility to take leadership on this."
Nevertheless, Pence said during his Colombia press conference Sunday that the Trump administration has "no tolerance for hate and violence from white supremacists, neo-Nazis or the KKK."
"These dangerous fringe groups have no place in American public life and in the American debate," he said, "and we condemn them in the strongest possible terms."