Pence Rebukes 'Wrong' Trump, Says He Had 'No Right to Overturn Election'
Former Vice President Mike Pence is speaking out against his former presidential partner Donald Trump over his accusations of election fraud.
In a speech made to the Federalist Society in Florida on Friday, Pence said that Trump was wrong in perpetuating the idea that he was able to overturn the 2020 presidential election. These were the latest comments made by Pence highlighting the rift between him and Trump in the aftermath of the latter's disproven claims of election fraud and the January 6 Capitol riots.
"This week, our former president said I had the right to 'overturn the election,'" Pence said. "President Trump is wrong. I had no right to overturn the election. The presidency belongs to the American people, and the American people alone. Frankly there is almost no idea more un-American than the notion that any one person could choose the American president."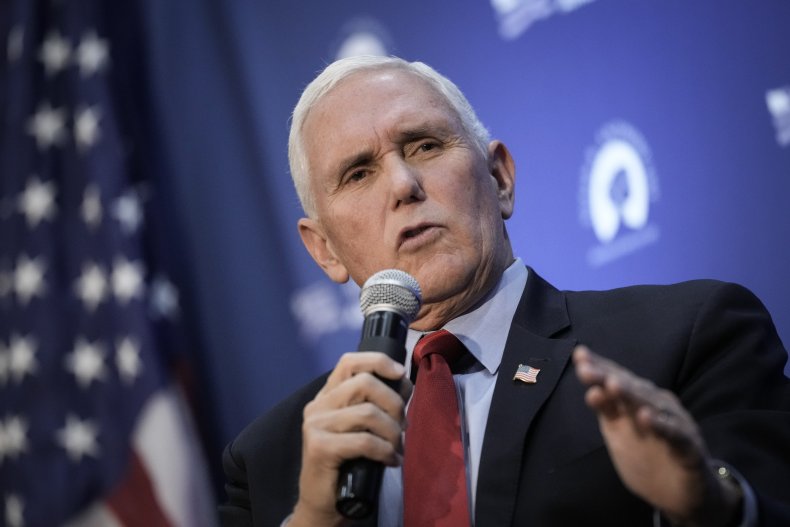 Pence further explained that this duty is not just limited to Republicans. He also said that current Vice President Kamala Harris will be similarly responsible for upholding election results during the 2024 election, while also giving a cheeky jab at the Democratic party.
"Under the Constitution, I had no right to change the outcome of our election," he continued, "and Kamala Harris will have no right to overturn the election when we beat them in 2024."
These comments are among the most daring of the former vice president's statements regarding his now-strained relationship with Trump. Newsweek previously reported that his recent comments on January 6 and the unfounded claims of election fraud "[stop] short of criticizing Trump, instead focusing attention on his belief in the Constitution." However, while other comments made during his Friday speech reference upholding the Constitution, it also marks one of the few times that Pence has ever publicly challenged or criticized Trump.
His remarks also come shortly after Trump ally Roger Stone had some choice words to say about Pence. Newsweek reported that Stone, who has repeatedly spread inaccurate and false claims about the legitimacy of the 2020 presidential election, shared an article on his Telegram page claiming him to be a traitor.
"If you ever had any doubt whatsoever that former Vice President Mike Pence was a duplicitous, disloyal POS, this stunning article will remove any doubt," wrote Stone. "Pence and his staff of 'political advisors' were working to undermine President Trump from day ONE."
Newsweek has reached out to representatives for Pence, Trump, and the Federalist Society for comment.
Democratic National Committee spokesperson Adonna Biel said Friday in a statement that Pence "doesn't deserve credit for 'breaking' with Trump after standing shoulder to shoulder with him for nearly six years.
Pence stood silent as Trump undermined our democracy, and he surely could have done more before Trump incited a mob to attack the Capitol, assault police officers, and try to overturn an election. On the same day the Republican Party voted to declare the January 6 insurrection 'legitimate political discourse,' it could not be more clear that Pence's comments today are a day late and a dollar short, to say the least."