How to Watch and Live Stream Mike Pence's Georgia Rally
Mike Pence, Donald Trump's former vice president, is coming to Georgia to rally for Governor Brian Kemp ahead of this week's Republican primary election.
His speech is framed by news outlet Politico as "Pence's most aggressive political move yet in defiance of his former patron and ticket-mate"—in reference to Trump.
The rally comes just hours before Tuesday's primary, pitting Kemp against the Trump-endorsed former Senator David Perdue, who is also campaigning to become governor.
Trump has publicly attacked Kemp ever since he refused to overturn Georgia's vote count during the 2020 election, which saw the state swing towards now-President Joe Biden.
In a statement released on Twitter on May 13, Pence described Kemp as "one of the most successful conservative governors in America."
Pence added: "He built a safer and stronger Georgia by cutting taxes, empowering parents and investing in teachers, funding law enforcement, and standing strong for the right to life."
A Fox News poll published last week showed Kemp with 60 percent support among Republican primary voters in Georgia, compared to just 28 percent for Purdue.
When is Mike Pence's Georgia Rally?
The event dubbed the "Get Out the Vote Rally with Vice President Mike Pence", is scheduled for Monday, May 23 at 6 p.m ET.
The rally will take place at the Aviation Development Group Hangar at the Cobb County International Airport in Kennesaw, Georgia.
Axios this month broke the news that Pence's former chief of staff, Marc Short, is working as a senior adviser with Kemp's campaign.
Newsweek has contacted Pence and Kemp for comment.
What TV Channel Can I Watch Former Vice President Mike Pence's Georgia Rally on?
Although there is currently no confirmation that the rally will be broadcast in its entirety, it is likely to feature heavily in news broadcasts around the world due to its political significance.
The rally is viewed as the latest sign Pence is distancing himself from Trump, as the former congressman and Indiana governor considers a 2024 presidential run that could put him in direct competition with the former U.S. president.
Pence in February described Trump as being "wrong" to insist that the then-VP had the power to unilaterally overturn the results of the 2020 election.
And in a further sign of a widening gulf between the pair, Pence has urged the GOP to move on from Trump's 2020 election grievances, and was quoted as saying there was "no room in this party for apologists" for Vladimir Putin.
This follows from Trump appearing to praise the Russian president's maneuvering as "genius" before his brutal invasion of Ukraine.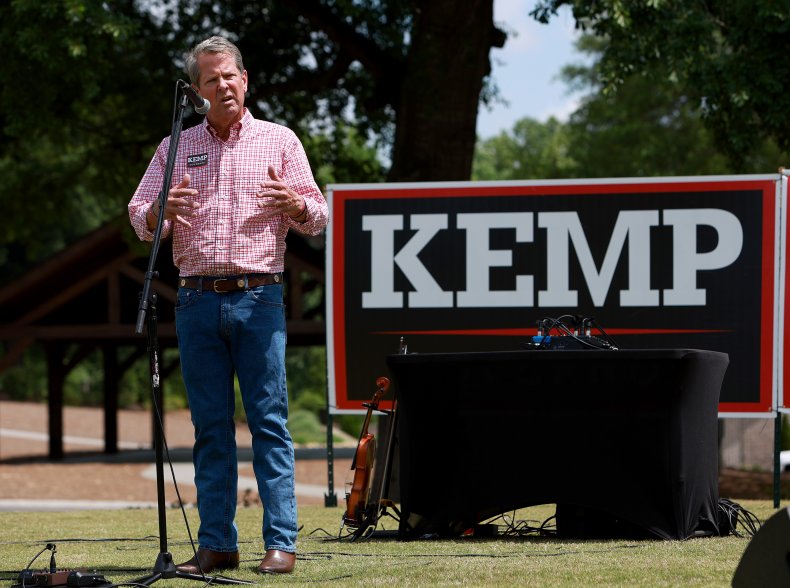 Where to Live Stream Mike Pence's Rally ahead of GOP Primary?
There is no confirmation at the time of writing that the Mike Pence Georgia rally will be live-streamed.
However, due to the high-profile nature of the speech, it will most likely be broadcast in whole or part via social media channels, while the mainstream media will also be present to report on key elements of the rally.
Despite backing Kemp when he first ran for governor in 2018, Trump's support was curtailed after he lost Georgia in his 2020 re-election campaign.
Trump this month labeled Kemp and several other current or former Republican governors as "RINOs" (Republicans in Name Only).
The former president said: "That tells you all you need to know about what you are getting in Georgia—just a continuation of bad elections and a real RINO if you vote for Brian Kemp."
Stacey Abrams, a former minority leader of the Georgia House of Representatives, faces no opposition in the Democratic primary.