Could Mike Pence Beat Donald Trump in 2024? What Polls Show
Former Vice President Mike Pence hasn't ruled out a 2024 presidential run but winning the nomination could be difficult for him if former President Donald Trump also decides to run.
Pence and Trump have had a tense relationship since leaving the White House because of their opposing views on the former vice president's decision not to interfere with the certification of President Joe Biden's win on January 6. While Trump's comments about January 6 and the "stolen" presidential election have irked some prominent Republicans, when it comes to GOP voters in general, polls indicate that Trump has the numbers on his side.
A Harvard CAPS/Harris poll in late January found Trump was the clear winner in a hypothetical eight-person GOP primary election. The former president garnered 57 percent support among Republicans, a wide gap from the 11 percent Pence received.
The results echo what polls have been showing for months with regard to Trump's hold on the GOP. A Reuters/Ipsos poll that was released earlier in January showed Trump had 54 percent in a hypothetical match-up and Pence only had 8 percent.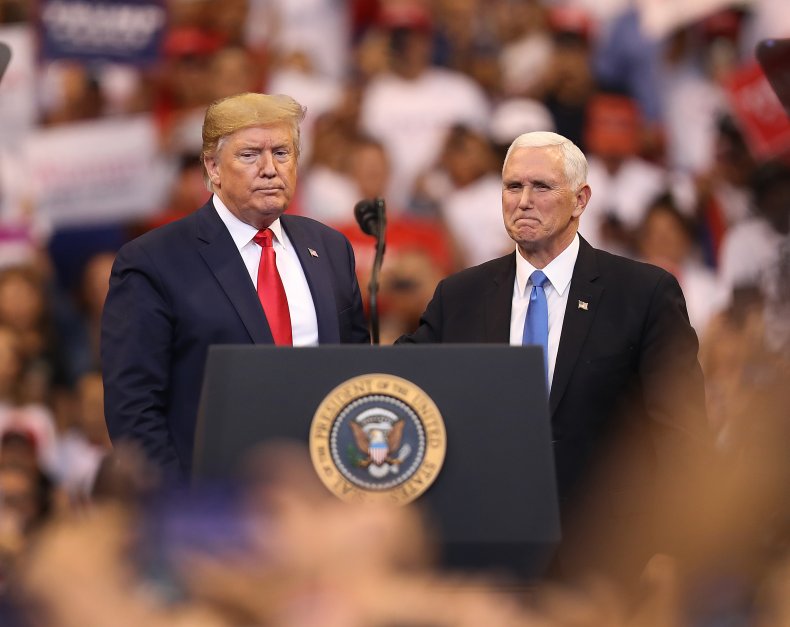 Neither Trump nor Pence has officially committed to a presidential run, although Trump is driving public interest more than the former vice president. He's said he's "seriously" considering a presidential run and that people will be "very happy" with his decision. Trump also said that one thing that would keep him from running is if his health prohibits him from doing so.
Pence has taken a softer tone when discussing a potential 2024 run. He hasn't ruled out the possibility of him making a bid for the White House and in December, told CNN that the decision would be made in 2023. He said he and his family will "reflect," "pray" and "determine where we might best serve." Then, they will "go where we're called."
Some have written Pence off as a potential 2024 contender because of his feud with Trump, as he may be unable to garner support from the former president's base. However, Michael Cohen, CEO of Cohen Research Group, a political research firm, believes Pence should try to win back the White House.
In an op-ed published in The Hill on Friday, Cohen acknowledged that Pence's chances at becoming president are "slim, but not zero." He said age and "bad health choices" could catch up to Trump and it's possible there's a political environment shift before 2024.
"If Pence runs and Trump does not, that non-zero chance increases exponentially. Pence has 100 percent name recognition, is well-liked by people who will give him money, and the story about standing up to 'his friend' on Jan. 6 gives him access to any media platform anytime," Cohen wrote.
While Cohen argued that Pence is the immediate "front-runner" if Trump doesn't run, polls show mixed results. Some put Pence as the second-place pick, but others show him polling behind Florida Governor Ron DeSantis.
Pence hasn't been shy in disagreeing with Trump about January 6, but he's largely held back from attacking the former president or his base. His harshest criticism has been that Trump is "wrong" about his ability to interfere with the election and walking the line between standing by his decision on January 6 and criticizing Trump's base will be beneficial if Pence does decide to run for president.