Trump Attorney Calls Kari Lake 'Grossly Inappropriate' for 'BDE' Comment
"BDE" entered the chat at a Republican rally on Sunday, leading some, including former Trump attorney Jenna Ellis, to ask WTF?
At an August 14 conference for Turning Point USA—a nonprofit dedicated to training young conservatives—Trump-backed Arizona GOP gubernatorial candidate Kari Lake took the podium to give a special shoutout to former President Donald Trump and Florida Governor Ron DeSantis.
"Love the guy, fantastic," she said of DeSantis. "He is gutsy. The guy has bigger...wait, let me think about how I want to word this."
"That guy has a backbone made of steel," she continued. "I'll tell you what he's got, I don't know if anybody's heard about this, but he's got BDE. Anybody know what this means? Ask your kids about it later. I call it 'Big DeSantis Energy.' Right? He's got the same kind of BDE that President Trump has. And frankly he has the same kind of BDE that we want all of our elected leaders to have."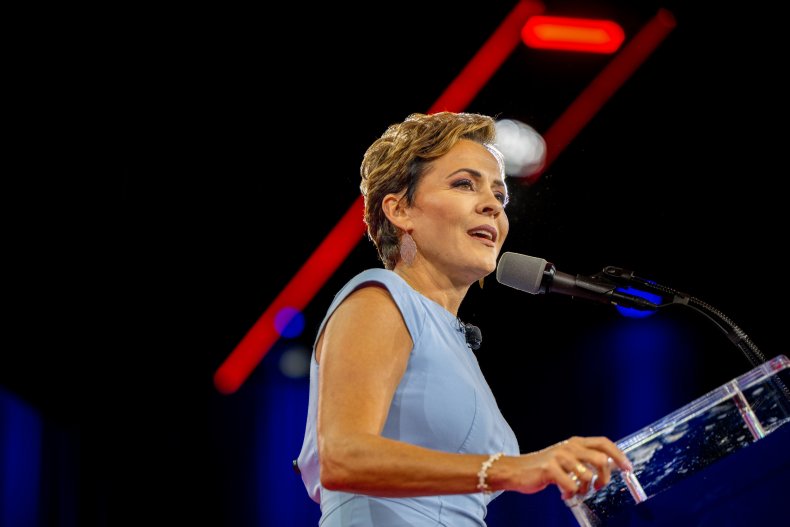 The Cut coined the term "BDE" in 2018 as a way to describe Pete Davidson's allure with women. He had, as they put it, "big d**k energy," something that caught on and went viral as a synonym for "strong" and "confident" despite its sexist and size-ist implications.
"BDE is a quiet confidence and ease with oneself that comes from knowing you have an enormous penis and you know what to do with it," author Allison Davis wrote in the original piece. "It's not cockiness, it's not a power trip—it's the opposite: a healthy, satisfied, low-key way you feel yourself."
Davidson's most recent ex, Kim Kardashian, even said on her show The Kardashians that she was drawn to Pete because of his BDE, especially because she was, to quote another acronym, "DTF," or "down to f**k."
Turning Point identifies itself as an organization "whose mission is to identify, educate, train, and organize students to promote freedom" with a focus on free markets. Its beliefs, per its website, are that "the United States of America is the greatest country in the history of the world; the U.S. Constitution is the most exceptional political document ever written; [and] capitalism is the most moral and proven economic system ever discovered."
But not everyone on the right is pleased with Lake's assessment.
"Am I the only young conservative who thinks this kind of rhetoric at a TPUSA event is grossly inappropriate?" tweeted Jenna Ellis, a former member of Trump's legal team.
Reached for comment, Ellis told Newsweek, "I endorsed and still fully support Kari Lake. What I don't support is the notion that strong conservative women have to make comments with clear sexual innuendo to connect with a young audience or be popular. I've definitely said and tweeted things I've thought better of later, and I hope Kari does the same here. I admire her for what she is accomplishing in Arizona and look forward to her winning in November."
DeSantis, who became governor of Florida in 2018, has become a national player for, among other things, signing the colloquially called "Don't Say Gay" bill, rolling back trans protections and fighting mask mandates at the height of Covid. President Trump has most recently been in the news for having his Mar-a-Lago estate raided by the FBI.
Though there is no evidence that Trump has ever mentioned the term "BDE," he was famously caught on tape once talking about the female anatomy, telling Access Hollywood's Billy Bush in 2016, "When you're a star, they let you do it. You can do anything....Grab 'em by the p**sy. You can do anything."
Newsweek has reached out to Kari Lake and Turning Point USA for comment.