Ron DeSantis to Headline Rally With Kari Lake Amid Trump FBI Raid Backlash
Florida Gov. Ron DeSantis will headline a rally for candidates endorsed by former president Donald Trump in Arizona on Sunday.
DeSantis will speak to rally support for candidates Kari Lake and Blake Masters at the "Unite and Win" rally in downtown Phoenix, Charlie Kirk, the founder of Turning Point Action, announced in a tweet on Monday.
Lake, a former news anchor who won the Republican primary for Arizona governor last week and will face off against Democratic Secretary of State Katie Hobbs in the November election. Masters, a venture capitalist, will face off against incumbent Mark Kelly for U.S. Senate.
They are among a host of candidates endorsed by Trump who have embraced his baseless claims of widespread fraud in the 2020 election.
But it's "America's governor," as Kirk put it, who is hitting the campaign trail this month to boost GOP candidates in Arizona, New Mexico, Ohio and Pennsylvania ahead of the November midterms.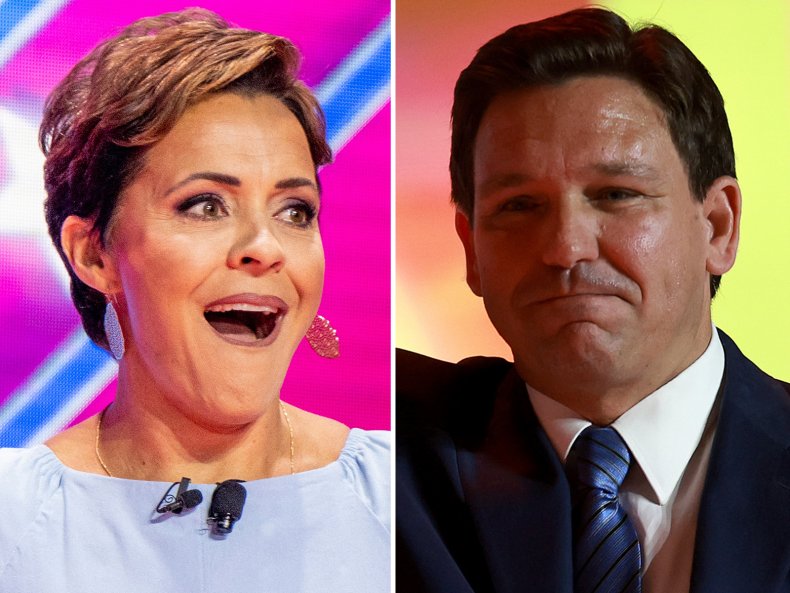 DeSantis headlining a series of rallies outside of his home estate is yet another signal that he is seeking to further boost his national profile ahead of a presidential run in 2024. The governor is widely seen as Trump's biggest possible challenger for the GOP nomination in 2024.
DeSantis' efforts could be hampered as Sunday's rally now risks being overshadowed by the former president, who has been dominating headlines over the past week after the FBI executed a search warrant at his Florida estate on Monday.
Agents recovered 11 sets of classified records—including some marked top secret and "sensitive compartmented information"—from Trump's Mar-a-Lago estate, according to court papers released on Friday.
The raid served to demonstrate Trump's continued grip on the GOP as Republicans, including DeSantis, quickly united behind Trump before the warrant was released, and sought to portray the former president as the victim of a politicized Justice Department.
"The raid on [Mar-a-Lago] is another escalation in the weaponization of federal agencies against the Regime's political opponents, while people like Hunter Biden get treated with kid gloves," DeSantis wrote on Twitter on Monday night.
Meanwhile, Charlie Crist, a former Florida governor seeking the Democratic nomination to run against DeSantis in November, slammed the governor for the rallies.
"While Ron DeSantis is busy campaigning for election denying insurrectionist-loving fascists across the country, I'll be right here in Florida fighting for a better future for our people,' he tweeted on Friday. "Who do you think better represents our state?"
The rally at the Arizona Financial Theatre in Phoenix is due to begin at 6 p.m. MST, or 8 p.m. EST.
Newsweek has contacted DeSantis's spokesperson for comment.