Trump Slams FBI 'Rummaging' Through Melania's Closets, Pushes Conspiracies
Former President Donald Trump has continued to slam the FBI for searching his home, saying agents "rummaged" through Melania's closet as he pushed a series of conspiracy theories about the agency on his Truth Social website.
The FBI recovered 11 sets of classified records—including some marked top secret and "sensitive compartmented information"—from Trump's Mar-a-Lago estate in Florida on Monday, according to court papers released on Friday after a federal judge unsealed the warrant authorizing the search.
The warrant cited potential violations of three federal laws, including the Espionage Act, which makes it a crime to release information that could harm national security.
Sources told Newsweek that the search was based largely on information from an informer, who was able to identify what classified documents Trump still had, as well as their location.
Trump has claimed the documents seized by FBI agents were "all declassified," but the three laws cited as the basis for the warrant make it a crime to mishandle government records, regardless of whether they are classified or not.
In a series of posts on his Truth Social platform early Sunday, Trump railed against the FBI and claimed that agents even "rummaged" through his wife's closets without anyone present.
Trump's attorney Christina Bobb was at Mar-a-Lago when agents carried out the search and signed two property receipts listing what FBI agents had seized.
The FBI has "a long and unrelenting history of being corrupt," Trump wrote in a Truth Social post.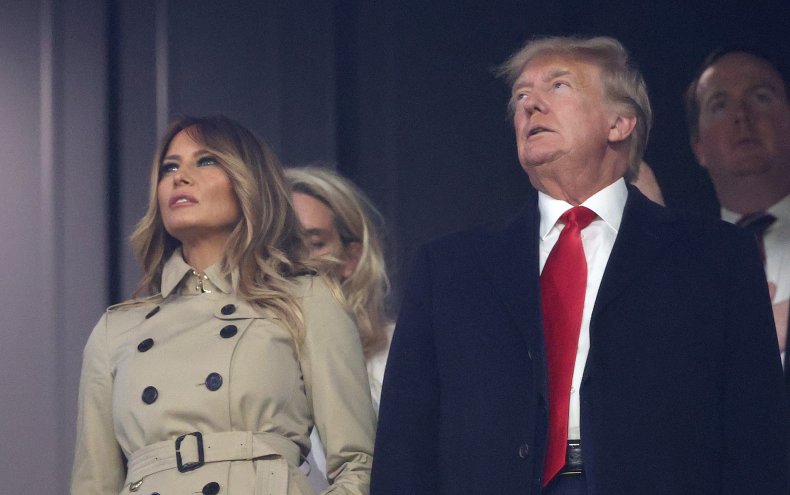 "NOW THEY RAID MY HOME, ban my lawyers and without any witnesses allowed, break the lock that they asked us to install on the storage area that we showed them early on, which held papers hat they could have had months ago for the asking, and without... the ridiculous political grandstanding of a 'break in' to a very storied, important, and high visibility place, just before the Midterm Elections," he wrote.
"The whole World was watching as the FBI rummaged through the house, including the former First Lady's closets (and clothing!), alone and unchecked. They even demanded that the security cameras be turned off (we refused), but there was no way of knowing if what they took was legitimate, or was there a 'plant?' This was, after all, the FBI!"
Trump also shared posts that included conspiracy theories about the FBI and the Obama administration, and repeated the claim that the investigation was a political effort to prevent him from running for a second term in 2024.
"The RAID was Politics, the Midterm Elections, and 2024," he wrote in another post.
He added that Democrats are using "the FBI & DOJ to try and dirty up their opponents, but the people of our Country are wise to them like never before. Be careful what you wish for!"
Newsweek has contacted Trump's spokesperson and the FBI for comment.