Here's What Donald Trump Is Being Investigated For
The warrant for the raid on former President Donald Trump's Mar-a-Lago residence on Monday listed three potential violations of federal law, which collectively could result in decades of prison time and fines, if the former president were ultimately indicted, prosecuted and convicted.
Attorney General Merrick Garland confirmed publicly on Thursday that he signed off on the decision to carry out the raid. A federal judge approved the warrant, believing federal agents had shown probable cause to justify the search. Garland also announced that the Justice Department had filed a motion for the warrant to be unsealed.
The warrant, which became public on Friday afternoon, cited potential violations of federal laws 18 USC 2071—Concealment, removal or mutilation, 18 USC 793—Gathering, transmitting or losing defense information, and 18 USC 1519—Destruction, alteration or falsification of records in Federal investigations. Notably, 18 USC 793 is part of the Espionage Act, which legal experts had suggested over the past couple days Trump could allegedly have violated.
Federal law 18 USC 2071 carries a penalty of a fine or imprisonment for up to three years, or both. Meanwhile, 18 USC 1519 can result in a fine or imprisonment for up to 20 years, or both, and 18 USC 793 can lead to imprisonment for up to 10 years and/or a fine. Combined, the three alleged violations could result in 33 years in prison.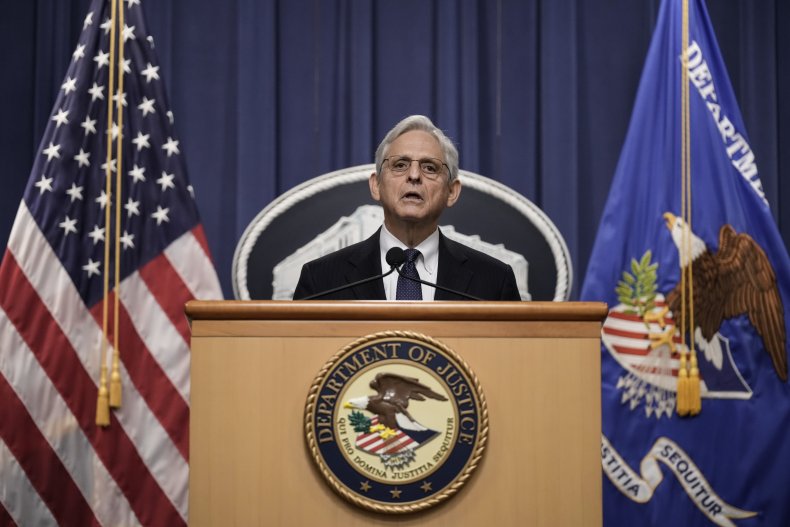 The Wall Street Journal first reported Friday afternoon, citing a list from documents it had reviewed, that the FBI had gathered about 20 boxes from Mar-a-Lago. The boxes reportedly held binders of photos, a handwritten note and the official document granting a pardon to Trump ally Roger Stone. The list also reportedly said there was information about the "President of France."
Agents reportedly collected top secret (TS) and sensitive compartmentalized information (SCI), as well as four sets of top-secret documents, three sets of secret documents and three sets of confidential documents. The FBI reportedly searched Trump's office as well as "storage rooms and all other rooms or areas within the premises used or available to be used by [Trump] and his staff and in which boxes or documents could be stored, including all structures or buildings on the estate."
Trump has strongly denied any wrongdoing, arguing that the FBI raid is part of a partisan "witch hunt." He and his allies have claimed that he faces political persecution, and that the so-called "deep state" aims to prevent him from running for president again. On Thursday, Trump called for the warrant and other documents related to the search to be made public.
"Not only will I not oppose the release of documents related to the unAmerican, unwarranted, and unnecessary raid and break-in of my home in Palm Beach, Florida, Mar-a-Lago, I am going a step further by ENCOURAGING the immediate release of those documents," Trump wrote on his social media platform Truth Social.
In February, news first broke that Trump was improperly holding federal documents and records at his Florida resort home, when the National Archives and Records Administration (NARA) confirmed that it had been searching for 15 boxes of records. Trump did not deny the story at the time, contending that it was a mix-up as his staff hastily moved him out of the White House.
After the 15 boxes were turned over to the NARA, the collection led to further suspicion that the former president still possessed additional materials. Federal investigators began interviewing Trump staffers to determine what was moved. The interviews, and a broader investigation overseen by a U.S. attorney, resulted in a grand jury subpoena served against Trump in late May to produce specific documents.
After the documents were not turned over, the FBI and the Justice Department chose to take the unprecedented step of carrying out a search warrant against a former president on Monday. Trump has argued that there was no need for a raid and that he was cooperating with investigators.
"They didn't need to 'seize' anything. They could have had it anytime they wanted without playing politics and breaking into Mar-a-Lago," Trump wrote on Truth Social on Friday afternoon.
Newsweek reached out to Trump's press office for comment.