Roger Stone lauded President Trump as "the greatest president since Abraham Lincoln" and dismissed his own prosecution as "politically motivated" in his first TV interview since being pardoned.
Speaking to Tucker Carlson on Fox News, Stone thanked "God almighty" for the leniency.
"I have an enormous debt of gratitude to God almighty for giving the president the strength and courage to recognize that my prosecution was a completely politically motivated with hunt and that my trial was a Soviet-style show trial in which the judge denied us any powerful line of defense," he said.
Stone's is one of 26 pardons and three commutations issued by the president on Wednesday to high-profile figures, many of who are closely linked to him.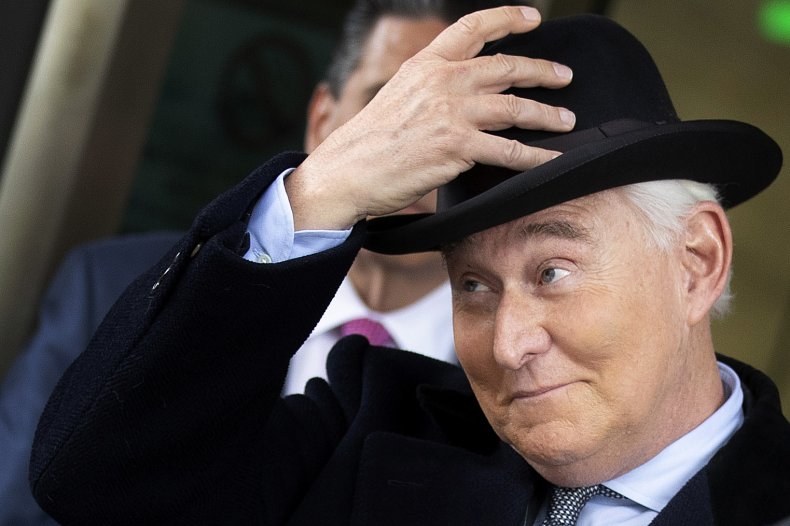 The 68-year-old political consultant was handed a 40-month prison sentence in November 2019 for seven counts of lying to Congress, witness tampering and obstructing the House inquiry into possible Trump collusion with Russia.
Political lobbyist Paul Manafort was also pardoned, for his 2018 conviction as part of the Mueller investigation.
Charles Kushner—father of Trump's adviser and husband of Ivanka Trump, Jared Kushner— received a pardon for the 2004 two-year prison sentence he received for charges including witness tampering, tax evasion and campaign finance offenses.
Stone has always maintained his innocence, insisting he was subject to prosecutorial misconduct. In the interview with Carson, Stone claims he was approached by prosecutors ahead of the release of the Mueller report and was asked to cooperate in return for sentencing leniency—which he refused.
"They wanted me to lie, they wanted me to bear false witness against the president, and I refused to do so," he said. "I think that's what's this charge was about from the beginning. They must have mistaken me for Michael Cohen. But they had the wrong go, and I refused to do this."
Carson said Stone's conviction was "wildly disproportionate" to the crime for which he was convicted. Stone said any suggestion that he had traded his silence for a pardon was a "canard" and a "lie."
"My hat is off to the president, the greatest president since Abraham Lincoln, who had the courage to correct this injustice," Stone said.
President Trump previously commuted Stone's sentence. The president issued a further 65 pardons and commutations before Wednesday. Legal commentators say that many of these pardons issued by the president in his last month in office do not meet the Justice Department guidelines for consideration of pardons or commutations.