Donald Trump Urges 'Immediate Release' of FBI Warrant by DOJ
Former President Donald Trump has called for the "immediate" release of a warrant that on Monday authorized an FBI raid of his Mar-a-Lago residence in Florida.
Trump said he would not oppose the Department of Justice's efforts to make the warrant public in a post on his social media site Truth Social late on Thursday night.
"Not only will I not oppose the release of documents related to the unAmerican, unwarranted, and unnecessary raid and break-in of my home in Palm Beach, Florida, Mar-a-Lago, I am going a step further by ENCOURAGING the immediate release of those documents, even though they have been drawn up by radical left Democrats and possible future political opponents, who have a strong and powerful vested interest in attacking me, much as they have done for the last 6 years..." the former president wrote.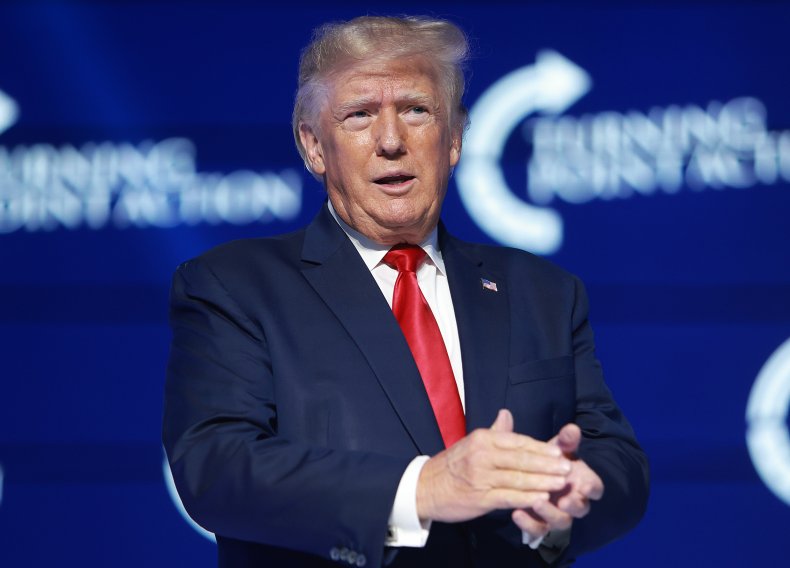 Attorney General Merrick Garland announced earlier on Thursday that the DOJ had asked a federal judge in Florida to unseal the warrant.
Trump has until 3 p.m. on Friday to inform the judge of whether he objects to unsealing the warrant but it now appears he will not object.
Newsweek has asked the Department of Justice for comment.
The DOJ is seeking to unseal the warrant and a property receipt which will show what the FBI agents removed from Mar-a-Lago at the time of the raid.
"Both the warrant and the FBI property receipt were provided on the day of the search to the former president's counsel, who was on site during the search," Garland said on Thursday.
Garland's announcement has increased pressure on Trump to release the warrant and property receipt himself. The attorney general confirmed that the former president's counsel has received copies of both.
Trump attorney Christina Bobb told NewsNation on Thursday that they were not releasing the warrant to the public because of ongoing discussions with the DOJ about the matter.
NewsNation's Leland Vittert told Bobb: "There's actually nothing preventing you guys from releasing it, though."
"Other than decorum," Bobb replied. "I mean, we're trying to work well with the Department of Justice."
Garland also said on Thursday that he had personally approved the search of Mar-a-Lago in the DOJ's first public statement about the matter. His remarks followed significant anger and public criticism from Trump and his Republican allies.
The warrant is expected to show that a federal court found probable cause for FBI agents to conduct a raid. The raid is believed to have been part of an investigation into the handling of potentially classified White House documents.
The Washington Post reported on Thursday that nuclear weapons documents were among the items the DOJ sought from Trump, citing unnamed sources, but that reporting has not been confirmed.
Update 08/12/22 03:25 a.m. ET: This article was updated to include more information.