Trump Beats Pence in Arizona as Kari Lake Wins Primary
Kari Lake, endorsed by former President Donald Trump, won Arizona's Republican gubernatorial primary on Thursday, dealing a blow to Vice President Mike Pence, who backed her opponent Karrin Taylor Robson.
The primary in the battleground Sun Belt state became a proxy battle between Trump and Pence. Though Pence once served as Trump's second-in-command, their relations soured following the January 6, 2021, attack at the U.S. Capitol, when a mob of Trump supporters rioted in a failed attempt to force Congress to block the 2020 presidential election results based on unfounded claims of voter fraud.
At the time, Trump urged Pence to join his efforts to overturn the presidential election results, but Pence refused to do so.
The results and legitimacy of the election have become a divisive issue in the Republican Party—even though there is no substantial evidence that the election was stolen—as Trump attempts to hold his grip on power in the GOP.
The issue became central to Arizona's primary race, as Lake, a former television news anchor, made the election central to her campaign. Robson, who previously served as a member of Arizona's board of regents, has also been critical of the election but focused on other issues in her bid to lead the state.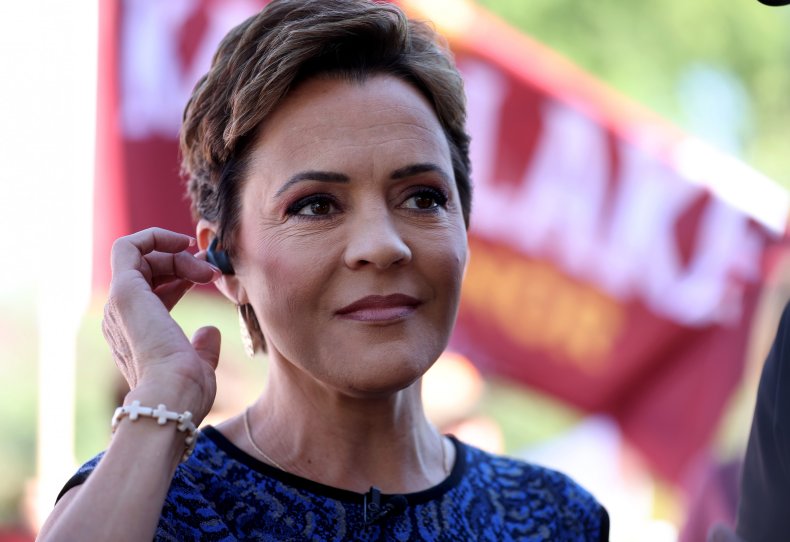 Ultimately, Lake's focus on the election appeared to pay off, as Republican voters selected her as their nominee in the general election. With 88 percent of all votes counted overnight Wednesday, Lake secured 46.8 percent and Robson 44 percent.
Lake said her victory was "more than an election" and a "political earthquake" that meant voters had decided "to finally put Arizona First."
The former TV anchor will face off against Democrat Katie Hobbs in the general election in what will likely be one of the most closely watched races across the U.S.
Lake added: "Arizona just sent a clear message: our state is done with failed politicians like Katie Hobbs."
Lake's win is the latest victory for Trump, who has endorsed candidates in primaries across the United States who have embraced his voter fraud claims in a show of power as he continues to tease a 2024 presidential bid. Her win was also unsurprising, as she led in most polls leading up to election day.
Trump's victory against Pence could also boost his standing ahead of the 2024 election, when he could be hoping for a rematch against President Joe Biden—while also revealing Pence's faltering popularity among the Republican electorate. Polls show that most Republicans still back Trump, even as Democrats and independents give him low approval ratings.
Hobbs, who currently serves as Arizona's secretary of state, easily secured the Democratic nomination, winning 72.6 percent of the vote against Marco López Jr., the former chief of staff for the U.S. Customs and Border Protection.
The general election, which will serve as a test of the general electorate's willingness to back a candidate who has embraced Trump's election fraud claims, is generally regarded as a tossup, with Hobbs leading recent polling. A poll conducted from July 5 to 20 by Beacon Research found Hobbs leading Lake by about 9 points among likely voters.