Pence's Chances of Beating Trump in 2024 as They Face Off in Arizona: Polls
Speculation is mounting that former Vice President Mike Pence plans to run for president in 2024 regardless of former President Donald Trump's ambitions as GOP lawmakers are reportedly encouraging him to run—although polls continue to show Trump as the frontrunner for the Republican Party's nomination.
Pence endorsed Karrin Taylor Robson in Arizona Republican primary gubernatorial race this week after Trump previously endorsed Kari Lake. That endorsement from the vice president came after he has already opposed Trump's preferred candidates in several other high profile primary races ahead of the midterm.
Furthermore, CNN reported on Thursday that some GOP lawmakers encouraged Pence to throw his hat in the ring for the party's 2024 nomination as he spoke to a meeting of the conservative Republican Study Committee caucus in Congress this week. The former vice president has also been filling his schedule with more events in recent weeks.
Some Republican strategists and lawmakers have grown increasingly concerned about Trump's viability in 2024 amid the public hearings of the House select committee investigating the events of January 6, 2021 that have featured what many view as damning testimony. Although Trump has not confirmed plans to run in the next presidential election, he has repeatedly hinted that he aims to seek another White House term.
Recent polling shows Trump as the front-runner for his party's nomination, but many analysts have floated the possibility of Pence or Florida's GOP Governor Ron DeSantis as strong potential challengers.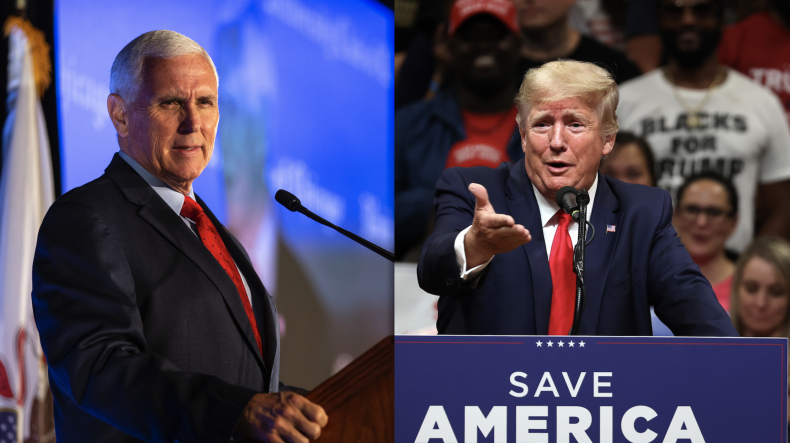 A poll conducted by The New York Times with Siena College from July 5 to 7 showed Pence in fourth place among potential 2024 GOP contenders. Trump came in first with 49 percent support followed by DeSantis in second at 25 percent. Senator Ted Cruz, a Texas Republican, came in third with 7 percent followed close behind by Pence at 6 percent.
In May, a Harvard CAPS/Harris Poll found similar results for Pence. Trump was the clear front-runner among GOP voters at 41 percent followed by DeSantis at 12 percent. Then in third, the former vice president was backed by 7 percent of respondents.
June polling results of New Hampshire voters by the University of New Hampshire showed Pence in third place as well. The Eastern state's voters' political views are generally seen as significant as New Hampshire is the first in the nation to hold a primary in presidential election years, setting a tone for the races going forward in the rest of the states.
Trump and DeSantis were nearly tied among New Hampshire respondents, with the former president receiving the backing of 39 percent compared to the Florida governor's 37 percent. Pence came in far behind at just 9 percent.
Notably, Pence doesn't even perform significantly better among Republicans if Trump is removed from the equation, according to a survey carried out by Echelon Insights from July 15 to 18. That poll asked respondents which GOP candidate they'd vote for if Trump does not run, with DeSantis emerging as the clear favorite.
The Florida governor had the support of 45 percent of voters compared to just 12 percent who said Pence would be their choice for the Republican nomination. Donald Trump Jr., the son of the former president, came in third with 9 percent support.
Whether Pence ultimately decides to run and whether he can increase his support among GOP voters remains to be seen. There is still ample time between now and 2024, with many political factors at play. However, the current polling data shows the former vice president faces an uphill battle if he wants to be the Republican nominee in the next presidential election.