GOP's Ducey Rips Trump Pick Kari Lake in Arizona Gov. Race: 'All an Act'
Outgoing Arizona Governor Doug Ducey on Sunday took another swipe at Kari Lake, the gubernatorial primary candidate backed by former President Donald Trump.
Due to term limits, the Republican leader is unable to pursue a third term as governor. He has endorsed Karrin Taylor Robson, a former member of the Arizona Board of Regents, for the Republican nomination in opposition to Lake, who is a former TV journalist and local media figure.
Ducey's criticism of Lake came during an appearance on CNN's State of the Union when he called her commitment to Trump "an act," and denounced her candidacy as opportunism while conversely lauding Robson's conservative background.
"Well, the names on the ballot are Karrin Robson and Kari Lake," the governor said. "Robson is the real conservative, she's the real deal, she started her career working for Ronald Reagan, she's pro-gun, pro-life. She's the mother of four. She's been a community leader and a successful business person, and I think Karrin Taylor Robson will be the best person to be a fresh, new leader for the state of Arizona."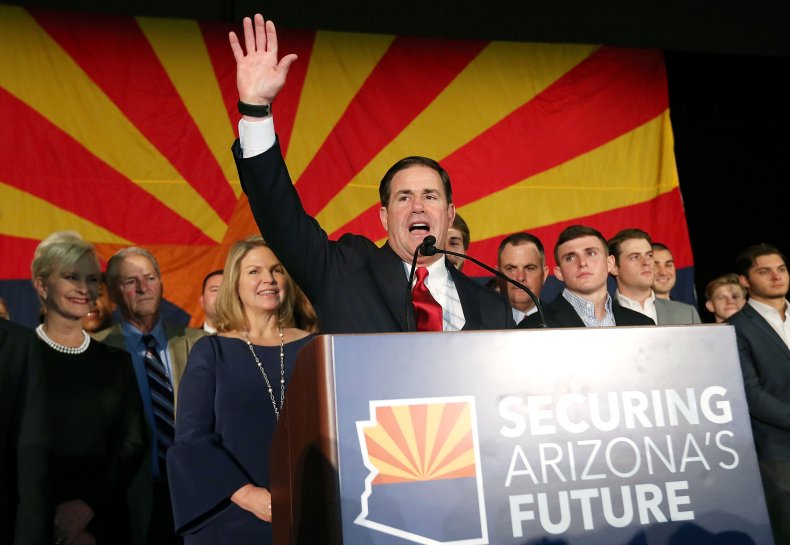 He added: "Her opponent, on the other hand, bears no resemblance. Her campaign or even her personal interactions with me to anything she's done over the past 30 years. This is all an act. She's been putting on a show for some time now and we'll see if the voters of Arizona buy it."
Newsweek reached out to Lake's campaign for comment.
Lake Comes Under Fire on Her Stance About Drag Shows
Lake's sincerity in her conservative beliefs have come under fire in recent months. Like many right-wing figures this year, she has spoken out against drag queen shows, calling them a danger to children. In response to this, Richard Stevens, who performs at drag shows under the name "Barbra Seville," claimed that Lake frequented his shows for over 20 years and had once even requested that he perform in her home.
Lake has strongly denied Stevens' assertions, going so far as to lash out at Fox News host Bret Baier for bringing them up during an interview in late June. In response, a lawyer representing Lake and her campaign issued a cease and desist letter to Stevens, claiming that he had made several false statements, including that the candidate had once brought her daughter to a drag show and had once been kicked out of a bar for being too intoxicated. Stevens has, nevertheless, continued to speak out against her.
While pitted against each other in the upcoming GOP primary, Robson and Lake are potentially aligned on certain key issues. While not as outspoken as Lake, who has frequently called out the 2020 presidential election as being "stolen" from Trump, Robson has in the past declined to confirm whether or not she would have certified Arizona's 2020 election results as governor, and has called the election "absolutely not fair."