Pete Davidson Fans Speculate On Who He Will Date After Kim Kardashian Split
Miley Cyrus, Julia Fox, Jennifer Coolidge... Martha Stweart? These are just some famous women being mentioned in the conversation around the reportedly newly single Pete Davidson.
The former Saturday Night Live star has become something of a heartthrob over the past couple of years and has dated an array of A-listers and now that he's reportedly split from Kim Kardashian, fans are trying to guess who he will become romantically involved with next.
Kardashian and Davidson reportedly announced over the weekend that they are splitting up after nine months of dating.
The unlikely pair struck up a romance after the reality TV star hosted SNL back in October 2021.
After months of speculation, Davidson and Kardashian went Instagram official in March 2022, shortly after she was declared legally single from her ex-husband, Kanye West.
According to reports, the couple decided to go their separate ways earlier this week due to their demanding work schedules.
While they have yet to publicly speak on the matter, reports of the split has sent social media into overdrive.
Newsweek has reached out to representatives for both Davidson and Kardashian for comment.
The comedian was briefly engaged to Ariana Grande, and has also dated Kate Beckinsale, Kaia Gerber and Bridgerton breakout star Phoebe Dynevor.
So fans are frantically trying to guess who could be Davidson's next romantic partner.
"We should've seen this coming," read one viral tweet that features a photo of Davidson and Kardashian at an event with celebrity chef Martha Stewart. Stewart is holding Davidson's hand in the photo.
While another viral tweet suggested that Davidson and Legally Blonde star Jennifer Coolidge would be a good match.
"Pete Davidson and Jennifer Coolidge when," the popular tweet said.
On Reddit, a number of people have suggested that Miley Cyrus would be a good match for Davidson, with one commenter posting: "I can definitely see this hot mess happening....they both are the same kind of grimey in an odd way."
Meanwhile, another Reddit user joked: "This is such a trying time for women. Any day one of us could wake up and find out we're dating Pete. It's anyone's guess."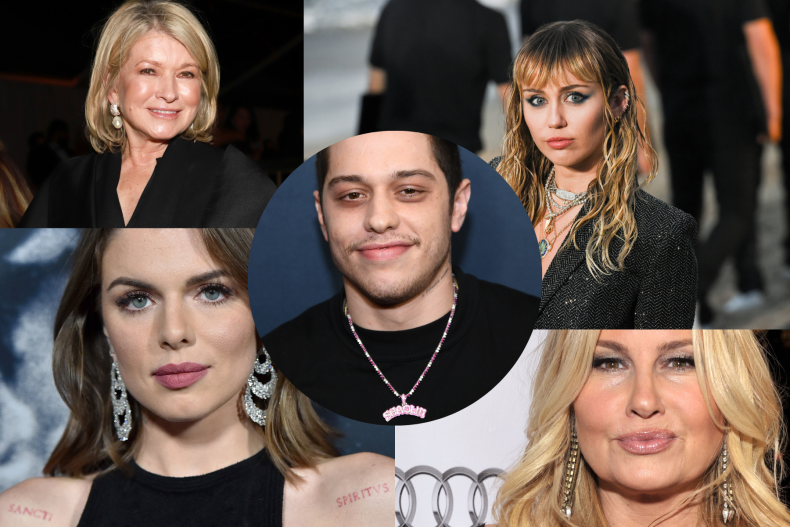 Several Twitter users have suggested that Davidson and Uncut Gems star and Kanye West ex, Julia Fox should date next, with one tweet reading: "pete davidson should date julia fox next."
Another even joked that he might end up with the queen of England.
"pete davidson spotted with the queen of england after his recent break up with kim kardashian," reads a viral tweet.
Following reports of Davidson and Kardashian's split, Kanye West has posted a mock death notice for the comedian.
The rapper made a rare return to Instargram to share a mock-up of a New York Times front page that was emblazoned with the words: "SKETE DAVIDSON DEAD AT AGE 28."