Pete Davidson Seen With North West Despite Ban From Kanye West
Pete Davidson appears to have finally met Kim Kardashian's daughter North, despite her estranged husband Kanye West forbidding the comedian from meeting their children.
Until now, it was believed that the comedian has never met West and Kardashian's four children—North, Saint, Chicago and Psalm—but Davidson has now been pictured with the eldest and was spotted driving a pink electric Moke car with the 8-year-old.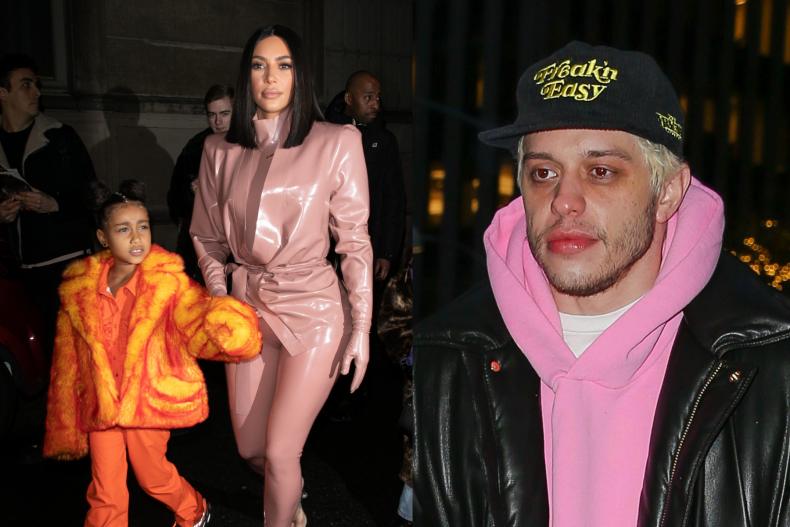 In photos obtained by TMZ, the pair appear to be having fun driving around in the open-sided vehicle.
The outlet reports that the photos were taken in what appears to be Scott Disick's gated community in Los Angeles. Disick is the ex-partner of fellow Keeping up with the Kardashians star, Kourtney.
In March, Davidson was the target of an onslaught of Instagram posts from West, who has publicly objected to the Saturday Night Live star's relationship with Kardashian.
The rapper, who has legally changed his name to Ye, nicknamed the SNL star "Skete" and drew backlash when he released his "Eazy" music video, which depicted a claymation representation of Davidson being kidnapped and buried alive.
Tensions also escalated last month when a purported text conversation between the two was posted on social media, which saw West post a screenshot and tell Davidson that he "will never meet" his kids,
Davidson's text to West reportedly read: "And you as a man. I'd never get in the way of your children. It's a promise. How you guys go about raising your children is your business not mine. I do hope one I day I can meet them and we can all be friends."
In a now-deleted post, West shared a screenshot of those words with the caption: "No, you will never meet my children."
Newsweek has reached out to Davidson and West's representatives for comment.
In the alleged text messages from Davidson, the comedian offered to help West seek help with his mental health.
"Let me help you man. I struggle with mental stuff too. It's not an easy journey. You don't have to feel this way anymore. There's no shame in having a little help. You'll be so happy and at peace," the purported texts read.
"You have no idea how nice I've been to you despite your actions towards me. I've stopped SNL from talking about or making fun of you which they've wanted to do for months. I've stopped stand-up comedians from doing bits about you cause I don't want the father of my girl's kids to look bad out there."
Kardashian meanwhile, has said she is "very happy" with Davidson and revealed that their relationship is serious.
"I am a relationship kinda girl for sure, and I wouldn't be with someone if I didn't plan on spending a lot of time with them," she said in a clip of an upcoming primetime special of Good Morning America, which is set to air on Wednesday evening.
"Obviously, I want to take my time, but I am very happy and very content and it's such a good feeling just to be at peace," she added in the clip.
A judge declared Kardashian legally single in March as part of her and West's divorce proceedings.