Kanye West Criticized for Music Video in Which He Buries Pete Davidson
Kanye West is facing backlash across social media, after releasing a new music video that depicts him kidnapping and burying Pete Davidson.
West, 44, has repeatedly attacked Saturday Night Live star Davidson, 28, in a number of Instagram posts over his romance with the rapper and designer's now ex-wife Kim Kardashian, 41.
And on Wednesday—the same day that a judge declared Kardashian legally single amid their divorce battle—West took to Instagram to unveil a video for his new track "Eazy," which shows him kidnapping a claymation representation of Davidson.
On the track, which features fellow rapper The Game, West is heard rapping: "God saved me from that crash, just so I could beat Pete Davidson's a**."
In the accompanying black-and-white video, a claymation version of West is shown putting a bag over the head a man, before tying him to the back of his bike. He then drags the kidnapped man through the dirt, buries him, and plants roses in his head.
West, who has legally changed his name to Ye, proceeds to cut the bloomed flowers off the dead man's head and packs them into a pick-up truck, in what appears to be a references to the truck of flowers he sent to Kardashian's home on Valentine's Day. He is also seen carrying a decapitated head as he raps.
As the video draws to a close, the screen reads: "Everyone lived happily ever after except you know who," with the word "Skete"—the name that West has taken to calling Davidson—crossed out.
"JK [just kidding] He's Fine," reads the closing words of the almost 4-minute-long video, which has received over 2.6 million views since its unveiling.
The video has sparked a strong reaction on social media, with a number of viewers taking to Twitter to voice their objections to the imagery.
BuzzFeed reporter Stephanie Soteriou wrote: "Kanye West decapitating Pete Davidson in his new music video is absolutely disgusting and pathetic. The man's 44 and having a completely one-sided feud with this guy to this extreme, it's vile and so uncomfortable to witness unfold. He needs to be de-platformed like Trump.
"Also the fact that he waited until immediately after his & Kim's court hearing where he no doubt got everything he wanted in terms of custody & assets shows just how calculating and deliberate he is being. He knew if he dropped it before a judge had ruled it'd cause problems."
Referring to Davidson's recent brief return to Instagram—during which West took credit for running him off the platform—Soteriou said: "If I were Pete Davidson I'd genuinely reactivate Instagram just to post a photo of myself with Kim and all four kids then log out again."
Noting the timing of the video's release, a Twitter user wrote: "Kim Kardashian has been declared legally single and in response Kanye uploads a stop motion music video of him KIDNAPPING and DECAPITATING Pete Davidson?????? This is abuse."
"Kanye can't be publicly violent with Kim so he directs it towards Pete," opined another. "But his beef is with Kim because he thinks he branded her into a wife and now he's pissed cause he can't possess her anymore and hides behind the idea of 'love' just like a twisted narcissistic man would.
"These threats aren't funny. If that was an average person we would've been sitting in jail rn [right now] over WORDS and here he is having a parade."
"Kanye has hit a very scary point," tweeted another viewer of the video. "If I was Kim or Pete, I'd be down at the police station filing a restraining order YESTERDAY!"
Pointing out the potential the trouble this could cause down the line, a fan of West wrote: "i love kanye but this petty s*** is embarrassing and everyone praising him for it clearly don't give a f*** about him. like if something happens to Pete, kanye will truly be f***** cause he's leaving all the evidence online."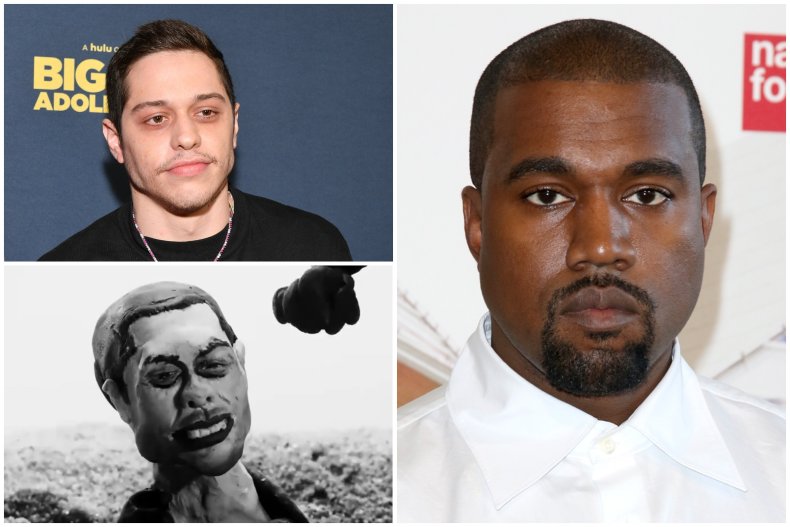 Newsweek has contacted representatives of Davidson, Kardashian and West for comment.
In February, West accused Davidson of destroying his family as he bemoaned the fact that he wasn't able to attend the Super Bowl with Kardashian.
"The Super Bowl brings families together for everyone married," he wrote in a since-deleted Instagram post. "Hold your spouse close. Make sure they know how much you love and appreciate them because [there's] a Skete lurking in every dirty a** alley waiting to help destroy your family and walk around in Calvin Kleins around your children."
"I wish my wife was with me and our children sitting at the 50 yard line," he concluded before tagging his then-estranged wife. "@kimkardashian always remember West was your biggest W."
West also in February shared screenshots of messages where Kardashian, who filed for divorce in February 2021, said he was creating a "dangerous and scary environment" for her boyfriend with his posts.
"Someone will hurt Pete and this will be all your fault," Kardashian wrote.
West captioned his post: "Upon my wife's request please nobody do anything physical to Skete. I'm going to handle the situation myself."
Rapper and designer West, who has made a number of public statements on wanting to rekindle his relationship with Kardashian, shares four children with the reality star and businesswoman.
In February, Kardashian said in court documents about West: "Kanye has been putting a lot of misinformation regarding our private matters and co-parenting on social media which has created emotional distress."
"While I wish our marriage would have succeeded, I have come to the realization that there is no way to repair our marriage," her statement continued. "Kanye does not agree but at least it appears that he has come to the realization that I want to end our marriage, even if he does not.
"I ask that the Court restore me to the status of a single person so that I can begin the healing process and so that our family can begin the healing process and move forward in this new chapter in our lives."