Donald Trump Can't Afford More Primary Humiliations Like Georgia
Donald Trump cannot afford to suffer many more defeats such as the one on Tuesday if he still wants to be considered a powerful influence on GOP voters, experts have said.
The former president suffered arguably his biggest loss since 2020 when his endorsed candidate in the Georgia GOP gubernatorial primary, David Perdue, was thoroughly and comprehensively beaten by Gov. Brian Kemp.
With nearly 95 percent of the ballots counted, Kemp currently has more than 73 percent of the votes, with Perdue languishing way behind in second place with 21.8 percent.
Elsewhere, Rep. Jody Hice, Trump's endorsed candidate in the Georgia Secretary of State primary, was also heavily beaten on Tuesday by the incumbent Brad Raffensperger.
Raffensperger, who famously refused to help the former president "find" 11,800 votes in the 2020 Election to overturn Georgia's results in Trump's favor, managed to avoid a run-off with Hice after getting more than 50 percent of the votes.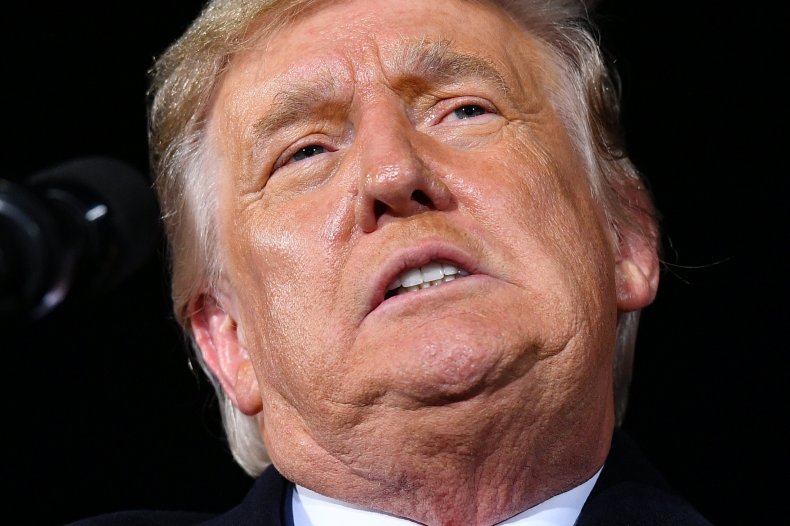 Both elections in Georgia were seen as a tough test of the power of a Trump endorsement, given he was attempting to unseat incumbents, who rarely lose primaries or even subsequent midterms elections.
Perdue's devastating defeat to Kemp will surely have hit Trump hard, seeing as the former president singled out the Georgia governor as one of the sitting GOP elected officials he desperately wanted voted out of office for not supporting his baseless claim of voter fraud in the 2020 Election.
"If Trump experiences more nights like tonight, it will encourage Republicans in 2024 to run against Trump or to at least not feel the need to seek his approval," Charles Bullock, a professor of political science at the University of Georgia, told Newsweek.
"Looking back, a couple of years from now, it may appear that Trump's hold on the GOP began to unravel in Georgia."
Alvin Bernard Tillery, an associate professor of political science at Northwestern University, agreed that Kemp's crushing defeat of Perdue is a sign of Trump's "diminishing" influence.
"Trump targeted Kemp early and consistently throughout the primary election cycle and the fact that Kemp won more than 70 percent of the vote proves that the former president is not an all-powerful kingmaker in GOP politics," Tillery told Newsweek.
Dr. Bernard Tamas, associate professor of political science at Valdosta State University, said following Perdue's heavy defeat to Kemp on Tuesday, it will be interesting to see just how the former president reacts.
"He might continue to undermine Kemp, much like he kept spouting the 'stolen 2020 election' falsehood, which dampened the Republican turnout and contributed to Perdue losing his Senate seat in the first place," Tamas told Newsweek.
"From a purely strategic point of view, and if Trump wants to keep demonstrating his clout to the GOP establishment, he will, perhaps counter-intuitively for some, be better served to keep playing the role of a disrupter, even if it undermines Republican general election candidates."
Tamas said the results across Tuesday's primaries show that most GOP voters did not act "irrationally" or voted against their own interests to "simply to jump onto the Trump train."
However, Dr. Nathan Price, an associate professor of political science and International Affairs at the University of North Georgia, advised against "reading too much" about Trump's remaining influence over the GOP based on the results of any one race.
Price pointed to the fact that Trump's endorsement appeared to massively affect the Ohio GOP Senate primary, where J.D. Vance went from being third in the polls to a clear winner after the former president eventually backed the Hillbilly Elegy author as his preferred choice.
"High profile endorsements can have an impact but are rarely the lone deciding factor because candidates and the particular dynamics of each race matter," Price told Newsweek.
As noted by Blake Hounshell, editor of The New York Times' "On Politics" newsletter: "The results tonight confirm what many Republican consultants say privately: that the hardcore Stop the Steal vote is somewhere around 30 or 35 percent of the G.O.P. electorate. You can't win a primary on that alone."