Donald Trump Is Losing More Primary Races Than He'd Like You to Know
The question of how much influence Donald Trump's influence continues to have for GOP voters continued in the wake of the primaries in Nebraska and West Virginia, with the former president's endorsements having a mixed night.
Before the polls opened on Tuesday in both states, Trump had endorsed 55 candidates who all went on to win their respective primaries or advance into a runoff—22 in Ohio and Indiana and 33 in Texas.
The run came to an end after Trump's pick in the GOP gubernatorial election in Nebraska, Charles Herbster, lost the election to Jim Pillen, a University of Nebraska regent endorsed by outgoing term-limited Governor Pete Ricketts.
However, as noted by Politico, Trump may have also lost another election in Nebraska that night as Representative Don Bacon managed to hold onto his seat after getting a resounding 77 percent of the votes on Tuesday.
Trump has held a grudge against Bacon for several months and has frequently spoken of his desire for the congressman to be voted out of office.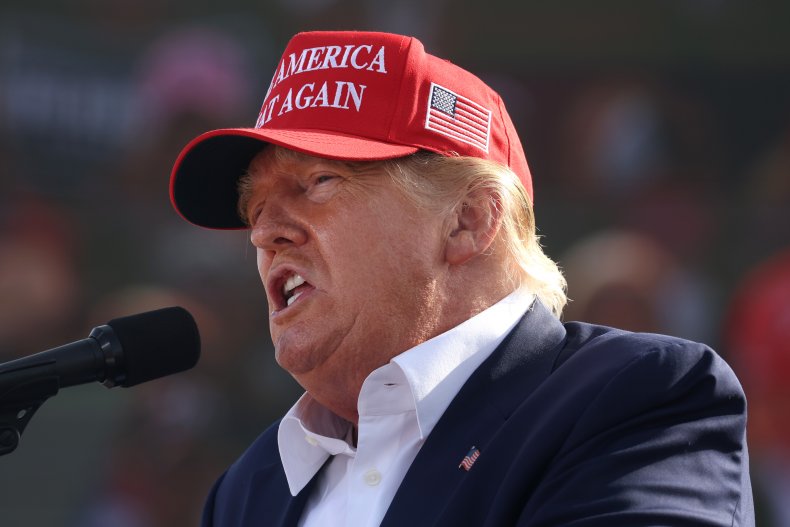 In November 2021, Trump urged people to run against Bacon and 12 other Republicans who voted to approve President Joe Biden's $1.2 trillion infrastructure bill. Also on the list was Representative David McKinley, who lost the GOP primary to Trump-endorsed Representative Alex Mooney in West Virginia's newly-formed 2nd Congressional District.
In a brief statement in January, Trump asked "Anyone want to run for Congress against Don Bacon in Nebraska?" At the time, the congressman did not have any GOP challengers for the upcoming primary.
When Bacon did finally get a Republican opponent for the candidacy, Steve Kuehl, Trump did not fully endorse him, fearful that the political newcomer would not stand a chance against the incumbent.
Trump did attack Bacon during a campaign rally he held in Nebraska last week. "I hope you vote like hell against that guy," he said.
Trump endorsing a candidate who was almost certain to lose could also leave a stain against his endorsements, which he declared the "strongest" in U.S. political history.
The closest Trump came to showing support for Kuehl was during the last week's rally when the former president gave him a shout-out from the stage.
"I think Steve will do well. Good luck, Steve, whoever the hell you are," Trump said.
Kuehl ended up with 23 percent of the votes on Tuesday or just over 14,000 votes.
When discussing the power of Trump's endorsements, it should be noted how often Trump picks candidates who were already favorites to win their elections, or even ran uncontested.
As noted by data compiled by Newsweek, Trump has already endorsed more than 80 incumbents, who rarely lose primaries, during this campaign cycle, compared to 44 in 2018.
On the day of the Nebraska primary, Trump announced a further nine endorsements for sitting congressmen for their upcoming primaries' all of whom will be favorites to win their races.
"No one can take the Trump 'winning percentage' seriously when his endorsements include candidates running unopposed and others without serious opposition, and when he un-endorses candidates like Mo Brooks who fail to flourish," David Niven, a political science professor at the University of Cincinnati, told Newsweek.
The power of Trump's endorsement was arguably seen in the Senate primary in Ohio, where his preferred candidate J.D. Vance went from being third in the polls to a clear victory after Trump announced the Hillbilly Elegy author as his pick just a few weeks before the polls opened.
Thomas Gift, founding director of University College London's Centre on U.S. Politics, told Newsweek that while a Trump endorsement can matter on the margins, the outcome of every election is decided on a number of other factors, such as media coverage, money, and the strength of his or her opponents.
"Trump's not a political alchemist. He can't turn a middling GOP candidate into gold all by himself. No modern politician has that kind of anointing power," Gift said.
Gift said a better indicator of the former president's influence on the GOP can be seen in how many candidates are vying to "out-Trump" each other in an attempt to appeal to his base for votes.
"In virtually every Republican primary, running away from Trump is political suicide," Gift said. "If you want to know if Trump still casts a long shadow over the GOP, that's the fact that matters."
Update 05/11/2022: This article has been updated with comment from David Niven.