Donald Trump Urges Primary Campaigns Against GOP 'RINOs, Sellouts, and Known Losers'
Donald Trump has called for primary challenges against several Republicans that he slammed as "RINOs [Republicans In Name Only], sellouts and known losers."
The former president released a statement on Saturday that urged "good and SMART America First Republican Patriots" to run against several GOP lawmakers who have drawn his ire.
Most of the 11 Representatives mentioned in the statement voted to pass President Joe Biden's $1.2 trillion infrastructure bill earlier this month, while others are likely on it for their vote to impeach Trump following the deadly riot at the U.S. Capitol on January 6.
"Any interest from good and SMART America First Republican Patriots to run primary campaigns against Representatives Tom Rice, John Katko, Don Bacon, Don Young, Fred Upton (challenge accepted), Andrew Garbarino, Peter Meijer (challenge accepted), David McKinley (challenge accepted), Nancy Mace, Jaime Herrera Beutler (challenge accepted) and Chris Smith? You will have my backing!" Trump said in the statement.
"Gonzalez, Kinzinger, and Reed already QUIT, they are out of politics, hopefully for good. Warmonger Liz Cheney (challenge accepted) is on the SKIDS with a 19% approval rating. Saving America starts by saving the GOP from RINOs, sellouts, and known losers! In the Senate, the "Disaster from Alaska," Lisa Murkowski (challenge accepted), must go. There is "almost" nobody worse!"
Reps. Katko, Bacon, Young, Upton, Garbarino, McKinley, Gonzalez, Kinzinger, Reed and Smith joined most Democrats to pass the infrastructure bill by a vote of 228 to 206, giving Biden a legislative victory.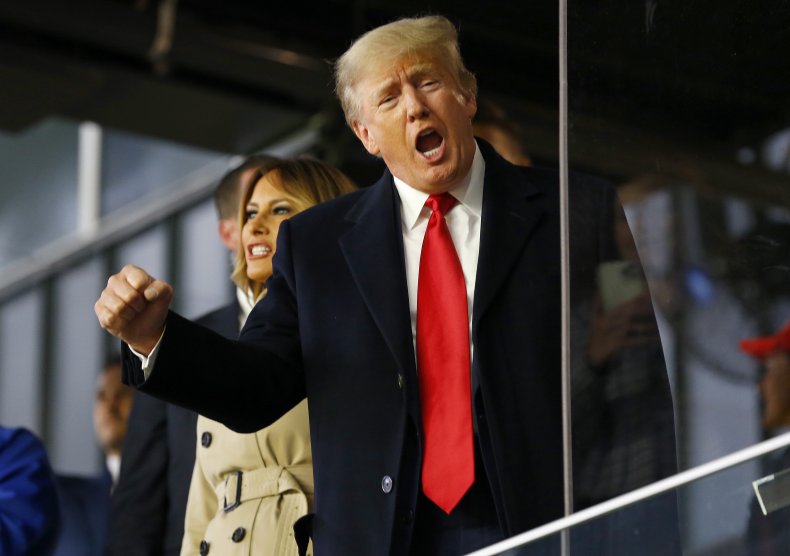 But three other Republicans who also voted for the bill—Reps. Jeff van Drew, Nicole Malliotakis and Brian Fitzpatrick—were not mentioned in Trump's statement.
Reps. Cheney, Rice, Katko, Kinzinger, Gonzalez, Upton, Meijer, and Herrera Beutler were among the 10 Republicans who crossed party lines and voted to impeach Trump for a historic second time after a mob of his supporters stormed the U.S. Capitol to disrupt the certification of Biden's election victory.
Murkowski was among seven Republican senators who voted to convict Trump on an impeachment charge of inciting an insurrection but is the only one facing voters in 2022.
Trump has since embarked on a revenge campaign to oust those Republicans from office. "1 down, 9 to go!" Trump said in a statement celebrating Gonzalez's announcement that he would not seek reelection.
Rep. Mace didn't vote for the infrastructure bill or to impeach Trump, but she was among nine House Republicans who voted to hold former Trump advisor Steve Bannon in contempt for defying a subpoena from the select committee investigating the January 6 attack on the Capitol.
Trump's office has been contacted for comment.