Donald Trump's Enemies Flock to Brian Kemp in Bid to Thwart MAGA Surge
Former President George W. Bush is reported to be attending a fundraiser in support of Georgia governor Brian Kemp in another example of recent and longtime enemies of Donald Trump publicly rallying against the MAGA president's endorsed candidate, David Perdue.
Bush is scheduled to appear at a Texas fundraiser on Monday for Kemp at the home of real estate developer Harlan Crow, according to Politico. It was previously confirmed that former Vice President Mike Pence, whose relationship with Trump fell apart after the 2021 U.S. Capitol riot, would be supporting Kemp as the Republican candidate during a rally held one day before the May 24 primary.
Charles Bullock, a professor of political science at the University of Georgia, said that with Kemp being "target number one" for Trump, Republicans who do not support the former president and his vision have seen that "the biggest blow they could deliver to begin freeing the GOP of Trumpism" would be to beat his candidate in Georgia and securing the governor's reelection.
"The anti-Trumpers know that because Trump has so frequently highlighted his disdain, even hatred, for Kemp, beating Perdue will get more media coverage than beating Trump's candidates elsewhere, in Arizona, Pennsylvania, etc," Bullock told Newsweek.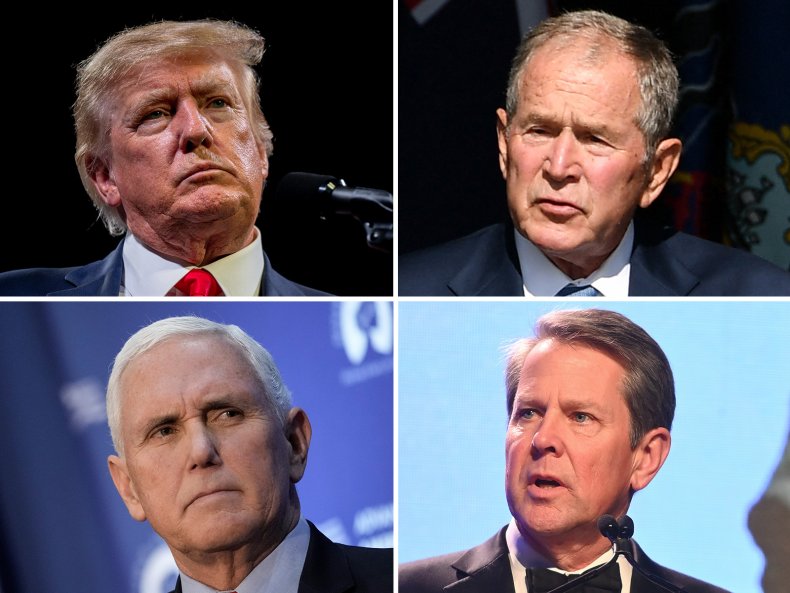 Trump and the Bush family have a running feud dating back to at least 2013 when Trump tweeted: "We need another Bush in office about as much as we need Obama to have a 3rd term." Trump would later run against Jeb Bush for president in 2016.
During a ceremony to mark the 20th anniversary of the 9/11 terrorist attacks in September 2021, Bush appeared to make reference to Trump's time in the White House by stating: "So much of our politics has become a naked appeal to anger, fear, and resentment."
The dispute has reignited in recent years as Bush has frequently promoted the political career of Wyoming Representative Liz Cheney—the daughter of his former vice president, Dick Cheney—who has frequently opposed Trump. Along with Cheney, Trump has made ousting Kemp from office one of his top priorities, singling out the governor with attacks and criticism since late 2020.
Kemp, who narrowly defeated Democrat Stacey Abrams in 2018 after receiving unbridled support from Trump, has since earned the former president's ire after upholding Georgia's 2020 election results, which ruled President Joe Biden the winner.
In response, Trump has spent several months campaigning on behalf of Perdue, a former Georgia senator who lost his seat in January 2020. While announcing his endorsement of Perdue, Trump said that Kemp had "let us down" and "we can't let it happen again."
As with a number of other midterms across the country, the gubernatorial primary in Georgia will be a sign of just how influential an endorsement is from Trump as the former president aims to shape the Republican Party in his image by backing MAGA candidates and those willing to push the "big lie" that the last election was rigged.
However, just like in the Republican gubernatorial election in Nebraska in which Trump's choice Charles Herbster lost, polls suggest that the Trump-backed candidate in Georgia may also be defeated.
According to an Atlanta Journal-Constitution poll published in late April, Kemp holds an overwhelming 53 to 27 percent lead over Perdue. An 11Alive poll released the same month gave similar results, with Kemp leading 56 percent to 31 over Perdue.
The Republican Governors Association has also been publicly campaigning on behalf of Kemp, meaning now there are "multiple Establishment forces" rallying behind the governor, Bullock told Newsweek.
"Polls showing Kemp above 50 percent and well ahead of Perdue also encourage these forces to help Kemp who looks like he will become the nominee. Score one for the Establishment; zero for Trump," he added.
Dr. Bernard Tamas, associate professor of political science at Valdosta State University, said that because Kemp has such a comfortable lead over Perdue, Republican support for the governor is more about "signaling" than trying to influence the outcome of the race.
"By openly supporting Kemp, anti-MAGA Republicans like Bush and to some extent, Pence, are trying to push back against this image that Republican politicians need Trump to succeed," Tamas told Newsweek.
"The Georgia Republican primary is important because politicians use races like this as indicators of where the wind is blowing. What matters is not whether Trump actually has influence with voters but rather whether Republican politicians believe he does."
Update 5/17/2022, 3:05 a.m. EDT: This article has been updated with comment from Dr. Bernard Tamas.
Update 5/17/2022: 11:11 a.m. EDT: This article has been amended to correct Dr. Bernard Tamas' title.