Donald Trump Just Said the Quiet Part Out Loud
Donald Trump has been accused of saying the "quiet part out loud" after suggesting Mike Pence should have "overturned the election" last January 6, but "unfortunately" failed to do so during his role as presiding officer of the Senate.
In a statement on Sunday night, Trump was denouncing bipartisan efforts to update the Electoral Count Act of 1887 to make it clear that a vice president doesn't have the constitutional or legal power to prevent election results from being certified.
However, Trump interpreted the proposals as a way to prevent VPs from being able to change the outcome of the results, once again falsely suggesting Pence therefor had the power to do so.
"If the Vice President (Mike Pence) had 'absolutely no right' to change the Presidential Election results in the Senate, despite fraud and many other irregularities, how come the Democrats and RINO Republicans, like Wacky Susan Collins, are desperately trying to pass legislation that will not allow the Vice President to change the results of the election?" Trump said.
"Actually, what they are saying, is that Mike Pence did have the right to change the outcome, and they now want to take that right away. Unfortunately, he didn't exercise that power, he could have overturned the Election!"
While the former president has been falsely claiming the 2020 Election was "rigged" against him for more than 14 months now, his latest statement was the first time that he has let slip that his voter fraud cries were part of intentions to completely overturn the results in his favor.
Speaking to Newsweek, Joshua Scacco, an Associate Professor of Political Communication at the University of South Florida, said Trump's latest statement is "the most direct acknowledgment" of his intentions in the run up to January 6, and could have implications for the many investigations looking into him.
Scacco added that the "admission" from Trump that he wanted Pence to overturn the election is part of a pattern of behavior of the former president when under fire of "inoculating" his supporters for any potential negative disclosures.
"People don't want to admit problematic behavior publicly," Scacco said. "We oftentimes look at private information that comes out instead of what was publicly said. Here, Donald Trump does the exact opposite," Scacco said.
"One of his big tactics is he tries to engage in an inoculation of his audience, a weak form of the message which prepares his base for what is to come," Scacco said. "So when the full message or the full information comes out, they've already heard it, it's not a surprise, it can't take them by surprise."
A number of critics, lawmakers and journalists also condemned Trump's comments, in which he specifically states that his attempts to put pressure on Pence to prevent the votes from being certified in Congress were part of an effort to disregard the democratic results.
Bill Kristol, a political commentator and advisor in President Ronald Reagan's administration, tweeted: "Talk about saying the quiet part loud. Trump here admits or rather boasts that what he wanted Mike Pence to do was to 'overturn the election.'"
The New York Times' Maggie Haberman also said Trump was "saying the quiet part out loud" about overturning an election with his latest comments.
Rep. Adam Kinzinger, one of two Republican members of the House committee investigating the attack on the Capitol, also said that Trump's remarks are an "admission" and a "massively un-American" statement.
"It is time for every Republican leader to pick a side...Trump or the Constitution, there is no middle on defending our nation anymore," Kinzinger tweeted.
Olivia Troye, a former national security official and ex-advisor to Pence, tweeted: "Trump boasting in his latest statement: the goal was to overturn the election—after touting at his rally that he'll pardon Jan 6 insurrectionists. Every Republican candidate & official should go on record with their answer: Do you support sedition & pardoning domestic terrorists?"
NBC News' senior national political reporter Sahil Kapur added: "Two important developments here (1) This is the first time Trump has weighed in on the bipartisan talks about stopping election subversion; we'll see if it affects GOP sens.
"(2): He's more openly using phrases like 'change the outcome' and VP 'could have overturned the Election.'"
While this is the first time that Trump has openly revealed that he wanted Pence to overturn the election results, it is by far the first time he has falsely claimed his vice president had the power to stop the results being certified on January 6.
In the days prior to the Capitol attack, Trump was putting pressure on Pence to prevent the results from being certified in Congress despite the fact he did not have the power to do so during his purely ceremonial role as presiding officer of the Senate.
On January 5, 2021, Trump tweeted that Pence "has the power to reject fraudulently chosen electors" and previously told a crowd at a rally in Georgia in support of then senators Kelly Loeffler and David Perdue how he hopes Pence "comes through for us" and stops the results from being declared in favor of Joe Biden.
Even as his supporters were storming the Capitol building on January 6, Trump tweeted that Pence "didn't have the courage to do what should have been done" and stop results from being certified.
Pence released a statement just before the joint session of Congress to count the votes to state that there is no constitutional basis to Trump's claims that he can stop the ballots being certified.
"As a student of history who loves the Constitution and reveres its Framers, I do not believe that the Founders of our country intended to invest the Vice President with unilateral authority to decide which electoral votes should be counted during the Joint Session of Congress, and no Vice President in American history has ever asserted such authority," Pence said.
"It is my considered judgment that my oath to support and defend the Constitution constrains me from claiming unilateral authority to determine which electoral votes should be counted and which should not."
Trump has been contacted for comment.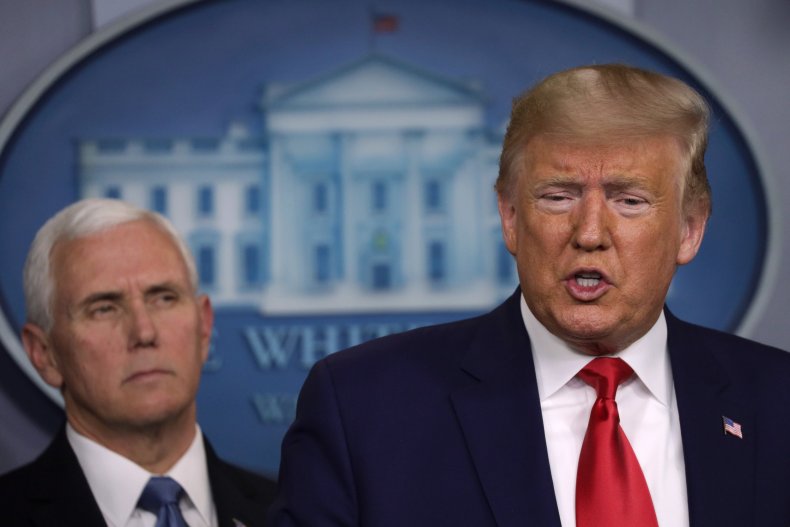 Update 01/31/2022: This article has been updated with comment from Joshua Scacco.