Susan Collins Rips Trump's Pardons Idea, Notes GOP Has 'Many Other Qualified Candidates'
Senator Susan Collins, a Maine Republican, criticized Donald Trump's suggestion that he will pardon rioters who attacked the U.S. Capitol on January 6, 2021 if he becomes president again, while noting the GOP has "many other qualified candidates" to run in 2024.
During a Texas rally on Saturday, the former president told thousands of supporters that the pro-Trump rioters who stormed the federal legislative building last year are being treated "very unfairly." Trump went on to float the idea that these supporters could receive pardons if he chooses to run for president, and goes on to win, in 2024.
Collins joined six other Republicans and all 50 members of the Senate's Democratic caucus in voting to convict Trump following his second impeachment trial in the aftermath of the January 6 violence. She condemned his actions at the time, but has appeared reluctant to rule out supporting him if he chooses to run again. The GOP senator was asked about Trump's suggestion he'd pardon the rioters and whether she'd support him in the next presidential election if he chooses to run during a Sunday interview with ABC News.
"Well, we're a long ways from 2024. But let me say this, I do not think the president should have made—that President Trump should have made that pledge to do pardons. We should let the judicial process proceed," Collins responded.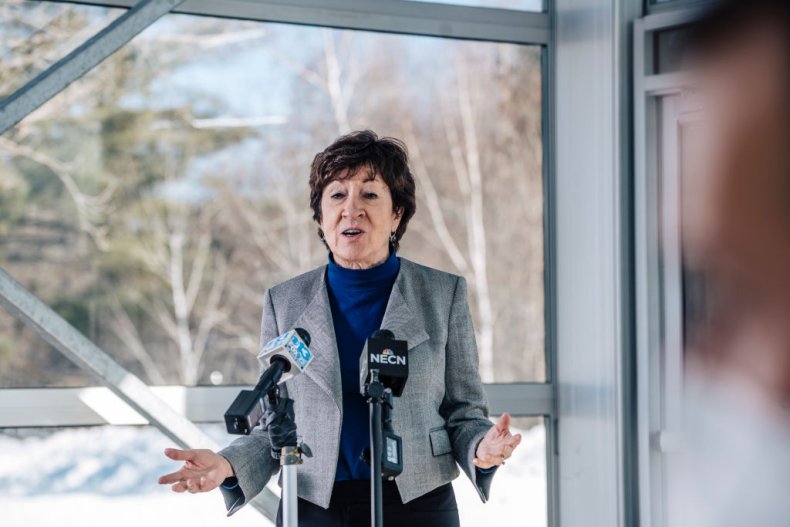 "January 6th was a dark day in our history," the Republican lawmaker asserted.
Pressed again as to whether she'd "rule out supporting him in 2024," Collins said it was "unlikely" but stopped short of saying she would not.
"Well, certainly it's not likely given the many other qualified candidates that we have that have expressed interest in running," the senator responded. "So it's very unlikely."
Trump held the large "Save America Rally" in Conroe—near Houston—at the Montgomery County Fairgrounds. He lamented the treatment of those who attacked the U.S. Capitol in an apparent effort to disrupt the formal certification of President Joe Biden's Electoral College victory.
"And another thing we'll do, and so many people have been asking me about it, if I run [in 2024], and if I win, we will treat those people from January 6 fairly," Trump said in his speech. "We will treat them fairly, and if it requires pardons, we will give them pardons."
Many legal experts were quick to raise alarms while some Republicans—like Collins—criticized the suggestion.
"This is beyond being a demagogue to the stuff of dictators. He is defying the rule of law. Failure to confront a tyrant only encourages bad behavior. If thinking Americans don't understand what Trump is doing and what the criminal justice system must do we are all in big trouble!" tweeted John W. Dean, who served as White House counsel for former GOP President Richard Nixon.
Republican Governor Chris Sununu of New Hampshire voiced his opposition to Trump's idea on Sunday morning as well.
"Folks that were part of the riots and, frankly, the assault on the U.S. Capitol, have to be held accountable," Sununu told CNN when asked about Trump's remarks. "There's a rule of law."
When asked again if he would support pardons, Sununu replied, "Of course not. Oh my goodness, no."
Hundreds of Trump's supporters participated in the U.S. Capitol assault on January 6, 2021. More than 760 have been charged over their alleged involvement in that riot, which took place after Trump urged them at a nearby rally to walk to the legislative building and "fight like hell."
Collins condemned Trump for helping to incite the mob after his impeachment trial concluded in February 2021. "That attack was not a spontaneous outbreak of violence. Rather, it was the culmination of a steady stream of provocations by President Trump that were aimed at overturning the results of the presidential election," the Maine Republican said.
She described Trump's actions as "tossing a lit match into a pile of dry leaves," saying that the former president had "stoked discontent with a steady barrage of false claims." Trump lied to his supporters, claiming that the 2020 election was "stolen."
Last October, Collins put forward the names of other potential GOP contenders she'd like to support for president at a Maine event, but didn't rule out backing Trump.
"We have many Republicans that I think would be great candidates, ranging from [former U.N. Ambassador] Nikki Haley, [Senator] Marco Rubio, [Senator] Tom Cotton," Collins said, as reported by the Bangor Daily News.
Trump has not confirmed whether he plans to run for president in 2024, but has repeatedly teased the possibility. Polls currently show that he would be the clear Republican frontrunner and would be well-positioned to potentially defeat Biden in a rematch. However, both Trump and Biden are unpopular options with voters.
Representative Adam Kinzinger, an Illinois Republican and staunch Trump critic, appeared to knock Collins for not ruling out backing Trump in 2024. In a tweet on Sunday, Kinzinger shared a clip from her ABC News interview. He wrote: "My answer would have been three words long, 'aww hellll nah.'"
Newsweek reached out to Trump's press office for comment but did not immediately receive a response.