Trump Rally-Goers in Texas Say They 'Miss' His Tweets, Want to Take Back Country 'for God'
Supporters of former President Donald Trump started to camp out Friday in anticipation of his Saturday arrival for a rally near Houston, with many expressing conspiracy theories and other saying they "missed" Trump's tweets and aim to take back the country "for God" and "Jesus Christ."
Trump is slated to take the stage Saturday in Conroe, Texas, at around 7 p.m. local time, with the "Save America Rally" expected to draw thousands of supporters to the Montgomery County Fairgrounds. A number of those in attendance promoted conspiracy theories, while others sold unique pro-Trump items and waved large banners and flags in support of the former president.
A woman selling a book archiving all of Trump's old tweets lamented the fact that the former president has been permanently banned from the social media platform. The Trump supporter told Right Side Broadcasting Network that she spent "every single day" of her life for five years reading his Twitter posts.
"That's what I spent doing for five years, literally, I mean, it's everything I did. And I miss them terribly and the people miss them terribly," the woman said in a video interview at the rally.
Another woman in attendance warned that she believes Satan is now controlling the U.S. in an interview with RSBN. "I think this system that we got going on right now is a Satanic system," she said in a video interview
"And let me tell you something, I believe—I believe Satan is on his J-O-B, man. He is on his J-O-B. And we need to be getting on with our J-O-B. We've got to take this country back for God," she said. "We've got to take this country back for Jesus Christ." Several people around her cheered in agreement.
Meanwhile, some in attendance voiced support for the QAnon conspiracy theory, while others promoted a variety of bizarre beliefs. "Unpopular opinion, I'm a flat-Earther so, like, I've just been talking to some people today, telling them why I believe what I believe," one man told RSBN.
Meanwhile, another man held a sign and explained to RSBN that he believes the World Economic Forum has a "global plan to enslave you and your family" via COVID-19 vaccines. He compared the life-saving vaccines to the "mark of the beast" from the book of Revelation in the Bible.
Ahead of the event, Trump shared an official statement via his spokesperson Liz Harrington. "Big crowd already gathering in Texas for tonight, see you there!" the former president said.
Some locals in Conroe—a city of about 90,000—said they anticipate tens of thousands of Trump supporters will converge on the local fairgrounds for the event.
"It's gonna be monumental, the amount of people," Leon Apostolo, the owner of Shepard's Barbershop, told Spectrum News. "I expect it's gonna be probably 50,000 people out there at the fairgrounds."
"I think it's good for business, the fact it will bring a lot of people into Conroe," Apostolo added.
Trump will likely continue to promote misinformation about the 2020 presidential election results while speaking at the rally. The former president and his right-wing allies continue to claim that President Joe Biden won because the election was "rigged" or "stolen." They have not provided evidence substantiating the claim, but the belief has been widely accepted by Republican voters, according multiple polls over the past year.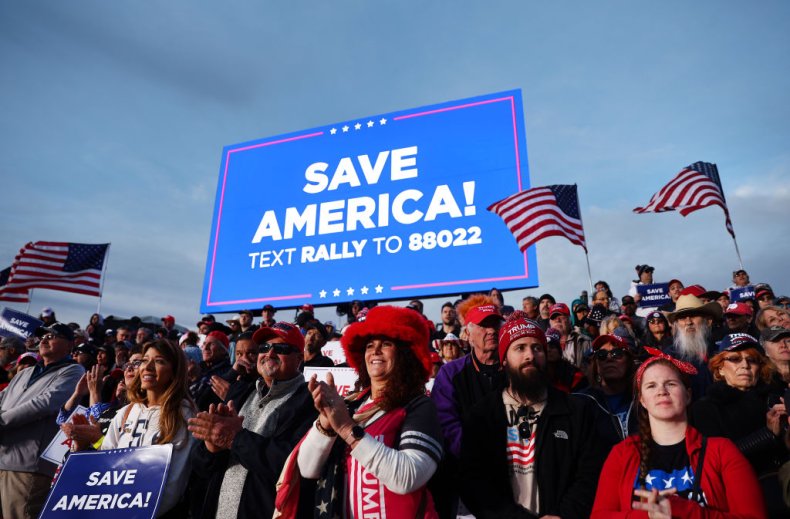 Dozens of election challenge lawsuits filed by the former president and his allies have failed in state and federal courts. Even judges appointed by Trump and fellow Republicans have dismissed the legal challenges. Meanwhile, audits and recounts of the 2020 results across the country—including in areas where the election process was overseen by pro-Trump conservatives—have consistently reaffirmed Biden's win.
Former Attorney General William Barr, who was widely viewed as one of Trump's most loyal Cabinet members, drew initial backlash for investigating claims of widespread voter fraud in the wake of the presidential election. But in December 2020 he concluded that there was "no evidence" of widespread fraud that would change the election's outcome. The Cybersecurity and Infrastructure Security Agency at the Department of Homeland Security—while still led by a Trump appointee—asserted that there was "no evidence that any voting system deleted or lost votes, changed votes, or was in any way compromised."
Regardless, Trump and conservative supporters—such as MyPillow founder Mike Lindell, attorney Sidney Powell, political consultant Roger Stone and retired Lt. General Michael Flynn—have spent the past year traveling around the country organizing and attending events to promote the so-called "Big Lie" that the 2020 election was "stolen." The pro-Trump events regularly draw large crowds of loyal supporters of the former president.
Newsweek reached out to Trump's press office for comment but did not immediately receive a response.