2022 Candidates With QAnon Ties Should Be 'Wake Up-Call' to Voters: Ex-Trump Official
Former Trump administration official Miles Taylor warned on Friday that the relatively large number of candidates running in the 2022 midterms with ties to the QAnon conspiracy theory should be a "wake-up call to voters."
Taylor is a Republican who served as chief of staff for the Department of Homeland Security in the administration of former President Donald Trump. The security expert stepped down in late 2019 and just over a year later he revealed that he was the infamous author of the book A Warning penned by an "Anonymous" Trump administration official. He campaigned against Trump in 2020 and continues to urge fellow Republicans to turn against the former president.
"At least 50 Congressional candidates this cycle have QAnon ties. If this isn't a wake-up call to voters, I don't know what is," Taylor wrote in a Friday tweet.
Taylor appears to be citing a report from Media Matters for America, a left-wing non-profit organization, that found there "are 52 current or former congressional candidates who have embraced" the QAnon conspiracy theory. QAnon adherents believe that a Satanic cabal of Democrats and societal elites work to control the world through sexually abusing and sacrificing children.
Trump has not embraced the baseless belief, but he has also spoken favorably of its adherents—who generally believe that he is fighting back against the supposed Satanic group that aims to control the world.
"I've heard these are people that love our country," Trump said during an August 2020 White House news conference while he was still president. "So I don't know really anything about it other than they do supposedly like me."
"Besides these congressional candidates, there are multiple gubernatorial candidates in the 2022 election cycle who have expressed some level of support for the conspiracy theory, and there are multiple candidates seeking offices that have control over state elections who have supported the conspiracy theory or appealed to its supporters," Media Matters previously reported.
A September 2021 poll conducted by Daily Kos/Civiqs found that the majority of Republicans believed that QAnon is mostly or partly true. A third (33 percent) said the conspiracy theory is mostly true, while an additional 23 percent said parts of the bizarre belief are valid. In total, 56 percent of GOP voters said they believed it was partly or mostly accurate.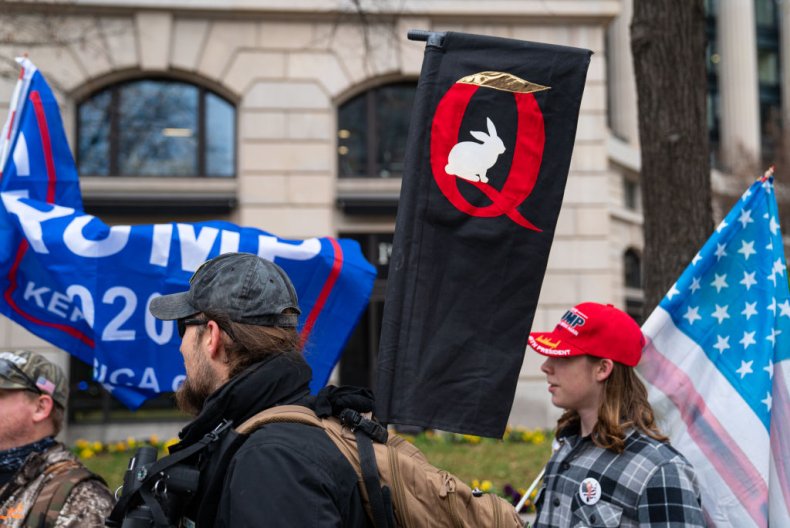 Newsweek reached out to Trump's press office for comment.
When Taylor revealed that he'd written A Warning, Trump responded by distancing himself from the former administration official. "Who is Miles Taylor?" Trump posted to Twitter in October 2020, several months before he was permanently banned from the social media platform. "Said he was 'anonymous', but I don't know him—never even heard of him."
Since the 2020 election and the pro-Trump attack targeting the U.S. Capitol on January 6, 2021, Taylor has gone on to campaign against the former president and his faction of the GOP. He co-founded the Renew America Movement, which says it is "working together across party lines" in an effort to "shift the balance of power in Washington, D.C.," according to its website.
"We are not just Democrats or Republicans or Independents. We are Renewers," the website states. During a recent interview with MSNBC, Taylor touted his organization and its goal to prevent Trump's faction of the GOP from retaking power.
"One of the reasons these folks are coming together is because the big lie didn't die after January 6th. It's actually going to be one of the biggest features of the midterm elections. In fact, my organization, Renew America Movement, has identified at least 75 congressional candidates for office this year who believe the election was fraudulent and it belongs to Donald Trump," the former Trump administration official explained.
Trump and his allies continue to claim that the 2020 election was "rigged" or "stolen" in favor of Biden. They have not brought forward evidence substantiating the allegation, but a majority of GOP voters appear to resonate with the groundless belief, according to numerous polls over the past year.
The election conspiracy theory was also a key driver for many of the pro-Trump rioters who attacked the U.S. Capitol last January. Many of those attackers also publicly espoused a belief in QAnon. Signs and banners promoting the conspiracy theory were held by some of the Trump supporters during the storming of the legislative building.