Less than a quarter of Republicans believe that President Joe Biden's 2020 election win was legitimate, new polling shows.
Former President Donald Trump and many of his key allies—such as MyPillow CEO Mike Lindell and right-wing strategist Steve Bannon—continue to spread conspiracies and misinformation about the 2020 election. They claim that Biden won through widespread voter fraud, but no evidence has emerged to substantiate that allegation.
Nonetheless, their false claims have resonated with GOP voters, new polling from the University of Massachusetts at Amherst shows. The survey results, released Tuesday, reveal that only 6 percent of Republicans believe Biden's victory over Trump was "definitely legitimate." Additionally, 15 percent of GOP respondents said the president's win was "probably legitimate." In total, just 21 percent of Republicans said that Biden "definitely" or "probably" beat Trump.
Meanwhile, the overwhelming majority of Republicans do not believe Biden won in 2020. The poll shows that 46 percent said that the president's win was "definitely not legitimate," and another 25 percent said it was "probably not legitimate." Altogether, 71 percent do not believe or strongly doubt that Biden beat Trump. Another 6 percent said they are "not sure."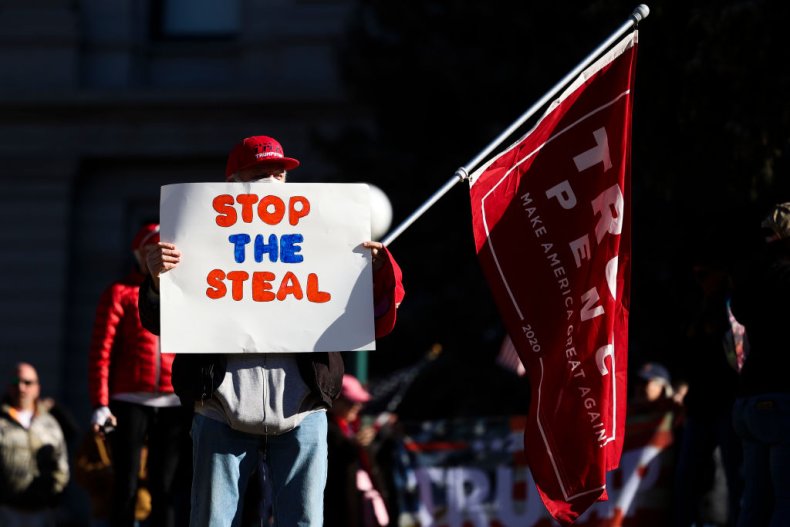 The survey was conducted from December 14 to 20 with YouGov. It had a nationally representative sample of 1,000 respondents and a margin of error of plus or minus 3.1 percentage points.
Despite the widespread belief among Republicans that Biden did not defeat Trump, dozens of 2020 election challenge lawsuits filed by Trump and his supporters have failed in state and federal courts. Even judges appointed by Trump and fellow Republicans have dismissed the cases.
Trump's former Attorney General William Barr, who ordered the Justice Department to investigate claims of voter fraud, said in December 2020 there was "no evidence" of malfeasance that would change the election's results. Audits and recounts across the country—including those in states where the election was overseen by pro-Trump Republicans—have consistently reaffirmed Biden's victory.
Nonetheless, polling has repeatedly shown that Trump's falsehoods about the presidential election are widely accepted by GOP voters. Survey data released by CNN in September revealed that nearly 60 percent of Republican voters believed it was "important" as part of their political identity to agree with the claim that Trump won in 2020. A recent poll by Suffolk University and USA Today found that almost 70 percent of GOP voters did not view Biden as the legitimately elected president.
Some Republican lawmakers who have pushed back against the misinformation have received a backlash from fellow conservatives. GOP Representatives Adam Kinzinger of Illinois and Liz Cheney of Wyoming are among Trump's most vocal critics, repeatedly condemning his false claims about the election. The two members of Congress have faced mounting calls from pro-Trump GOP lawmakers for their removal from the House Republican Conference as a result.