Steve Bannon Confronts Mike Lindell Over Trump-Appointed Judges Ruling Against Him
Former White House adviser Steve Bannon confronted My Pillow CEO Mike Lindell this week over the fact that judges appointed by former President Donald Trump have ruled against the conspiracy theorist.
Lindell, a staunch Trump loyalist, has been locked in legal battles with Dominion Voting Systems and Smartmatic over his false claims that the 2020 election was rigged in President Joe Biden's favor. Although Lindell and Trump continue to allege that the presidential race was fraudulent, their claims are not substantiated by any evidence.
Dominion has sued Lindell for defamation, while Smartmatic has asked a judge to dismiss a lawsuit the MyPillow founder filed against the voting systems company.
"It's fascinating to me that so far...it has been Trump judges, mainly Trump-appointed judges, that have been telling—you know, ruling—that across the board on all these, that these cases go forward," Bannon told Lindell during a Wednesday interview on his War Room podcast. "Is that not the case?"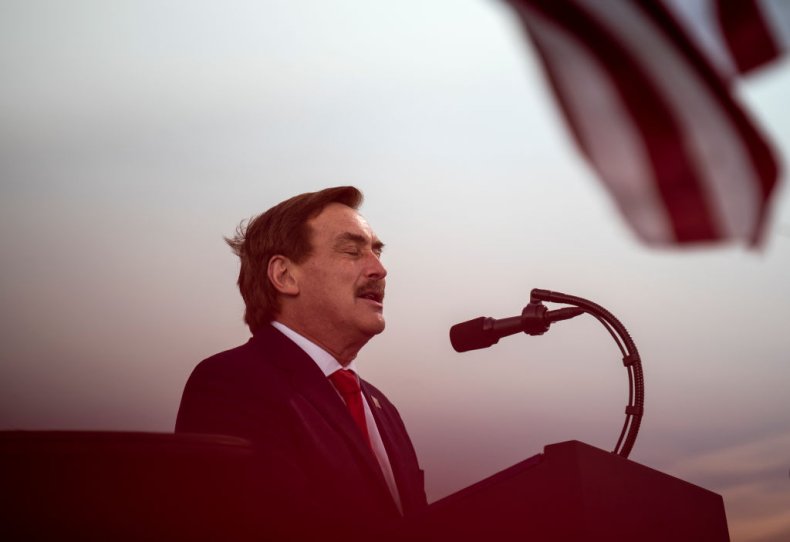 Lindell admitted that Bannon was correct. "Well, that is true that they've ruled to go forward." He said that his legal team is appealing, before quickly pivoting to a different issue.
In August, Judge Carl Nichols, a Trump appointee to the U.S. District Court in the District of Columbia, ruled that a defamation lawsuit filed by Dominion against Lindell could move forward. Dominion also sued former Trump attorneys Sidney Powell and Rudy Giuliani, who previously served as the mayor of New York City.
Lindell, Powell and Giuliani have all been key promoters of the conspiracy theory that the 2020 election was "stolen" in favor of Biden. Although Trump and his allies—including Bannon—continue to promote the groundless allegation, no evidence has been brought forward to substantiate the claim.
Dozens of election challenge lawsuits filed by the former president and his supporters were dismissed in state and federal courts. Even judges appointed by Trump and other Republicans rejected the legal challenges. Meanwhile, audits and recounts across the country—including in areas where the election was overseen by pro-Trump Republicans—have reaffirmed Biden's victory.
Former Attorney General William Barr, who was widely seen as one of Trump's most loyal Cabinet members, said last December that there was "no evidence" of fraud that would change the election's outcome. The Cybersecurity and Infrastructure Security Agency at the Department of Homeland Security made the same assessment, describing the last presidential election as the "most secure in American history." The federal agency was led by a Trump appointee when it released that statement.
Lindell still insists that he will bring a lawsuit backed by states' attorneys general before the Supreme Court to challenge the 2020 election. He previously promised that the lawsuit would go to the nation's top court by Thanksgiving, but that deadline came and went without any attorneys general signing on to support the effort.
Earlier this month, the MyPillow founder told CNBC that he's spent some $25 million of his own money in his effort to challenge the 2020 election results.
"I will keep spending it because there is no tomorrow. We lose our country. We either only have two paths: Either it gets changed before the 2022 election or we lose our country forever. I will spend every dime I have," Lindell said. "I will spend whatever it takes."
Bannon, who was formally pardoned by Trump after he was charged with fraud, also regularly promotes misinformation about the 2020 election. The far-right podcaster served as the CEO of Trump's 2016 presidential campaign and spent the better part of 2016 as Trump's chief White House strategist and senior counselor.