Mike Lindell Now Says Supreme Court Complaint Won't 'Pull Down the Election'
My Pillow founder Mike Lindell now says his long-touted Supreme Court complaint about former President Donald Trump's loss to President Joe Biden in 2020 will not "pull down the election."
Lindell, a staunch Trump loyalist and conspiracy theorist, has spent the better part of the past year spreading misinformation about the 2020 election. While traveling around the country for various rallies and events, Lindell—like Trump—has insisted that the last presidential election was "rigged" or "stolen" in favor of Biden.
For several months, Lindell has claimed that he will file a complaint with the Supreme Court to overturn the election results. He repeatedly asserted that the justices would rule "9 to 0" to overturn Biden's victory after they reviewed the "evidence" his lawsuit would present. However, his Thanksgiving deadline for the complaint to be officially filed with the Supreme Court came and went without the prediction coming true.
Now, in Thursday remarks on The Lindell Report broadcast through the businessman's Frank Speech website, he suggested the Supreme Court case would still move forward. But now he contends that it won't actually undo the election results.
"We have great things coming out very soon and I want everyone to keep patient. We've got the Supreme Court complaint. Yes, it's coming out," Lindell insisted. "They had changes. I'm sure now it will be, probably, right between Christmas and New Years, or after New Years," he said.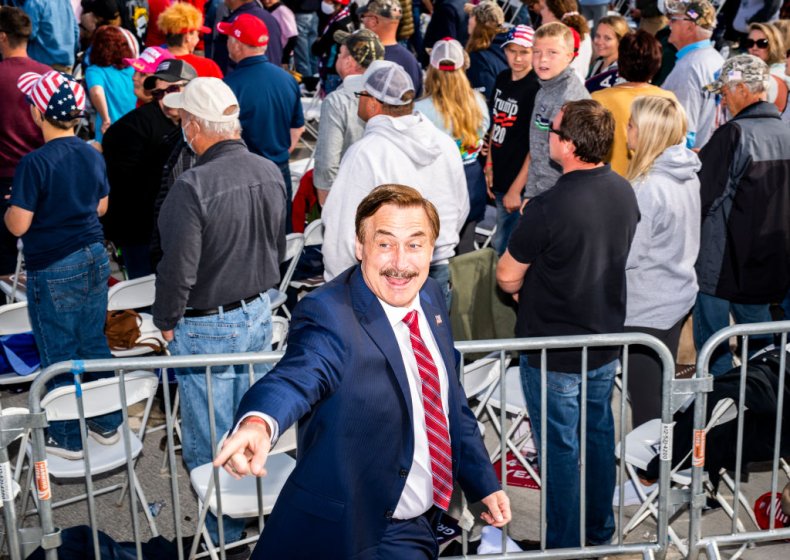 "But it's not like it's gonna be in—you know—months," Lindell continued. "It's weeks," he added, describing the Supreme Court complain as "so important." He then said the complaint "isn't going to be a thing that's going to pull down the election and, in fact, that part, they're pushing it to the states."
"Those are changes made in that complaint," Lindell said.
In November, Lindell alleged that the Republican National Committee was working against his efforts to challenge Trump's loss before the Supreme Court.
"We believe that they [the RNC] have reached out to multiple [attorneys general] and put pressure on them, not to sign the Supreme Court complaint," he said. He previously said that he would have multiple attorneys general from various states backing his lawsuit in order for it to be filed with nation's top court.
Lindell and other Trump loyalists have peddled a broad range of misinformation, including that the former president could be simply "reinstated." That prediction, similar to the promised Supreme Court lawsuit, has not materialized. But Lindell has spent millions of dollars of his own money to fund his unsuccessful efforts.
He told CNBC this month that he has doled out some $25 million and will spend "whatever it takes" in his effort to promote the conspiracy theory that Biden didn't actually win in 2020.
"I will keep spending it because there is no tomorrow. We lose our country. We either only have two paths: Either it gets changed before the 2022 election or we lose our country forever. I will spend every dime I have," Lindell said.
Although Lindell and Trump continue to claim that Biden's win was fraudulent, they have not brought forward evidence substantiating the allegation. More than 60 election challenge lawsuits filed by the former president and his allies have failed in state and federal courts. Even judges appointed by Trump and other Republicans have dismissed the cases.
Audits and recounts in key battleground states—including in places where the election was overseen by pro-Trump Republicans—have consistently reaffirmed Biden's win. Former Attorney General William Barr, who was widely viewed as one of Trump's most loyal Cabinet members, said in December of 2020 that there was "no evidence" of widespread fraud that would change the election's outcome.
Newsweek reached out to Trump's press office for comment but did not immediately receive a response.