Trump Is Backing 'Crazy' Candidates, Going to Lose in 2022: GOP Governor
Larry Hogan, the Republican governor of Maryland, said in an interview published Friday that former President Donald Trump is "going to lose in 2022," as he wades into congressional midterm and statewide races throughout the country.
"Trump is trying to insert himself in races all across the country where people he's supporting are crazy," Hogan told ABC News, adding that the upcoming Republican primaries "are critically important because they are going to determine what the Republican Party looks like."
"It will tell us how much Trump's influence has waned or not. Has he been diminished? And what does that foretell about the next election two years later?" the governor asked.
Hogan's comments come as Trump has endorsed candidates in political races that range from the gubernatorial races in Arizona and Georgia to congressional races in Wyoming, North Carolina and Tennessee as well as the secretary of state's race in Michigan.
In Maryland, where Hogan will step down as governor after this year, Trump has endorsed GOP state Representative Dan Cox for governor, while Hogan has endorsed Kelly Schulz, his former state commerce secretary.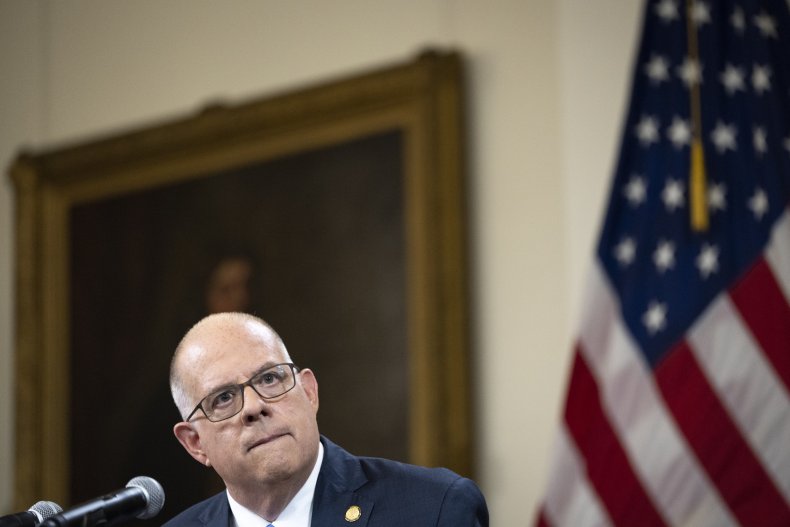 In his interview, the governor pointed out that Trump lost his reelection bid in 2020, and that Republicans recently lost control of Congress.
"He lost the White House and the Senate and the House and governors' races and state legislative bodies. I wouldn't call that being a winner. And now he's going to lose in 2022—another round of losses for him. That's something that can help us steer things in a better direction," he stated.
Newsweek has reached out to Trump's office for comment.
Hogan has been a frequent critic of the former president. In an interview on Sunday, Hogan criticized Trump for asking Russian President Vladimir Putin to "release" any information he may have on President Joe Biden's son Hunter Biden's business dealings in Russia.
"It's about the worst possible thing you can do when all these atrocities are taking place in Ukraine," he told CNN.
In February, after the Republican National Committee (RNC) censured Republican representatives Liz Cheney and Adam Kinzinger for joining the committee investigating the January 6 Capitol riot, the governor slammed the GOP's attacks on Republicans who don't show loyalty to Trump.
"There's a circular firing squad where we attack Republicans. The Republican Party that I want to get back to is the one that believes in freedom and truth, and not one that attacks people that don't swear 100 percent fealty to the dear leader," he told CNN at the time.