Donald Trump's Endorsement of David Purdue Boosts His Chances in Georgia Gubernatorial Bid
Former President Donald Trump's endorsement of ex-Georgia Senator David Perdue would curb incumbent Georgia Governor Brian Kemp's advantage against him in the Republican gubernatorial primary, according to a new poll.
The poll, released by Tuesday by FOX 5 Atlanta/Insider Advantage, surveyed 500 registered likely Republican primary voters on Monday shortly before Trump officially backed Perdue. The study has a margin of error of about plus or minus 4.5 percent.
At that time, 41 percent of voters said they would support Kemp, while 22 percent said they would get behind Perdue. The rest of those surveyed said they would back other candidates or were undecided.
The poll then asked voters how a potential Trump endorsement would change their view on the race.
"As you may have heard, President Trump is planning to endorse David Perdue in the Republican Primary for Governor. Knowing this information how would you vote?" the survey asked.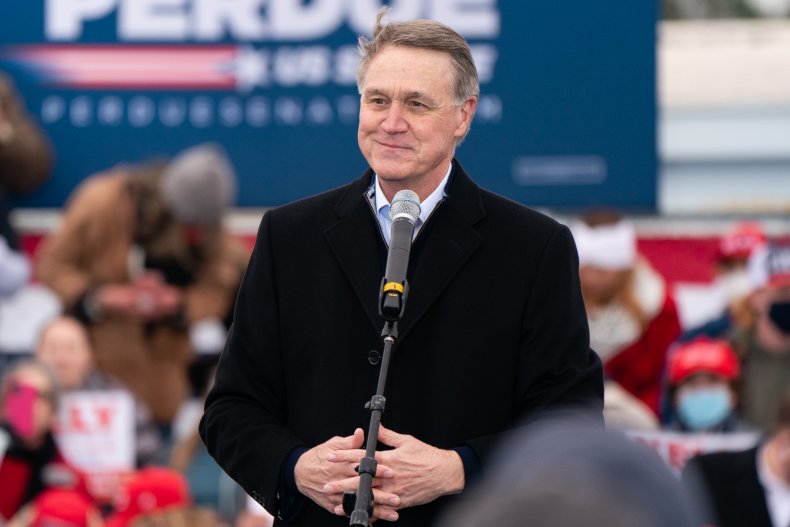 Responding to that question, an equal number of voters (34 percent) said they would back Perdue and Kemp.
"This shows the amazing impact that a Trump endorsement can have on a Republican primary and certainly in Georgia. In my many years of polling I have never seen any other individual endorsement move as many points in a single survey," the chairman of InsiderAdvantage, Matt Towery, said in a statement.
Towery added that "there have been some instances where I encountered substantial movement based on an endorsement in a Democratic primary by former President Obama, but never to this extent. This should be a huge additional wake-up call to national GOP leaders and candidates as to the political might of Trump."
Trump has frequently criticized Kemp after the governor refused the former president's calls to overturn the state's 2020 election results.
In endorsing Perdue, Trump called Kemp "a very weak governor" and added that the incumbent "can't win because the MAGA base—which is enormous—will never vote for him."
On Sunday, amid reports that Perdue would challenge Kemp, the Georgia governor's office issued a statement blasting the former senator.
"The man who lost Republicans the United States Senate and brought the last year of skyrocketing inflation, open borders, runaway government spending, and woke cancel culture upon the American people now wants to lose the Georgia governor's office to the national face of the radical left movement," Kemp's communications director stated.
"Governor Kemp has a proven track record of fighting the radical left to put hardworking Georgians first, while Perdue is best known for ducking debates, padding his stock portfolio during a pandemic, and losing winnable races," the statement added.