Trump-Backed David Perdue Faces Scathing Attack From Georgia Gov. Kemp Ahead of Primary Bid
GOP Georgia Governor Brian Kemp issued a scathing attack against former Senator David Perdue on Sunday amid reports that the Donald Trump-backed Republican will challenge him in the state's 2022 gubernatorial race.
Perdue is planning to announce a bid in the Republican primary against Kemp on Monday, sources familiar with the matter told Politico. The former Georgia senator was reportedly recruited by Trump in an effort to unseat Kemp as payback for his refusal to help overturn the state's 2020 election results.
In response to the expected announcement, Kemp's communications director Cody Hall issued an attack against Perdue, stating that his "only reason for running is to soothe his own bruised ego."
"The man who lost Republicans the United States Senate and brought the last year of skyrocketing inflation, open borders, runaway government spending, and woke cancel culture upon the American people now wants to lose the Georgia governor's office to the national face of the radical left movement. It may be difficult for David Perdue to see this over the gates of his coastal estate, but Joe Biden's dangerous agenda is hitting hardworking Georgians in the wallet and endangering their livelihoods—and we have David Perdue to thank for it," said the statement, which was confirmed by Newsweek.
"Governor Kemp has a proven track record of fighting the radical left to put hardworking Georgians first, while Perdue is best known for ducking debates, padding his stock portfolio during a pandemic, and losing winnable races," the statement said.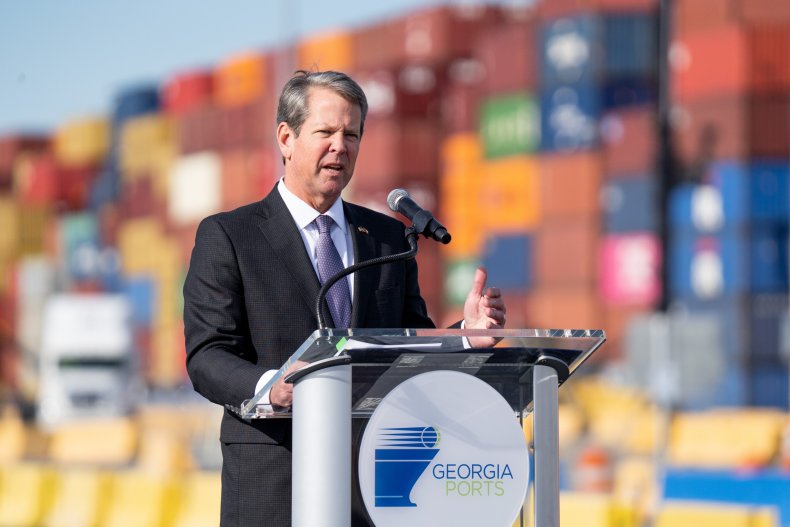 Last week, Kemp told reporters in Georgia that Perdue previously said he wasn't planning to challenge him, saying that, "I hope he'll be a man of his word, but again that's not anything I can control," Politico reported.
Perdue lost a bid for re-election to Democrat Jon Ossoff earlier this year during a high-stakes runoff race. Following that loss, Perdue was recruited by Trump to challenge Kemp and is reportedly in talks to receive official fundraising and endorsement support from the former president, according to Politico.
"Trump's endorsement matters to Republican voters and he's going to be helpful because this race is important to him," one Perdue adviser told the news outlet.
Trump has repeatedly targeted Kemp in the aftermath of the November 2020 election, after Kemp refused to embrace the former president's false claims that the race was stolen due to voter fraud.
At the end of December, Trump openly called for Kemp's resignation on social media, describing the governor as an "obstructionist" for his failure to uphold his unsubstantiated claims. Around the same time, Trump gave his first indication that he would support Kemp's primary challenger during the state's gubernatorial election in 2022.
Perdue's gubernatorial bid will come just days after voting rights activist Stacey Abrams announced that she would run for the Democratic Party's nomination for governor on Wednesday. Abrams previously ran against Kemp and lost in a narrow race in 2018.
Perdue has reportedly told allies that he decided to run because he's worried about Abrams' prospect for victory against Kemp, The New York Times reported. Recent polling has suggested that the 2022 race will be a tough match, with 44 percent of Georgia voters stating they would elect Abrams.
Newsweek reached out to Perdue's office for comment.