What Polls Say About Support for Stacey Abrams as She Runs for Georgia Governor Again
Democratic activist Stacey Abrams announced this week that she will once again seek to become governor of Georgia, with recent polls suggesting a tough race ahead in 2022.
Abrams served as the minority leader of the Georgia House of Representatives from 2011 to 2017. She then ran unsuccessfully to become Georgia's governor against Republican Brian Kemp. While Abrams narrowly lost in that 2018 matchup, she has been widely credited with being a significant force in flipping Georgia blue for President Joe Biden and Democratic Senators Raphael Warnock and Jon Ossoff in the last elections.
Whether Abrams will be successful in her bid for the governor's office is not clear, but the GOP field is divided. Former President Donald Trump has railed against Kemp, even suggesting he prefers Abrams over the governor.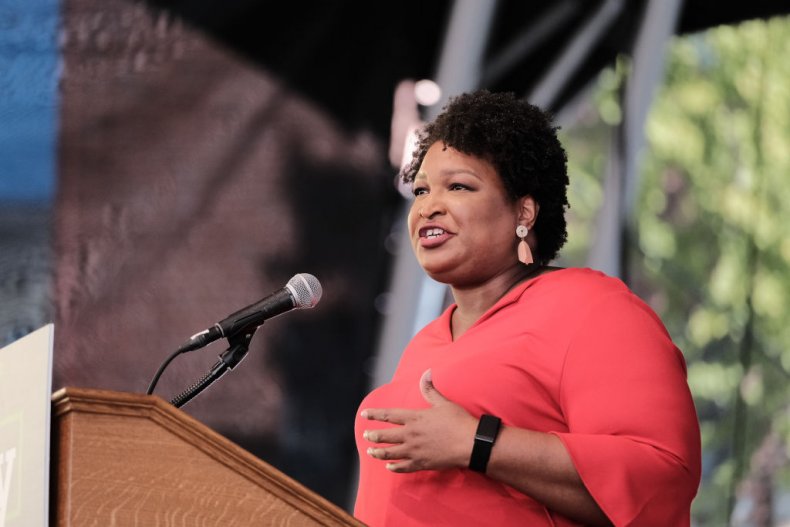 However, the most recent survey of Georgians' views of the upcoming race suggests Kemp would be well positioned to defeat Abrams in a rematch. In a poll conducted by Redfield & Wilton Strategies in November, Abrams trailed Kemp by 3 points among likely voters in the state. Abrams was supported by just 44 percent of likely voters, compared with 47 percent who backed Kemp.
Meanwhile, the same poll showed Abrams performing substantially better against Republican rival Vernon Jones. Until January, Jones identified as a Democrat, but he endorsed Trump and promoted the former president's baseless claims of widespread election fraud in the 2020 election. Now, Jones is seeking the GOP nomination for governor.
The Redfield & Wilton Strategies poll showed that Jones was backed by just 40 percent of likely voters in a matchup against Abrams. Meanwhile, the Democratic hopeful was supported by 45 percent—a lead of 5 percentage points.
YouGov America tracking polling shows that Abrams has a relatively low favorability rating. As of late October, just 36.2 percent of Americans viewed the Democrat favorably. Meanwhile, nearly an equal amount—35.7 percent—viewed her unfavorably. More than a quarter—28 percent—said they didn't have an opinion.
Before that, the most recent poll regarding the governor's race was conducted in early January. That survey, by the University of Nevada, Las Vegas' Lee Business School, showed Kemp 4 points ahead of Abrams with likely voters in Georgia. The incumbent was supported by 44 percent of likely voters, while just 40 percent backed Abrams.
Regardless of who comes out on top, the results will likely be close. Biden narrowly won Georgia by a margin of fewer than 12,000 votes. The Democratic president was supported by 49.47 percent of the state's voters, compared with 49.24 percent who backed Trump.
"But if our Georgia is going to move to its next and greatest chapter, we're going to need leadership," Abrams said in a Wednesday video announcing her gubernatorial bid, which was posted to social media.
Kemp quickly released a statement pushing back against Abrams' campaign.
"Next November's election for Governor is a battle for the soul of our state," the governor said. "I'm in the fight against Stacey Abrams, the failed Biden agenda, and their woke allies to keep Georgia the best place to live, work, and raise a family."