Georgia State Rep. Vernon Jones Announces He's Joined GOP, Been Fighting 'Demon Democrats'
Georgia state Representative Vernon Jones announced at a Wednesday protest in support of President Donald Trump that he is officially joining the Republican Party, saying that he has been fighting "demon Democrats."
Jones made the remarks during a pro-Trump demonstration organized by Women for America First at The Ellipse in Washington, D.C., ahead of Congress counting the electoral votes later in the day. Jones, who was elected as a Democrat, endorsed Trump last April. He said then that he did not plan to leave the Democratic Party, but he became a vocal supporter of the president.
"I've been thinking a lot. I'm ready to go home. I'm ready to go home to the party of [former President Abraham] Lincoln. I'm ready to go home to the party of Frederick Douglass. I'm ready to go home to the party of South Carolina Senator Tim Scott," Jones said. The Georgia lawmaker referenced Douglass, a prominent Black American abolitionist from the 1800s, and Scott, the only Black Republican in the Senate.
"Today, I'm coming home, I'm coming home to the Grand Old Party. I am officially joining the Republican Party," Jones declared, receiving loud applause and chants of "USA" from the audience of Trump supporters.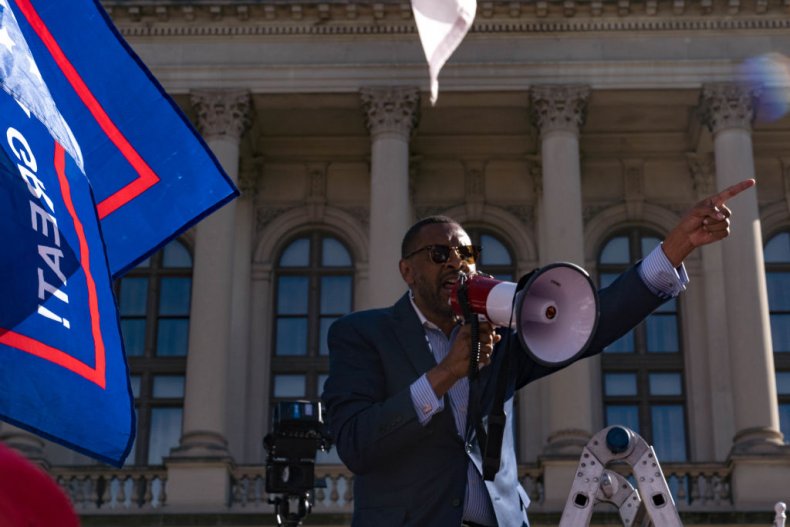 Jones then thanked Mike Lindell, the CEO of My Pillow and a prominent Trump supporter, for influencing his decision. The former Democratic politician said Lindell had given him courage through all his "trials and tribulations fighting those demon Democrats."
"I want to make clear about one thing. Donald Trump has just begun. I'm a part of his team. And we're going to take back this country," he said.
Shortly after leaving the stage, Jones posted to Twitter: "Moments ago, I announced that I am officially joining the Republican Party. Now more than ever, the Republican Party is in desperate need of leaders that know how to fight. I know how to fight."
Newsweek reached out to Georgia's Republican and Democratic parties for comment but did not immediately receive a response.
Thousands of Trump supporters have converged on Washington, D.C., to protest in support of the president on Wednesday. Congress will formally count the electoral votes to certify President-elect Joe Biden's win in the Electoral College. At least 13 Republican senators and more than 100 House Republicans plan to object to Biden's win in several battleground states, but these efforts are widely expected to fail.
In order for an objection to succeed, both the Senate and the House must separately agree to approve it. The House is narrowly controlled by Democrats and there appears to be more than enough Republicans planning to vote against any objections alongside their Democratic colleagues.
Trump and his loyalist supporters continue to claim that Biden won the election through widespread voter fraud. They have not provided evidence to support this extraordinary allegation. More than 50 legal challenges filed by the president and his supporters have failed in state and federal courts, with several judges appointed by Trump and other Republicans pointing out in their rulings that lawyers have not provided evidence.
When Jones endorsed Trump last April, he initially announced he would resign from the Georgia State House. He later changed his mind and continued to serve out his term. Jones did not seek reelection and Democrat state Representative-elect Rhonda Taylor will take his seat when she is sworn in on January 11.