Georgia state Representative Vernon Jones, a Democrat who supports President Donald Trump, claimed Friday the media and pollsters have "suppressed and depressed" voters during the 2020 election, despite the fact that the country has seen record-breaking turnout.
Jones endorsed Trump in April, receiving significant backlash from his own party. He then said about a week later that he was resigning his seat in the Georgia State House. "Turn the lights off, I have left the plantation," Jones, who is Black, said at the time. But the next day, the Democratic lawmaker rescinded his decision.
"I hope the news media learn from this. It's been you carrying the false narrative of these false polls coming from these liberal universities. And you and these pollsters have done more to interfere with this election than Russia and China combined," Jones said Friday at a news conference alongside Georgia Republicans and GOP Chair Ronna McDaniel.
"You have suppressed and depressed the voters of this country, but I'm going to tell you, we are going to fight. And last night I made a comment, we don't fight with violence. I'm not for violence, but we are going to fight to our last breath for our constitutional rights," he said.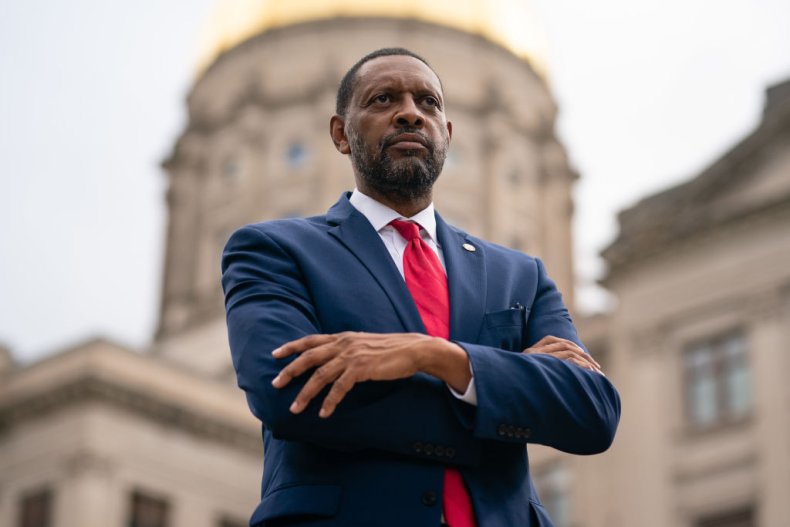 Newsweek reached out to Jones for further comment, but he did not immediately respond.
When Jones references a comment he made "last night," it appears he was referring to a threat to shoot supporters of Biden "We're starting now to see the white in their eyes and we're getting ready to start shooting," he said at a news conference.
It's unclear why Jones would suggest that voters had been "suppressed."The 2020 election marks the highest number of American voters to ever cast ballots. When looking at the presidential race, both Democratic presidential nominee Joe Biden and Trump have received more individual votes than former President Barack Obama did in 2008. Obama previously held the record for the most votes received by a presidential candidate in the nation's history.
The tally by Fox News, as of the time of writing, shows Biden with a total of nearly 74 million votes compared to just over 70 million cast for Trump—meaning well over 140 million Americans voted in the 2020 election. In the 2008 election, when Obama was first elected, just over 130 million Americans voted.
As a percentage of the eligible voting population, turnout in 2008 was about 61.6 percent. While ballots are still being counted across the country, a projection by The Washington Post suggests that turn out will be north of 66 percent this year. The previous highest turnout percentage was the election of 1908, when about 65.7 percent of the eligible voting population cast ballots. However, the entire U.S. population was only about 88.7 million that year and many voters—including women and many minorities—were still disenfranchised.
Jones, along with Georgia Republicans, claimed Friday that there were irregularities and alleged voter fraud in the election. His remarks came after Georgia, which has voted for Republican presidential candidates in every election going back to 1996, narrowly flipped in favor of Biden as votes continued to be counted. Biden's lead over Trump has grown since, but remains narrow at just over 3,900 votes.
Although claims of voter fraud appear to be baseless, Georgia's Secretary of State Brad Raffensperger, a Republican, said there would be a recount in the southern state due to the small margin between presidential candidates and those running for the state's two U.S. Senate seats. Although Georgia does not automatically carry out recounts, a candidate can request one if the margin is less than 0.5 percent. Biden currently leads Trump by 0.1 percent with nearly all ballots tallied.