Fox News Host Confronts GOP Chair Over Fraud Allegations: 'It Doesn't Pan Out'
Fox News host Bret Baier questioned Republican National Committee chair Ronna McDaniel over allegations of voter fraud in key battleground states that President Donald Trump and GOP leaders have promoted, confronting her over the lack of evidence.
Trump and his supporters have baselessly claimed that widespread voter fraud has resulted in Democratic presidential candidate Joe Biden pulling ahead of the incumbent Republican president in key battleground states, propelling him to the lead in the Electoral College. Fox News and the Associated Press currently give Biden 264 electoral votes—just six votes shy of the 270 required for victory. Meanwhile, results show Biden narrowly ahead in Nevada, Pennsylvania and Georgia—any of which would push the Democrat over the required threshold.
In a Friday interview, Baier pointed out that Biden is ahead of Trump in Michigan (where the president has alleged the results are fraudulent) by about 146,000 votes with all ballots counted.
"So are you saying you're going to come forward in this press conference with something that's going to change the dynamic of 147,000 ballots?" the Fox News host asked McDaniel
"I'm saying be patient and allow us to pursue these irregularities and some of these allegations that are very serious. Very serious," the GOP chair responded. "And so allow that to happen. Let the process take place. It's funny that we rush to judgment. We want to get this election over with. But if there is election fraud, which everyone accuses or says there wasn't, or if there were these irregularities, we need to pursue them," she said.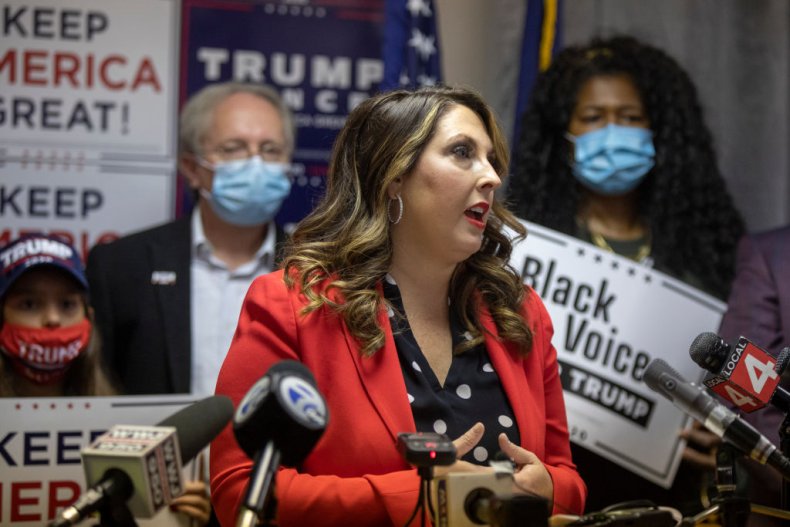 While Baier said he agreed that everyone wants any irregularities to be addressed, he pointed out that no evidence has been provided to back the claims of widespread fraud.
"We just haven't seen it. You know, it hasn't been presented. There's all kinds of stuff flying on the internet. But when we look into it, it doesn't pan out," the Fox News journalist said.
McDaniel suggested the RNC and Trump campaign were in the process of looking into various allegations that they would pursue legally. "There is a process that takes place," she said, asserting that the GOP wants to "take legal action."
Newsweek reached out to the RNC for further comment.
Carrying out voter fraud on the level alleged by Trump and Republicans would be next to impossible. It would require Democratic operatives to have prepared hundreds of thousands of ballots using social security numbers, state ID numbers and signatures of residents of multiple states without their consent. Such an effort could easily be detected by township and county clerks who receive and review ballots.
Multiple studies have been done by academics and think tanks regarding voter fraud in the U.S., all finding that incidents of illegal voting are incredibly rare. Research by Justin Levitt, a law professor at Loyola Law School, found just 31 incidents of voter fraud across the country amid more than 1 billion ballots cast between 2000 and 2014. A report from the Brennan Center for Justice at the New York University School of Law found that incidents of voter fraud in U.S. elections were somewhere between 0.00004 percent and 0.0009 percent—statistically about zero.