Michigan Trump Supporters Chant 'Lock Her Up,' Criticizing Governor Whitmer After Biden's Win
Supporters of President Donald Trump and Republicans in Michigan rallied outside the TCF Center in downtown Detroit, criticizing Governor Gretchen Whitmer and Democrats, accusing them of stealing the election for Democratic candidate Joe Biden.
With the counting of Michigan's ballots completed, Biden leads Trump by a margin of 2.7 percent—or about 146,000 votes. Trump narrowly carried Michigan in 2016 by a margin of 0.2 percentage points—or less than 11,000 votes. That win for the Republican came after every Demcoratic presidential candidate won the Midwestern state going back to 1992.
"People are out of their f***ing minds if they think we're going to sit back quietly and allow them to steal this election," conservative commentator Brandon Straka, an organizer of the protest, told to the crowd on Friday, Detroit Free Press reported. "The silent majority is unsilent. We are not going to take it. We're going to stop the steal."
Videos from the protest showed demonstrators chanting "stop the steal," "cheaters" and "treason." The demonstrators also chanted "lock her up," referring to Whitmer. Trump supporters first began using the "lock her up" chant in 2016, referring to that year's Democratic presidential candidate, Hillary Clinton. Right-wing Michiganders have re-purposed the chant in 2020 in the wake of Whitmer's stringent COVID-19 lockdown orders, which they've argued violated their personal freedoms.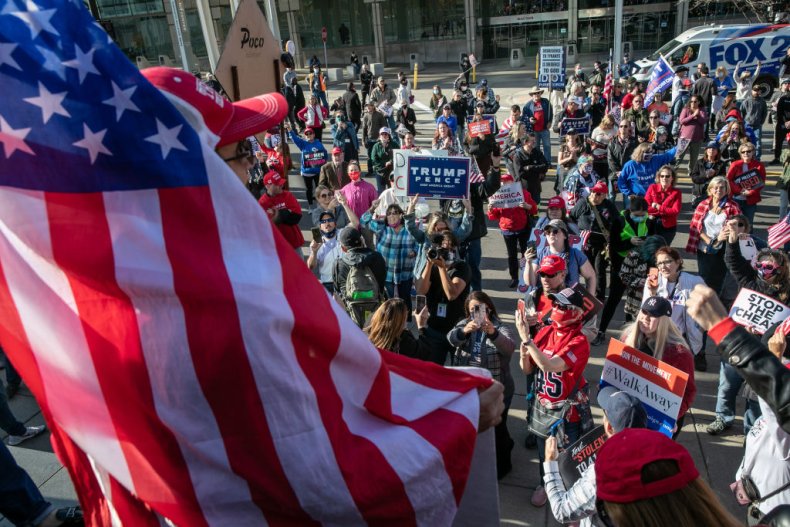 Demonstrators carried Trump flags and signs with messages including "Disobedience to tyrants is obedience to God" and "Trump 2020," The Detroit News reported. Police were on the scene and have detained a man with an outstanding warrant who was driving a vehicle with a trailer including flags and signs supporting Trump. The vehicle was impounded, police told The News.
"Michigan clerks conducted this election during a national pandemic, with historic turnout and under the new voting laws allowing no reason absentee voting and same day voter registration. The bipartisan canvass being conducted now is correcting any human and mechanical errors, as we have seen play out in Rochester Hills and Antrim County over the last two days demonstrating that the canvass is working as intended. This is the transparency that the Secretary of State demands and is delivering all across the state," Lavora Barnes, chair of the Michigan Democratic Party, said in a statement emailed to Newsweek.
"We support the clerks, the election workers, and our Secretary of State as the process for certifying this election continues in a fair and transparent way," Barnes said
Newsweek reached out to the Michigan GOP and the Trump Campaign for comment on the demonstrations.
Trump and his supporters have baselessly claimed that the Michigan election results, as well as the results in key battlegrounds across the country, are fraudulent. Although Trump appeared to take an early lead in Michigan, Biden pulled ahead as the millions of absentee ballots were counted in Michigan. Analysts had explained for months that they expected this could happen, as polling showed Democratic voters were more likely to vote by mail than Republicans.
It would be next to impossible for Democrats to rig the election in their favor, as this would require them to falsely turn-in tens of thousands of ballots—somehow using accurate social security numbers, state ID numbers and signatures of Michigan residents without their consent. Any evidence that this occurred could easily be detected by township or county clerks.
The Trump supporters have also inaccurately claimed that Republican poll challengers were not allowed to enter the TCF Center to observe the counting. In reality, more than 200 Republican poll challengers as well as more than 200 Democratic poll challengers were in the facility during counting—higher than the mandated 134 allowed.
Congressman Paul Mitchell, a Republican representing Michigan's 10th District, appeared to push back against the false claims by Trump and his supporters in Thursday and Friday tweets.
"A legally cast vote does not become 'illegal' simply because a candidate does not like the vote - let's remember this is AMERICA," Mitchell tweeted Friday.
A day earlier, the GOP representative posted: "Every legal vote should and will be counted - as they always are. Where there are issues there are ways to address them. If anyone has proof of wrongdoing, it should be presented and resolved. Anything less harms the integrity of our elections and is dangerous for our democracy."
This article has been updated with a statement from the Michigan Democratic Party.